Illinois Dressage Stables Directory
*NEW* Featured Directory Listings
Your Listing Can Appear Here!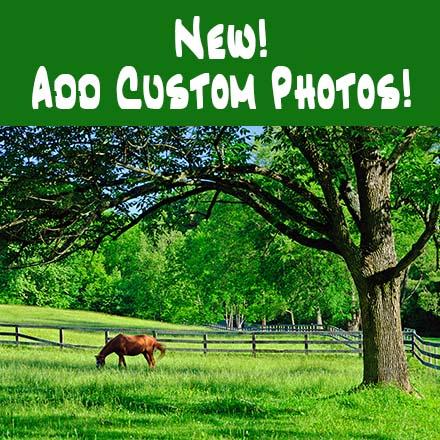 Approved Listings are now eligible to appear in the Featured Listings section for relevant categories.

Please Log In to see the options currently available for your Listing on O Horse!

Category: Directories
Illinois Dressage Stables Directory Listings
Page 1: Results 1-10 out of 10
Submit Your Website To This Page
Epona Farm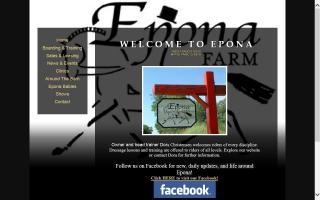 1N806 Francis Road
Maple Park, IL 60151


(847) 561-6415

markaydog@comcast.net


Classical dressage instruction for the serious or casual rider. Boarding, training, and lessons. 40 acre facility with 7-day turnout, large grass pastures, indoor & outdoor arena, workshops, and heated lounge. Best care for your horse!

Categories: Stables and Horse Farms; Boarding Stables / Livery Yards; Dressage Stables
Region: Kane County, Illinois
www.eponadressage.com/
Fields & Fences School of Horsemanship, Inc.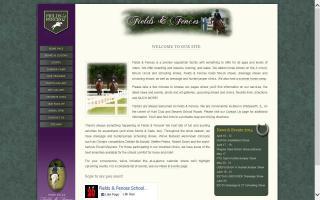 Visit Fields & Fences School of Horsemanship, Inc.'s Facebook Page

P.O. Box 398
Wadsworth, IL 60083


(847) 244-4121

anita@FieldsandFences.com


Fields & Fences is a premier equestrian facility with something to offer for all ages and levels of riders. We offer boarding & lessons, training, and sales. We attend horse shows on the A circuit, NIHJA circuit and schooling shows. Fields & Fences hosts NIHJA shows, dressage shows and schooling shows, as well as dressage and hunter/jumper clinics. We also host a summer horse camp and the therapeutic riding program, Partners for Progress.

Categories: Stables and Horse Farms; Lesson Stables; Boarding Stables / Livery Yards; Summer Horse Riding Camps; Dressage Stables
Region: Lake County, Illinois
www.fieldsandfences.com/
Grand Prix Equestrian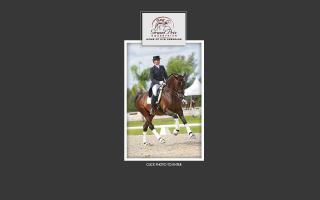 Visit Grand Prix Equestrian's Facebook Page

45W015 Welter Rd
Maple Park, IL 60151


(224) 522-8743

horsefarmchef@aol.com


A beautiful home for you and your horse.

We offer a fully heated facility for those cold winter months and a locker room with custom built lockers for boarders. Grand Prix has a 75x200 indoor arena and regulation size outdoor arena. We are a full service facility with acres of grass turnout and multiple drylot turnouts, 3 wash stalls with hot and cold water, a 2 story heated and cooled clubroom, and an award winning fire system. We have a round pen as well as an equine treadmill made by Horse Gym. Grand Prix is the home of KYB Dressage, world class trainers for every level of Dressage rider. Take a look around our site, and then give us a call to set up a barn tour with our farm manager.

Categories: Stables and Horse Farms; Boarding Stables / Livery Yards; Dressage Stables
Region: Kane County, Illinois
www.grandprixequestrian.com/
KYB Dressage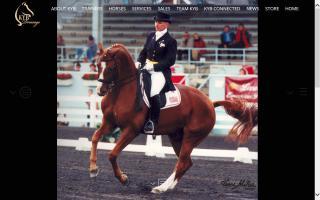 45W015 Welter Rd
Maple Park, IL 60151


(920) 562-5714

Otse@aol.com


KYB Dressage is a team of trainers and riders that can help you attain your dressage and riding goals. We offer sales and training for horse and rider at a beautiful new state of the art training barn located in Maple Park, IL. We offer affordable lesson packages as well as horse training and showing packages. You can even lease an experienced show horse and have a great time at some local shows.

Categories: Stables and Horse Farms; Lesson Stables; Dressage Stables; Sale Barns; Horse Training Stables
Region: Kane County, Illinois
www.kybdressage.com/
Oak Brook Farms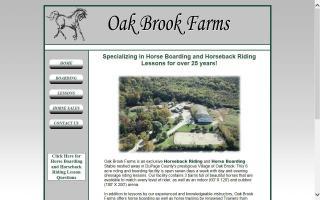 1201 35th St
Oak Brook, IL 60523


(630) 323-0956



Oak Brook Farms offers dressage riding lessons, horse boarding, and sales to the greater Chicago metropolitan area. Located in Oak Brook, Illinois, this 6 acre riding facility consists of 3 barns full of beautiful horses, indoor (60' X 120') and outdoor (100' X 200') riding arenas, 3 tack rooms, multiple turnouts, wash racks, and a heated viewing area for our customers. We are conveniently located 20 minutes from Chicago.

Categories: Stables and Horse Farms; Lesson Stables; Boarding Stables / Livery Yards; Dressage Stables; Sale Barns
Region: DuPage County, Illinois
www.oakbrookfarmsil.com/
Oak Hill Farm

17320 W 143rd Road
Lockport, IL 60441


(815) 834-2060

martinimertens@aol.com


Oak Hill Farm is a privately owned 85 acre, full service, dressage training and stabling facility located in Lockport, IL. We are located approx. 40 miles SW of Chicago, just off I-355 and Route 171 (Archer Avenue). We offer private paddock and pasture turn-out, an equine exerciser / free walker for 4 horses at a time, a standard size indoor arena, and a standard size outdoor arena as well as trails on premises. Daily stall cleaning and turn out are included in the monthly boarding fee. We feature dressage clinics with USA Equestrian Todd Flettrich. Our resident head trainer is Amy Lewis.

Categories: Stables and Horse Farms; Boarding Stables / Livery Yards; Dressage Stables
Region: Will County, Illinois
Tempel Lipizzans, The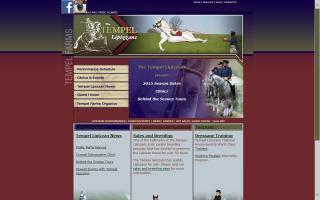 17000 Wadsworth Rd
Wadsworth, IL 60083


(847) 244-5330

tfcourtney@aol.com


Home of one of the world's largest privately owned herds of Lipizzan horses. Offering biweekly summer performances mid-June - August, off-season tours, dressage training and boarding with an international caliber staff.

Categories: Lipizzaner Breeders and Stallions; Stables and Horse Farms; Boarding Stables / Livery Yards; Dressage Stables
Region: Lake County, Illinois
www.tempelfarms.com/
Cliffwood Farm

7713 Tryon Grove
Richmond, IL 60071


(815) 678-7000

Casey@cliffwoodfarm


At Cliffwood Farm, we strive to become one of the most cutting edge training and riding facilities in northern Illinois. Our boarders enjoy full use of our facility, from our 49 stalls in three separate barns to our two indoor and two outdoor arenas. We boast many turn-out options, including individual all-weather limestone paddocks and spacious grass turn-outs. The amenities we offer combined with our knowledgeable, dedicated staff and trainers make Cliffwood Farm a place that you will be proud to call home!

Categories: Stables and Horse Farms; Boarding Stables / Livery Yards; Dressage Stables
Region: McHenry County, Illinois
www.cliffwoodfarm.com/
Legacy USA Dressage

PO Box 470
Western Springs, IL 60558


(630) 325-4230

legacyusa@hotmail.com


Dressage training & stabling facility located 20 miles southwest of downtown Chicago, off I-55 & I-294, in Burr Ridge, Illinois. Classical dressage training rooted in the pyramid of training scale. 12x12 rubber matted stalls, cleaned daily, private individual paddock turn-out daily, insulated 200x80 lighted indoor sand arena, and many more amenities. All levels, Intro to Grand Prix. Some leases available. Young riders welcomed. 2010 clinics included Kathy Connelly, Anke Herbert & Ryan R. Yap. Training, young horses, and full & partial training programs. Summer working student programs available. Contact Jen Moskal at the phone number or email address above.

Categories: Stables and Horse Farms; Dressage Stables; Horse Training Stables; Horse Leasing Stables
Region: DuPage County, Illinois
www.legacyusastables.com/
Sport Horse International

Round Lake, IL 60073


(847) 778-6725

SportHorseIntl@aol.com


Premiere midwest dressage training & sale facility w/ Chris Taylor. We sell wonderful European dressage horses. Join us on our next trip to Holland!

Categories: Stables and Horse Farms; Trainers and Clinicians; Dressage Stables; Sale Barns
Region: Lake County, Illinois
---
Custom Search
---