New York Horse Retirement Farms Directory
*NEW* Featured Directory Listings
Your Listing Can Appear Here!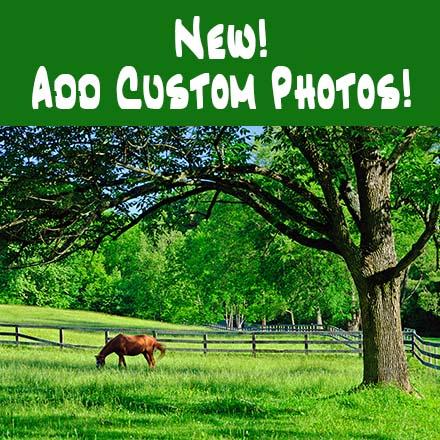 Approved Listings are now eligible to appear in the Featured Listings section for relevant categories.

Please Log In to see the options currently available for your Listing on O Horse!

Category: Directories
New York Horse Retirement Farms Directory Listings
Page 1: Results 1-15 out of 15
Submit Your Website To This Page
Broke Spoke Stables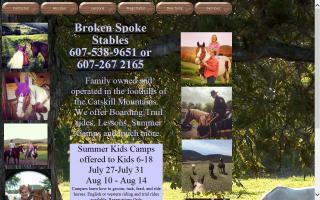 874 Narrow Notch Rd
Hobart, NY 13788


(607) 538-9651

dcdb44@yahoo.com


Catskill Mountains, Upstate NY. Boarding, lessons, and summer camps for all ages. Training and trail rides.

Categories: Stables and Horse Farms; Lesson Stables; Boarding Stables / Livery Yards; Ranches and Vacations; Summer Horse Riding Camps; Pony Parties / Birthday Parties; Retirement Farms; Horse Leasing Stables
Region: Delaware County, New York
www.brokenspokestables.com/
Cedar Moon Horse Farm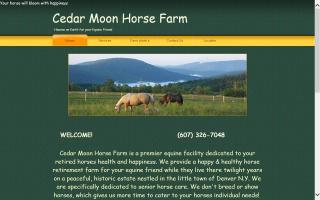 P.O. Box 505
Margaretville, NY 12455


(607) 326-7048

cedarmoon1@aol.com


We specialize in senior and retired horse full board and care. Our farm is uniquely designed for the needs of senior and retired older horses. We do have gorgeous trails on our private, historic horse farm for you and your horse's riding pleasure.

Categories: Stables and Horse Farms; Retirement Farms
Region: Delaware County, New York
www.cedarmoonhorsefarm.com/
Harmony View Farm

Visit Harmony View Farm's Facebook Page

Harmony Road
Pawling, NY 12564


(914) 760-5533

bestsporthorses@yahoo.com


Serene 145 acre horse farm located in the Town of Pawling on the southern-most portion of Dutchess County and near the line of Patterson in Putnam County.

Amenities include a brand new barn with huge dutch windows in every matted stall, a hot/cold wash stall, a private, marked trail system throughout 145 acres, and a casual but upscale environment exclusively for our boarders use and enjoyment. We are not open to the public, and our boarders are confident knowing their horses are not intermingled with outsiders.

We are centrally located just minutes to the Village of Pawling or the Hamlet of Patterson with easy access to train stations, grocery stores, Tractor Supply, New England Equine Vet Hospital, and our local tack store, Saddle Manor. Everything is less than 5 minutes from our farm. Easy access to stores, highways... everything is close!

Categories: Stables and Horse Farms; Boarding Stables / Livery Yards; Dressage Stables; Retirement Farms
Region: Dutchess County, New York
www.harmonyviewfarm.com/
Honey Dew Acres, L.L.C.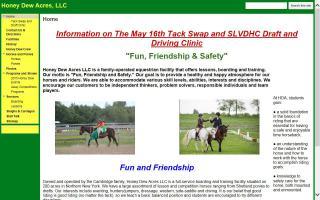 169 Post Rd
Canton, NY 13617


(315) 379-1035

pmcadam@twcny.rr.com


Owned and operated by the Cambridge family, Honey Dew Acres LLC is a full-service boarding and training facility situated on 200 acres in northern New York. Our interests include eventing, hunters/jumpers, dressage, western, side-saddle, and driving. Besides lessons and training, we also host shows/events, are a recognized Pony Club Riding Center, and provide boarding and retirement services.

Located in Canton, New York, we are just a few miles drive to any of the four area colleges (SUNY Canton, SUNY Potsdam, Clarkson, and St. Lawrence universities).

Categories: Stables and Horse Farms; Lesson Stables; Boarding Stables / Livery Yards; Hunter Jumper Stables; Eventing Stables; Driving Stables; Horse Training Stables; Retirement Farms
Region: Saint Lawrence County, New York
www.honeydewacres.org/
Kinder Farm, Home of Forever Fork!

Visit Kinder Farm, Home of Forever Fork!'s Facebook Page

Kinder Farm, Inc.
15 Pin Oak Dr.
Kinderhook, NY 12106


(518) 567-8979

(800) 255-0818

sales@foreverfork.com


It is Kinder Farms 10th year in business! Although we always have a waiting list, we promise to be worth the wait.

Home of Forever Fork - "The last stable fork you will ever buy!" We promise :)

Categories: Stables and Horse Farms; Boarding Stables / Livery Yards; Horse Training Stables; Retirement Farms; Horse Care Products
Region: Columbia County, New York
www.kinder-farm.com/
Liberty Farms Equestrian Center

Visit Liberty Farms Equestrian Center's Facebook Page

114 Ostrander Rd
Ghent, NY 12075


(518) 653-9343

libertyfarmsny@gmail.com


Liberty Farms Equestrian Center is home to Classical Dressage trainer Katrin Derreumaux and Earth Winds Dressage. As a full service boarding facility, we offer the highest quality individualized care. Lots of turnout in groups or alone, 12 x 12 matted stalls, 12x12 matted grooming stall, heated wash stall, heated tack room and lounge, laundry, full size outdoor arena, and 80' x 200' indoor to begin construction soon! There are great trails, 200+ acres, and a stunning view of the Catskills. Manager/trainer lives on the farm. Please stop in for a tour! Please contact Katrin Derreumaux @ 518.653.9343. libertyfarmsny@gmail.com

Categories: Stables and Horse Farms; Boarding Stables / Livery Yards; Dressage Stables; Retirement Farms
Region: Columbia County, New York
www.libertyfarmsny.com/
MLC Farm at By the Hounds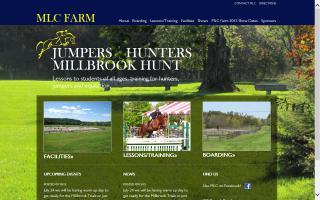 Michelle Clopp
295 Kennels Road
Millbrook, NY 12545


(845) 868-7946

mlcfarm@aol.com


MLC Farm is located at By the Hounds in Millbrook, NY, in the heart of hunt country. We specialize in teaching children and adults who are from the beginner level to advanced. Show team. Specializing in jumpers, hunters, dressage, and preparing hunt horses. Home of the Vassar College Equestrian Team. We are open 7 days a week. Professional atmosphere.


Categories: Stables and Horse Farms; Lesson Stables; Boarding Stables / Livery Yards; Summer Horse Riding Camps; Hunter Jumper Stables; Horse Training Stables; Retirement Farms
Region: Dutchess County, New York
www.mlcfarm.com/
North Road Stable

460 North Road
Jefferson, NY 12093


(607) 652-3188

buck04@hughes.net


We are family owned with 400 acres of private trails and pasture. Newly remodeled barn with matted box stalls. Any breed/discipline welcome. Retirements and layups get the special care they need. Lessons available. Foaling areas can be arranged. 200 x 180 outdoor riding arena. Very clean stable. We cut our own hay, and only the best goes to the horses.

Categories: Stables and Horse Farms; Boarding Stables / Livery Yards; Retirement Farms
Region: Schoharie County, New York
Payne Farm Too

125 Dubois Rd
New Paltz, NY 12561


(845) 255-0177

paynfarmtoo@aol.com


100 acres. Sales, lessons, boarding, and trail rides (in season).

Facility includes:
- Indoor Arena
- Great Footing
- Lights
- Heated Changing Area
- Outdoor Arena
- Round Pen

Several great instructors to choose from. English, Cross Country, and Fox Hunting opportunities. Western Barrel Racing lessons by appointment.

Categories: Stables and Horse Farms; Lesson Stables; Ranches and Vacations; Sale Barns; Retirement Farms
Region: Ulster County, New York
www.paynefarmtoo.com/
Surreywood Farms

Goshen, NY


(914) 475-5488

(914) 325-9982

surreybt@earthlink.net


A professional boarding facility on 80 acres with grassy fields and peaceful companions. We focus on healthy and happy horses, with a specialty in caring for older horses. Board prices are very reasonable, and you are not paying for facilities you don't use.

Categories: Stables and Horse Farms; Boarding Stables / Livery Yards; Retirement Farms
Region: Orange County, New York
Broad Reach Farm

253 Carpenter Road
Ghent, NY 12075


(914) 391-2373

broadreach253@yahoo.com


Equine Retirement

We are located in the upper Hudson Valley, two hours from Manhattan, and offer TLC for your retiree. Matted stalls, large and small pastures, ample turnout, and all wood fencing. We only board retirees, so your horse's older horse issues are our priority. Visit our website for more information, prices, photos, and details, and if you wish to visit, please call us at 914-391-2373. We look forward to making your retiree one of the family!

Categories: Stables and Horse Farms; Retirement Farms
Region: Columbia County, New York
www.broadreachequineretirement.com/
Green Acres Retirement Farm

2230 Gridley Paige Rd.
Deansboro, NY 13328


(914) 414-7872

info@greenacresretirementfarm.com


20 stall 70 acre retirement facility. Group and individual turnout available. Large grass pastures with three board fencing. Customized care. Pasture Board $225/mth. Stall Board $350/mth. Both boarding packages include trimming, vaccinations, and worming.

Categories: Stables and Horse Farms; Retirement Farms
Region: Westchester County, New York
www.greenacresretirementfarm.com/
Horse Heaven Stables

1654 County Road 43
Clifton Springs, NY 14432


(315) 462-2354

jpetruzz@rochester.rr.com


Horse Heaven Stables is now offering retirement and rest board for your horse. We are located on 63 acres in the Finger Lakes region. Our goal is to see that all the horses that come to us are well cared for and happy as they live out their life or rest their current injuries. We do this by checking your horse daily, as we live on the property, and sending you monthly photos and updates about how your horse is doing. We understand that every horse enjoys different stabling and turnout routines. Our boarding packages allow you to find the one best suitable for your equine.

Categories: Stables and Horse Farms; Lesson Stables; Boarding Stables / Livery Yards; Summer Horse Riding Camps; Retirement Farms; Horse Hotels / Overnight Boarding
Region: Ontario County, New York
www.horseheavenstables.net/
J Bar S

German, NY 13040


(607) 373-9506

info@jbars-ranch.com


You should have the peace of mind to know that your older horse will be receiving the best he or she deserves. As J Bar S is our home, we are personally involved in the horses' daily care. Your horse will enjoy his 12x12 matted stall in our new barn and daily turnout in one of our fenced pastures (2 large for socialization and 3 smaller for privacy). Premium grain and locally grown hay are fed twice daily. We also accommodate special diets. Having a problem with your younger horse? Need help in starting your colt? Contact us.

Categories: Stables and Horse Farms; Boarding Stables / Livery Yards; Horse Training Stables; Retirement Farms
Region: Cortland County, New York
LS Homestead

Livingston Manor, NY 12758


(845) 701-2720

lshomestead@gmail.com


We offer a wide range of boarding options for your horse(s). Full, pasture, retirement, weekenders, broodmares, and lay-ups. Over 30 years' experience; providing your horse with quality, individualized care.

Categories: Stables and Horse Farms; Boarding Stables / Livery Yards; Retirement Farms; Horse Hotels / Overnight Boarding
Region: Sullivan County, New York
---
Custom Search
---