Webster County, Missouri Horse Directory
Page 1: Results 1-6 out of 6
► Submit Your Website To This Page
Alex-Leigh Ranch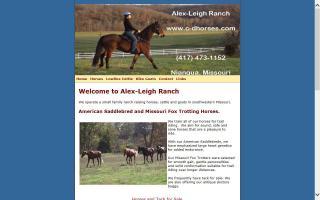 1465 Historic Road
Niangua, MO 65713
(417) 473-1152
john@c-dhorses.com
We specialize in breeding gaited pleasure, competitive trail, and endurance horses based on American Saddlebred and Missouri Fox Trotter breeding.
www.c-dhorses.com/
S&K Equine Services
11927 N Northern Hts Dr
Brighton, MO 65617
(417) 237-2616
skequine@yahoo.com
21 years experience with show, trail, polo, race, hunter jumper, and barrel horses. Reference available.
Equine Partnership Training
Seymour, MO 64746
(573) 528-7768
horsetarget1@yahoo.com
We are a small family owned and operated horse training business. We also offer riding lessons. We can be contacted through our website, or you can call us. We also accept problem horses on a case by case basis.
J and D Arabians
Fair Grove, MO 65648
(417) 933-5600
j-darabians@hotmail.com
We are a small Arabian breeding farm. Breeding quality Arabians with type, beauty, ability, and dispositions. From elite and sought after Egyptian, Polish and Davenport bloodlines. We produce champion show, performance and family horses.
Painted Blessings Ranch
S&D Appaloosas
Look in Webster County, Missouri for:
Find All Categories in: