Franklin County, North Carolina Horse Directory
Page 1: Results 1-6 out of 6
► Submit Your Website To This Page
Donna Campbell Smith
Horse Boarding
162 Henry Baker Rd
Zebulon, NC 27597
(252) 205-3467
baysdencrane@yahoo.com
Rural setting. 2 - 12 x 12 stalls for rent. New facility, daily turnout, feedings 2x a day, and round pen all on 5 acres. $300.00 (as of Apr 2010) plus feed. Some of the best care your horses will ever receive! I am on premises 24/7.
Ingleside Farm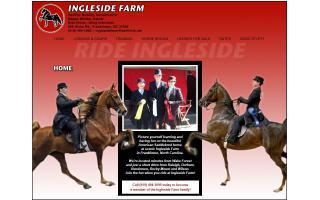 Quality Horse Hay - Orchard/Fescue Mixed
4075 NC 98 Hwy W
Youngsville, NC 27596
(919) 616-4190
(919) 556-2402
ncfspi@nc.rr.com
Producing quality horse hay at a fair price for 15+ years - Orchard/Fescue mixed.
Blossom Farm
Franklinton, NC 27525
(919) 868-0720
paydoc21@gmail.com
Barnmaster facility; full-time barn manager; matted stalls; h/c wash pit; fly spray system; round pen; 100x200 riding ring.
Koinonia Friesians
Castalia, NC 27816
(919) 853-3990
koinoniafriesians@earthlink.net
Friesians are our passion. We're proud to follow the FHANA/FPS guidlines and strive to add to the majesty and honor of the Friesian breed. We offer horses for sale in the USA and in the NL. We also can assist you with your import needs.
Look in Franklin County, North Carolina for:
Find All Categories in: