Erie County, Pennsylvania Horse Directory
Page 1: Results 1-7 out of 7
► Submit Your Website To This Page
Crosswinds Stable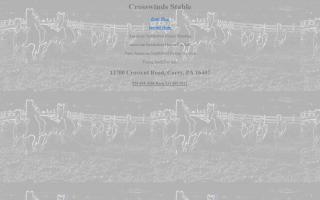 Hickory Hollow Farm
9360 Franklin Center Road
Cranesville, PA 16410
(814) 774-1414
manestreetinc@verizon.net
Overnight / layover stalls. We are a private boarding facility in the Erie, PA, area conveniently located off of Interstate I-90 14 miles west of Erie, PA. We offer box stalls, water, grain, hay, and an indoor arena, and we clean the stalls for $20.00 per night (rate as of May 2010). Upon entering Hickory Hollow Farm, we require the proof of Negative Coggins and current vaccines. We have fire alarms that are connected to a professional paid monitoring system and cameras to deter any type of theft.
If you need to camp in your rig for the night, we offer electricity only (no dumping) for $20.00 per night in addition to each stall fee.
Call ahead and make a reservation first; no drive-ins.
Sample's Majestic Miniatures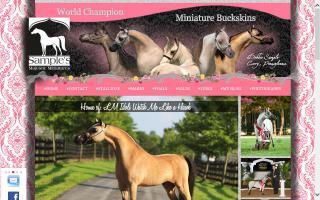 17495 Buffalo Road
Corry, PA 16407
(814) 665-4422
(814) 664-0327
dsample@worldconnx.net
Our goal is to produce tiny Arabian type dilutes with an emphasis on pretty heads, along with outstanding conformation, pedigree, and attitude. It would be our pleasure to assist you in finding the perfect mini to show, breed, or just enjoy.
www.samplesmajesticminiatures.com/
Edinboro University Equestrian Team
Horizon Hill Ranch
Corry, PA 16407
(814) 664-2108
Colorado Rangerbred Appaloosas.
Look in Erie County, Pennsylvania for:
Find All Categories in: