Alberta Farriers and Blacksmiths Directory
Page 1: Results 1-3 out of 3
► Submit Your Website To This Page
Clearhills Farrier Services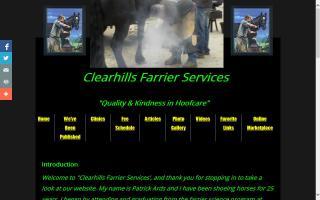 Visit Clearhills Farrier Services' Facebook Page
11405-69 Ave.
Grande Prairie AB T8W 0E5
(780) 834-6208
clearhillsfarrier@gmail.com
Professional farrier services, including hot, cold, corrective, and therapeutic shoeing. Trimming clinics offered. 25 years of experience shoeing horses. Graduated from Farrier Science program in 1990 with High Honors and at the top of my class.
www.clearhillsfarrier.com/
Arctic Farrier Service
Steppin' on the Frog
Calgary AB T42 0A5
(403) 837-7651
hoofcare@steppinonthefrog.com
Professional hoofcare and horseshoeing services in Alberta. There is a shoe for every horse, but every horse doesn't need shoes - Every horse is naturally barefoot, but it is not in the best interests of every horse to remain barefoot.
Look in Alberta for:
Find Farriers in: