New Zealand Summer Horse Riding Camps Directory
Page 1: Results 1-2 out of 2
► Submit Your Website To This Page
North River Horse & Humanship Centre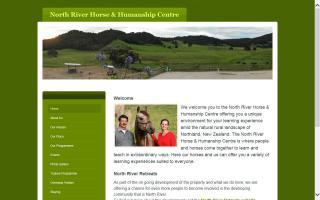 558 Helmsdale Road
RD 2
Waipu 0582
NEW ZEALAND
09 4320791
info@northriver.co.nz
Ian & Anke Benson welcome you to the North River Horse & Humanship Centre, offering you a unique environment for your learning experiences amid the natural rural landscape of Northland, New Zealand. The North River Horse & Humanship Centre is where people and horses come together to learn and teach in extraordinary ways.
The North River Horse & Humanship Centre offers you a variety of learning experiences suited to everyone. We can offer you a wide range of programmes to suit your individual needs, all using the power of the horse as your coach. There are programs for you, programs for your horse, programs for you and your horse together, and programs for people that have nothing to do with horses at all.
- Humanship Horsemanship
- Leadership Development
- Professional Development & Team Building
- Personal Development
- Youth Leadership Programs
- Equine Assisted Psychotherapy
www.northriver.co.nz/
Pakiri Beach Horse Riding
Taurere Park, Rahuikiri Road
Pakiri Beach, RD2
Wellsford
NEW ZEALAND
+64 9 422 6275
pakirihorse@xtra.co.nz
A superb nature experience. We ride along beautiful Pakiri Beach, through native bush, and over green farmland with magnificent sea views to the islands. We finish our adventure along an estuary alive with coastal and seagoing birdlife.
www.horseride-nz.co.nz/