Christian Horse Community Directory
Look in All Regions for:
Find Christian Community in:
Christian Horse Community Directory Listings
Page 1: Results 1-40 out of 227
Submit Your Website To This Page
Houghton College Equestrian Center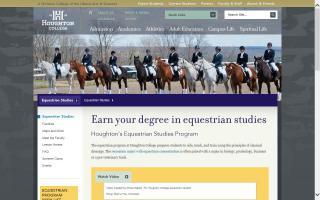 Visit Houghton College Equestrian Center's Facebook Page

9823 School Farm Rd
Houghton, NY 14744


(585) 567-8142



Mission: To equip students with knowledge in classical horsemanship (encompassing theory, philosophy, riding, the teaching of riding, and horse care) and to cultivate Christ-like character, enabling them to become effective servant-scholars.

Categories: Equestrian Colleges; Stables and Horse Farms; Lesson Stables; Christian Community; Summer Horse Riding Camps
Region: Allegany County, New York
www.houghton.edu/equestrian/
Acts 2 Acres Equestrian Center

Visit Acts 2 Acres Equestrian Center's Facebook Page

4000 NW 43rd St
Coconut Creek, FL 33073


(954) 326-2528

acts2acres@gmail.com


Boarding facility and lesson stable.

Acts2Acres is a full care boarding facility & lesson stable.
- A peaceful & friendly atmosphere
- Stall cleaning twice daily with large pine bedding
- Quality 3 wire Timothy fed 4x's per day & quality grain 2x's day
- Worming schedule
- Large grass paddocks & Night turnout available
- Lighted Riding Arena
- Air conditioned club house & tack room with bathroom & refrigerator
- 12x12 Matted stalls walk outs & fans
- Next to Tradewinds Park with tons of trails
- Large grass field for riding
- Gated facility & owner lives on premises

Horseback Riding Lessons, Birthday Parties, Camps, Pony Club, Leasing & Sales.

Categories: Stables and Horse Farms; Lesson Stables; Christian Community; Boarding Stables / Livery Yards; Summer Horse Riding Camps; Pony Parties / Birthday Parties
Region: Broward County, Florida
www.acts2acres.com/
Adoration Equine, LLC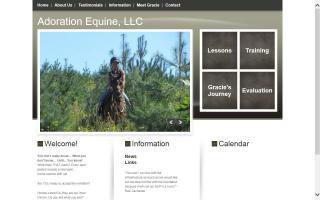 Marshall, WI 53559


(608) 220-1299

info@adorationequine.com


Natural Horsemanship Lessons & Training. On-site with my horses or trailer in yours. Or off site at your farm/boarding facility. Year round lessons. Experienced. Excellent references. Please see my website for more information.

Categories: Stables and Horse Farms; Lesson Stables; Christian Community; Pony Parties / Birthday Parties; Horse Training Stables; Natural Horsemanship Training
Region: Dane County, Wisconsin
www.adorationequine.com/
Adventist Horseman's Association - AHA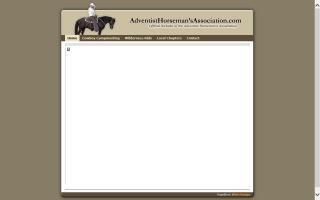 The Adventist Horseman's Association is devoted to Christians with the common interest of riding horses. We currently have ten chapters in the United States and British Columbia, Canada. We have members in Washington, where the AHA started.

Categories: Trail Riding Organizations; Christian Community
Regions: British Columbia; Walla Walla County, Washington
www.adventisthorsemansassociation.com/
Anna Jane White-Mullin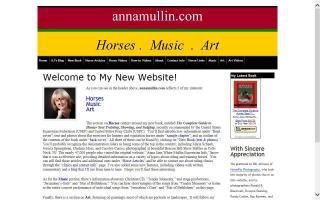 Gadsden, AL


Anna Jane White-Mullin, who has held a "Big R" license with the USEF for more than 30 years, provides free information on training, showing, and judging hunters and hunter-seat equitation. The site includes a weekly blog, horse articles, horse videos, how-to videos, and horse forums.

Categories: Books; Reference; Christian Community; Forums; Blogs
Region: Etowah County, Alabama
www.annamullin.com/
Arizona Horseback Experience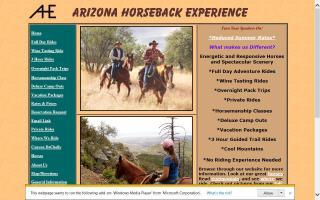 Visit Arizona Horseback Experience's Facebook Page

Tucson, AZ


(520) 455-5696

ride@horsebackexperience.com


Categories: Stables and Horse Farms; Christian Community; Ranches and Vacations
Region: Pima County, Arizona
www.horsebackexperience.com/
ArtCords, LLC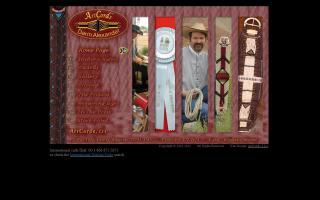 Visit ArtCords, LLC's Facebook Page

PO Box 1026
Gentry, AR 72734


(866) 872-2673

sales@artcords.com


Education & design direct from Darin Alexander. In 1986, Mr. Alexander began learning the art and science of cord saddle cinches. Today, he shares his experience and techniques, based on over a century of traditional cowboy family history in Wyoming, in the form of workshops, educational presentations, and DVDs. As an educator, Darin also considers himself a life-long student, searching for ways to teach folks about uses of 100% animal hair to "keep the comfort of the horse and mule in mind!" Materials, tools, and supplies of the highest quality are sold securely on the ArtCords website for making your own gear. With an AAS in photography and experience as digital photographer for the Buffalo Bill Historical Center in Cody, Wyoming, he is developing custom web-sites for boot & saddle makers as well as other western arts.

Categories: Product Manufacturers; Christian Community; Web Design; Photography; Online Shopping
Region: Benton County, Arkansas
www.artcords.com/
Artist Laurie Sherrell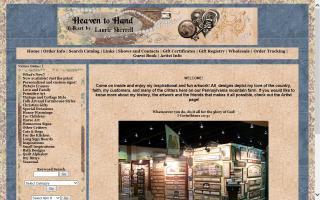 Visit Artist Laurie Sherrell's Facebook Page

lauriesherrell@hotmail.com

Horse, Christian, and other folk art designs and signs by Laurie Sherrell. We also do some custom work for interior signs.

Categories: Art; Gifts; Christian Community; Online Shopping
Region: Pennsylvania
www.lauriesherrell.com/
Ashley Moores Stables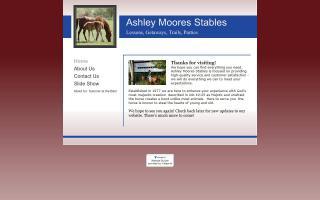 1269 Doyle Rd
Jefferson, OH 44047


(440) 576-8949

macalaway@roadrunner.com


Lessons, getaways, trails, parties, and overnight accommodations. Horse Hay Hut feeders for sale. Christian camp programs.

Great location close to Lake Erie, Pymatuming Lake, golf courses, Geneva on The Lake, wineries, and covered bridges, including one on our road. Our facilities are family oriented with a wonderful picnic area and lodge house.

Categories: Stables and Horse Farms; Lesson Stables; Christian Community; Ranches and Vacations; Summer Horse Riding Camps
Region: Ashtabula County, Ohio
www.ashleymooresstables.vpweb.com/
Beaver Hollow Farm, Inc.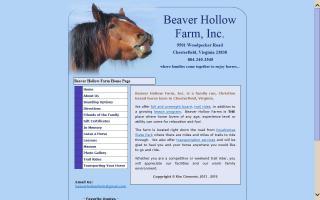 9501 Woodpecker Road
Chesterfield, VA 23838


(804) 240-2545

beaverhollowfarm@comcast.net


Beaver Hollow Farm, Inc. is a family run, Christian based horse barn in Chesterfield, Virginia.

We offer full and overnight board, trail rides, and a growing lesson program. Beaver Hollow Farms is a place where horse lovers of any age, experience level, or ability can come for relaxation and fun!

The farm is located right down the road from Pocahontas State Park, where there are miles and miles of trails to ride through. We also offer transportation services and will be glad to haul you and your horse anywhere you would like to go and ride.

Categories: Stables and Horse Farms; Lesson Stables; Christian Community; Boarding Stables / Livery Yards; Ranches and Vacations; Saddleseat Stables; Transportation; Horse Hotels / Overnight Boarding
Region: Chesterfield County, Virginia
www.beaverhollowfarm.com/
Big Sky Inspirations greeting cards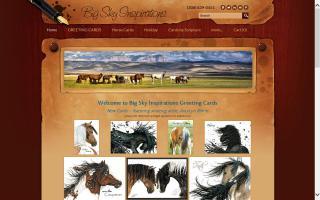 Visit Big Sky Inspirations greeting cards' Facebook Page

P.O. Box 219
Star, ID 83669


(208) 639-0451

janine@bigskyi.com


Big Sky Inspirations greeting cards feature scenic photography of horses and nature and inspirational scriptures. We have over 150 greeting cards from which to choose. Take a look - we think you'll like what you see. Many blessings! Janine Rosenberger

Categories: Gifts; Christian Community; Photography
Region: Ada County, Idaho
www.bigskyi.com/
Bobcat Farm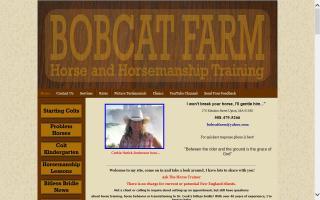 270 Mendon Street
Upton, MA 01568


(508) 479-5266

cathieanderson@verizon.net


Horse training specialist. Cathie Hatrick-Anderson: colt starting and re-training problem horses. I come to you, and we train your horse together, up to your comfort level. Clinic available. Licensed and insured. I won't break your horse, I'll gentle him!

Categories: Stables and Horse Farms; Christian Community; Trainers and Clinicians
Region: Worcester County, Massachusetts
www.bobcatfarm.com/
Book Family Farm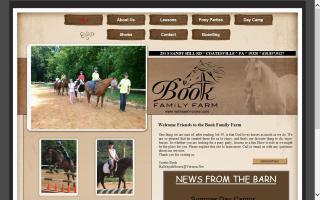 Visit Book Family Farm's Facebook Page

251 S Sandy Hill Rd
Coatesville, PA 19320


(610) 857-9127

(610) 639-6007

hallelujahhorses@verizon.net


Whether you are a serious rider or just want to have fun, the Book Farm might be just what you are looking for. We are primarily a Christian based riding academy involved with teaching and boarding horses since the year 2000. We offer riding lessons, summer day camp, pony parties, and times you can just come and play with a horse.

Categories: Stables and Horse Farms; Lesson Stables; Christian Community; Boarding Stables / Livery Yards; Ranches and Vacations; Summer Horse Riding Camps; Pony Parties / Birthday Parties
Region: Chester County, Pennsylvania
www.hallelujahhorses.com/
Calvin Center Equestrian Program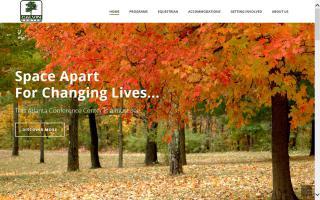 13550 Woolsey Road
Hampton, GA 30228


(770) 946-4276

(404) 583-4591

gretchen@calvincenter.org


Therapeutic riding and hippotherapy for youth and adults, beginning and intermediate English and western riding lessons for youth and adults, and group trail rides for your group. Calvin Center's equestrian programs take place at Calvin Center - the camp, conference, and retreat center ministry of the Presbytery of Greater Atlanta, PCUSA.

Categories: Stables and Horse Farms; Lesson Stables; Therapeutic Riding Stables; Christian Community; Ranches and Vacations; Summer Horse Riding Camps
Region: Henry County, Georgia
www.calvincenter.org/
Camp Berachah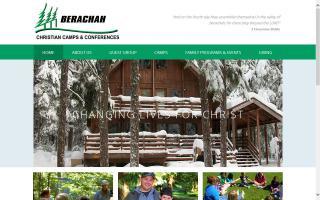 Visit Camp Berachah's Facebook Page

19830 SE 328th Place
Auburn, WA 98092


(253) 939-0488

(800) 859-CAMP



A Christian camp & conference center providing year-round rental facilities for churches and non-profit organizations, as well as Christian camps and conferences for youth, adults, & families.

Categories: Stables and Horse Farms; Lesson Stables; Therapeutic Riding Stables; Christian Community; Summer Horse Riding Camps; Vaulting Stables
Region: King County, Washington
www.campberachah.org/
Campfire Creek Therapeutic Riding Center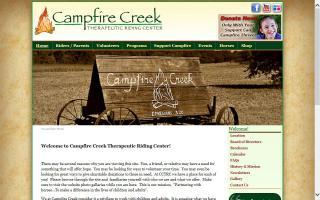 Visit Campfire Creek Therapeutic Riding Center's Facebook Page

767 Bethel Road
Waxahachie, TX 75167


(972) 937-7265



Our mission is to improve the quality of life for children and adults with physical, mental, emotional, behavioral, social, and spiritual needs by providing activities through interaction with the equine family and the agricultural environment. The organization will educate others to work with horses in the treatment of individuals with these challenges.

Categories: Stables and Horse Farms; Therapeutic Riding Stables; Christian Community; Equine Assisted Psychotherapy Programs
Region: Ellis County, Texas
www.campfirecreek.org/
Canyonview Camp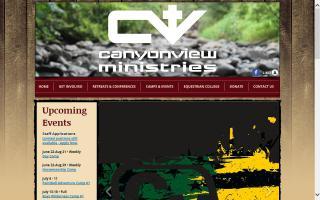 Canyonview Christian Camp, Silverton Oregon, has been offering quality Bible-based Christian camps and retreats since 1959, including day camp, traditional overnight camp, horse camp, and teen camp. Summer camps are week long; fall, winter and spring

Categories: Christian Community; Christian Youth Ministries
Region: Marion County, Oregon
www.canyonviewcamp.org/
Canyonview Equestrian College - CEC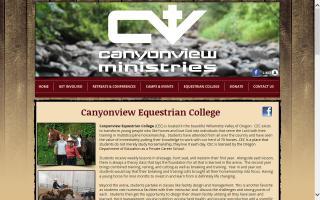 13000 Finlay Road NE
PO Box 128
Silverton, OR 97381


(971) 239-1348

(971) 239-1347

college@canyonview.us


Christ-centered education for horsemanship ministry. CEC is a two year resident program that is licensed with the State of Oregeon Department of Education as a Career Training School. Enrollment is limited to 8 incoming students per year. CEC's campus is on 90 acres along Drift Creek near Silverton, Oregon. Students receive weekly lessons in hunt seat, dressage, and western their first year and progress to reining and working cowhorse, combined training, and breaking and training their second year. All students take all classes together as a class. All classes center around the Bible, ministry, and horsemanship. Students have the opportunity to go through 2 CHA clinics and graduate as certified riding instructors. Graduates are working at Christian camps or guest ranches as horsemanship directors, as veterinarian technicians, with trainers as assistant trainers, at private barns as barn managers, and at basically any horse job where they can share the love of Jesus Christ. We look forw

Categories: Equestrian Colleges; Christian Community
Region: Marion County, Oregon
www.canyonviewequestriancollege.org/
Chehalem Mountain Therapy Riding Center Inc - CMTRCI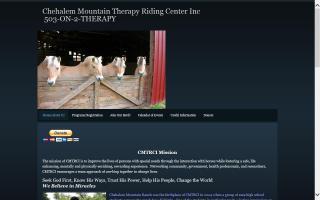 Visit Chehalem Mountain Therapy Riding Center Inc - CMTRCI's Facebook Page

23185 SW Jaquith Road
Newberg, OR 97132


(503) 314-3176

director@horsebacktherapy.com


Focusing on the ability rather than the "dis".

The mission of CMTRCI is to improve the lives of persons with special needs through the interaction with horses while fostering a safe, life enhancing, mentally and physically enriching, rewarding experience. Networking community, government, health professionals, and researchers, CMTRCI encourages a team approach of working together to change lives.

Categories: Stables and Horse Farms; Therapeutic Riding Stables; Christian Community; Summer Horse Riding Camps
Region: Washington County, Oregon
www.horsebacktherapy.org/
Chehalem Mountain Therapy Riding Center Inc - CMTRCI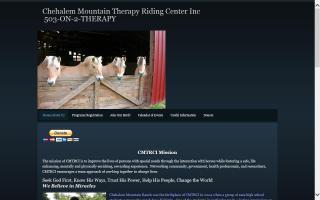 Visit Chehalem Mountain Therapy Riding Center Inc - CMTRCI's Facebook Page

Newberg, OR 97132


(503) 314-3176

director@horsebacktherapy.com


Categories: Stables and Horse Farms; Breeding Farms; Therapeutic Riding Stables; Christian Community; Norwegian Fjord Horse Farms; Summer Horse Riding Camps
Region: Yamhill County, Oregon
www.horsebacktherapy.com/
Chord Ranch / Cee Heart Quarter Horses

Edgemont, SD 57735


(605) 749-2233



Working cattle ranch raising Quarter Horses with good minds, athletic abilty and good lineage.

Categories: Quarter Horse Farms; Stables and Horse Farms; Breeding Farms; Christian Community
Region: Fall River County, South Dakota
www.ceeheart.com/
Christian Wrangler Camp - CWC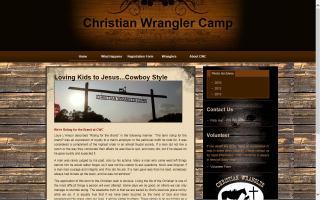 12692 Hwy 147
Horseshoe Lake, AR 72348


(870) 494-5344

brotracy@att.net


Christian Wrangler Camp is a very inexpensive summer camp that exists solely to share the gospel with young folks. We do this through the use of horses. While teaching kids the basics of horsemanship, we also strive to share the love and salvation of our Lord Jesus Christ. We reach out to kids who are not going to church or who normally couldn't go to a camp. Our slogan is "Sharing the love of Jesus - cowboy style."

Categories: Christian Community; Christian Youth Ministries; Summer Horse Riding Camps
Region: St Francis County, Arkansas
www.christianwranglercamp.org/
ChristianCowgirl.net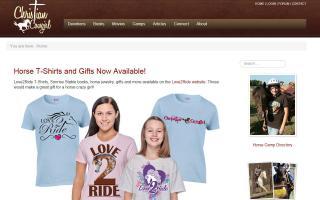 12180 Black Rd
Marysville, OH 43040


(614) 467-3824



Christian horse lovers join us on ChristianCowgirl.net for Christian horse devotions, articles, a directory of Christian riding stables, a forum, ecards, contests, and more!

Categories: Directories; Christian Community; Forums; Portals
Regions: Canada; United States
www.christiancowgirl.net/
Circle N Tack Barn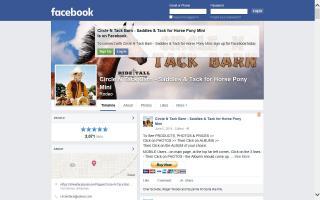 2110 Maple
Van Buren, AR 72956


(479) 474-4775

(479) 719-1607

circlentack@yahoo.com


A number 1 saddle and tack store for kid's saddles, kid's & adult barrel racing saddles, horse & pony tack, neon tack, and more. Fast Shipping!

Categories: Tack Shops; Christian Community
Region: Crawford County, Arkansas
www.circlentackbarn.com/
Circle S Ranch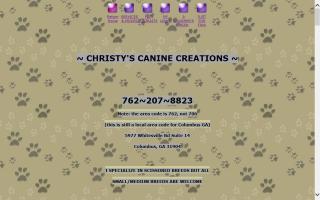 10331 Ga Hwy 315 W
Cataula, GA 31804


(706) 573-5424

christysequinecreations@yahoo.com


We are a laid-back, family oriented farm. We have over 100 acres of rolling, green pastures, trails, ponds, and an arena & round pen (both lighted for nighttime riding).

We offer pasture board @ $200 a month (as of Jun 2010). In winter months, when grass is down, horses have unlimited hay. We have a person on-site every day who can feed & supplement your horse if necessary (at an additional cost). Please email for more information.

You'll love the freedom to ride over 100 acres, with access to more. We are just minutes from Columbus, Ga. Probably the most land to ride and the most convenient location!

Categories: Stables and Horse Farms; Lesson Stables; Christian Community; Boarding Stables / Livery Yards
Region: Muscogee County, Georgia
www.christyscaninecreations.com/
Classic Equine Art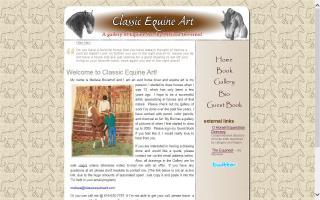 9911 Bittersweet Ave
Grant, MI 49327


(616) 635-7787

melissa@classicequineart.com


Award winning equine artist, Melissa Boverhof, specializing in charcoal, pencil, and color pencil drawings.

Categories: Art; Christian Community
Region: Newaygo County, Michigan
www.classicequineart.com/
Coastal Steel Structures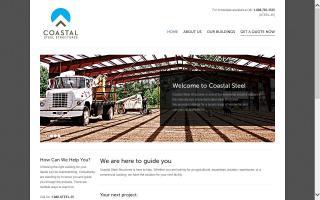 505 S. Federal Highway
Suite 4
Deerfield Beach, FL 33441


(888) 783-3535

info@coastalsteelstructures.com


Steel riding arenas from Coastal Steel Structures have proven a wise choice for equestrian enthusiasts all over the country. A steel riding arena is suitable for the small pony riding club as well as for the arranger of large horse shows.

Categories: Christian Community; Arena Construction
Region: Broward County, Florida
www.coastalsteelstructures.com/
Cornerstone Farm LLC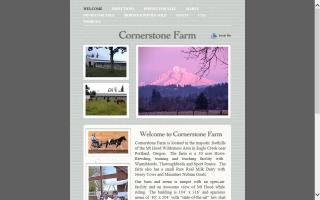 Eagle Creek, OR 97022


(503) 630-7281

delgado@cascadeaccess.com


Show quality sport ponies registered and approved with Weser Ems and NASPR in dressage and hunter/jumper. Site champions in premier movement and quality conformation with trainable minds. Pasture raised and handled; professionally trained.

Categories: Stables and Horse Farms; Breeding Farms; Christian Community; Sport Pony Breeders and Stallions
Region: Clackamas County, Oregon
www.mycornerstonefarm.com/
Country Horse, The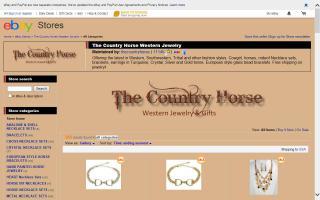 2443 Coolidge Rd
Lafayette, TN 37083


(615) 666-7331

countryhorse@nctc.com


We offer Western tack and trail riding equipment such as new & used saddles, saddle pads, Mayatex blankets, sport boots, girths, reins, stirrups, bridles, bits, saddlebags, horn bags, trail stirrups, gel seat savers and just about anything needed to tack up your horse. We also carry Western style handbags & jewelry. Visit our Lafayette shop or our website online.

Categories: Tack Shops; Gifts; Christian Community; Online Shopping
Region: Macon County, Tennessee
www.thecountryhorse.com/
Cowboy Up Ministry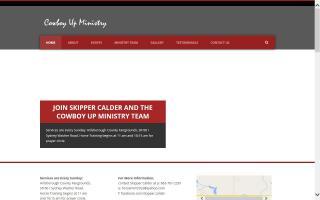 5969 Steve Roberts Special
Zolfo Springs, FL 33890


(863) 781-2281

(863) 735-2956

horseministry@yahoo.com


Christian cowboy outreach ministry using horse training techniques to demonostrate Godly, Biblical principles.

Categories: Christian Community; Trainers and Clinicians
Region: Hardee County, Florida
www.cowboyupministry.com/
Cowtown Cowboy Church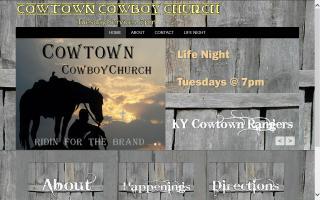 (859) 663-0674

lonestar1@zoomtown.com

Worship Service held Thursday nights at 7:00 PM at the Grant County Fairgrounds. For more information, call Steve at (859) 663-0674.

Category: Christian Community
Region: Grant County, Kentucky
Regional Category: Grant County, Kentucky Christian Community
www.cowtowncowboychurch.org/
Cross Spur Quarter Horses

Visit Cross Spur Quarter Horses' Facebook Page

Humansville, MO 65674


(417) 754-2413

crosspur@centurytel.net


Blue Valentine, Hancock, Driftwood & Sunfrost bred working ranch horses. Lots of roans.

Categories: Quarter Horse Farms; Stables and Horse Farms; Breeding Farms; Christian Community
Region: Polk County, Missouri
www.crossspur.com/
Crystal Peaks Youth Ranch - CPYR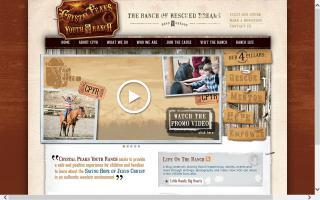 19344 Innes Market Rd
Bend, OR 97701


(541) 330-0123

crystalpeaks@cpyr.org


The ranch of rescued dreams. Rescuing horses and helping kids. A safe and peaceful environment where broken children, horses, and families can find hope within the healing circle of unconditional love.

Categories: Horse Rescue Organizations; Stables and Horse Farms; Christian Community; Christian Youth Ministries; Equine Assisted Psychotherapy Programs
Region: Deschutes County, Oregon
www.crystalpeaksyouthranch.org/
D Bar W Equestrian Center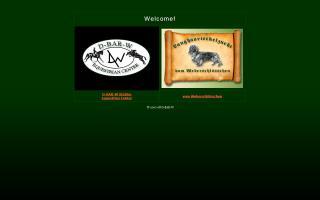 Adamstown, PA 17569


(717) 484-4769

dbarw@dejazzd.com


Categories: Stables and Horse Farms; Lesson Stables; Christian Community; Boarding Stables / Livery Yards; Horse Training Stables
Region: Lancaster County, Pennsylvania
www.dbarw.com/
Daniel-Price Quarter Horses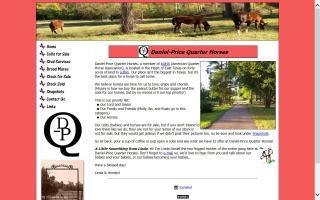 2110 S John Redditt Dr Ste A
Lufkin, TX 75904


Daniel-Price Quarter Horses, located in east Texas, sells colts and offers stud services.

Categories: Quarter Horse Farms; Stables and Horse Farms; Breeding Farms; Christian Community
Region: Angelina County, Texas
www.daniel-pricequarterhorses.com/
Daystar Farm & Kennels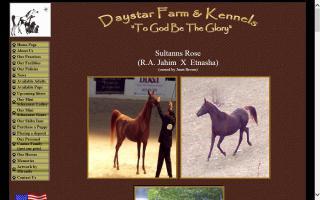 Fairmount, GA 30139


(706) 299-1799

(706) 337-2744

daystarfarms@frontiernet.net


Categories: Arabian Horse Farms; Stables and Horse Farms; Breeding Farms; Christian Community
Region: Gordon County, Georgia
www.daystarfarmandkennels.com/index.asp?ID=21
Dream Makers Appaloosas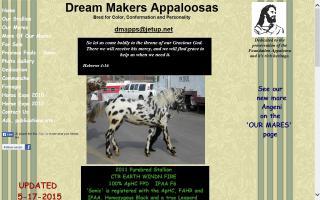 Milaca, MN 56353


(320) 556-3486

dmapps@ecenet.com


Categories: Appaloosa Breeders and Horse Farms; Stables and Horse Farms; Breeding Farms; Christian Community
Region: Mille Lacs County, Minnesota
www.dreammakersappaloosas.com/
Duas Quintas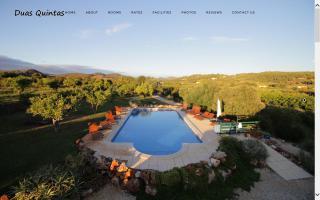 Traditional Algarve bed and breakfast accommodation located in the heart of the Algarve near Silves, Portugal. Stunning b&b rooms and surroundings for you to enjoy, completely run by a Christian family in Portugal. We run horse riding weekends, so contact us for details.

Categories: Christian Community; Ranches and Vacations
Region: Portugal
www.algarveguesthouse.com/
Eagles Wings Ranch

Marionville, MO 65705
michelle1050@sbcglobal.net


Lucky W Ranch offers Christian based summer horse camps for kids, riding lessons, horse training, and occasionally horses for sale. We also offer parties, leases, and gift certificates.

Categories: Stables and Horse Farms; Lesson Stables; Christian Community; Christian Youth Ministries; Boarding Stables / Livery Yards; Summer Horse Riding Camps; Pony Parties / Birthday Parties; Horse Training Stables
Region: Lawrence County, Missouri
eagleswingsranch.synthasite.com/
Eden Farms Home Page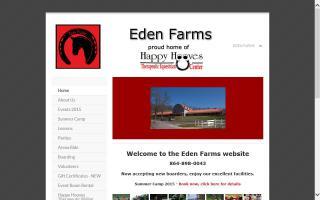 Eden Farms is working to become South Carolina's finest horse boarding and instructional facility, through which we hope to help support our therapeutic riding program.

Categories: Stables and Horse Farms; Lesson Stables; Therapeutic Riding Stables; Christian Community; Boarding Stables / Livery Yards
Region: Greenville County, South Carolina
www.edenfarms.net/
Page:
1
2
3
4
5
Next >>
---
Custom Search
---