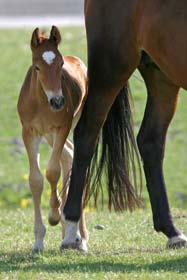 Saline County, Arkansas Horse Directory
You are in Saline County, Arkansas:
Saline County, Arkansas Directory Listings - Page 1: Results 1-8 out of 8
2nd Chance Mini-Ranch Equine Rescue & Rehabilitation Center

4782 Hwy 5
Benton, AR 72019
(501) 231-8186
jkdawson8085@gmail.com


Equine rescue facility.

Categories: Horse Rescue Organizations; Stables and Horse Farms
Region: Saline County, Arkansas
www.2ndchance-equinerescue.org/
A & B Minis


Mabelvale, AR 72103
(501) 773-3602
aandbminis@yahoo.com


Sires are:
- Cross Country Barracuda - 2008 Reserve National Champion Senior Stallion under (son of Lazy N Redboy)
- NFC LA Egyptian King Rhapsody - 1994 Reserve World Champion Amateur Senior Stallion (son of Egyptian King)
- Flying W Farms Okie Blue Sky (double blue boy grandson)

We are a small miniature horse farm in central Arkansas that strives to produce show quality miniature horses that will be able to compete in today's show ring.

Categories: Miniature Horse Farms and Stallions; Stables and Horse Farms; Breeding Farms
Region: Saline County, Arkansas
www.aandbminifarm.com/
Bray's Training Center, Inc.

201 Peeler Bend
Benton, AR 72019
(501) 778-6375
ymaltese@aol.com


Offering lessons for ages 5 and up (English or western) from beginner to advanced. Board, training, showing & marketing available. Facilities include a covered arena, fly systems in all barns, manicured pastures, and a client lounge/viewing area.

Categories: Arabian Horse Farms; Stables and Horse Farms; Breeding Farms; Lesson Stables; Boarding Stables / Livery Yards; Sale Barns; Horse Training Stables
Region: Saline County, Arkansas
www.btc-arabian.com/





Circle H Quarter Horse Farm

316 Dodson Creek Rd
Benton, AR 72015
(501) 778-0767
(501) 317-2259
samsusan@horizonbroadband.net


Home of Clusos Invested Skip. From the line of "The Invester" and "Zippos Mr Good Bar".

Categories: Quarter Horse Farms; Stables and Horse Farms; Breeding Farms
Region: Saline County, Arkansas
Green Haven Horse Stables - GHHS


13288 Bean Rd
Alexander, AR 72002
(501) 529-1621
rgreen@greenhavenstables.com


Green Haven stables offers horse boarding, lessons, pony parties, and summer camps. We have a small indoor and a large outdoor arena. Our 13 stall barn has an indoor wash area and a tack room. Your horse is treated as if it were our own. GHHS is a great place for horse crazy kids and/or adults who are beginning out of overcoming fears. GHHS offers lesson horses for lessons. GHHS offers wonderful pony birthday parties and outstanding summer camp programs. Green Haven Stables is a dream in action.

Categories: Stables and Horse Farms; Lesson Stables; Boarding Stables / Livery Yards; Summer Horse Riding Camps; Pony Parties / Birthday Parties; Horse Training Stables
Region: Saline County, Arkansas
www.greenhavenstables.com/
Hobbit Hill Riding Stables

13288 Bean Rd
Alexander, AR 72002
(501) 316-4145
(501) 607-4455


Arkansas pony parties and more.

Categories: Stables and Horse Farms; Lesson Stables; Pony Parties / Birthday Parties
Region: Saline County, Arkansas
www.hobbithillridingstables.com/
Holzman Riding Academy


Categories: Stables and Horse Farms; Lesson Stables
Region: Saline County, Arkansas
www.holtzmanridingacademy.com/
T Bar M Chaps, Saddles, and Custom Leatherwork

Hensley, AR 72065
(501) 888-8196
(501) 412-8196
tbarm@aristotle.net


Category: Product Manufacturers
Region: Saline County, Arkansas
Regional Category: Saline County, Arkansas Product Manufacturers
---
Custom Search
---