North A, Horse Rescue Organizations Directory - Page 5




Look in North A, for:
Find Horse Rescue Organizations in:
*NEW* Featured Directory Listings
Your Listing Can Appear Here!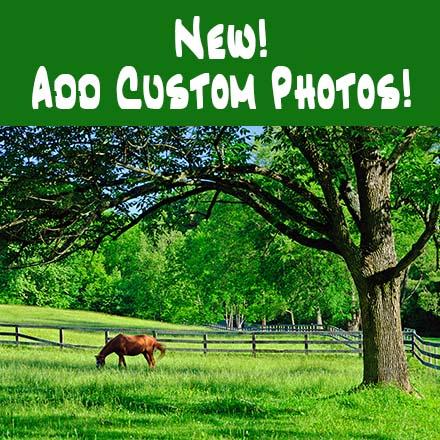 Approved Listings are now eligible to appear in the Featured Listings section for relevant categories.

Please Log In to see the options currently available for your Listing on O Horse!

Category: Directories
North A, Horse Rescue Organizations Directory Listings
Page 5: Results 161-200 out of 259
Submit Your Website To This Page
Midwest Horse Welfare Foundation, Inc.

10990 Highway 73
Pittsville, WI 54466


(715) 884-2215

scott@equineadoption.com


Midwest Horse Welfare Foundation is a 501(c)3 nonprofit charity dedicated to providing qualified homes for any horse in need. It is our goal to make certain that every horse placed in our care is provided with all the necessary ingredients for a safe and happy life, and that it is also protected from those who would do it harm.

Each horse placed in our care will receive our full efforts to ensure that it never ends up in the auction ring or on the slaughterhouse floor. We promise to do our best to provide only the best homes with dedicated families for every animal we place.

The horses that come to us come for many reasons and each horse has its own story. They all have one thing in common, they need a loving and caring home. Our rules and policies are the accumulation of years of experience and planning. We are looking for good people with big hearts willing to share their lives with a horse who needs their help.

Categories: Horse Rescue Organizations; Stables and Horse Farms; Retirement Farms
Region: Wood County, Wisconsin
www.equineadoption.com/
MississippiHorses.org

Stephanie Billingsley
Madison, MS 39110


(601) 201-8522

muleshoeranchms@yahoo.com


An online community dedicated to providing horse owners opportunities to insure that their horses can be treated with dignity and respect when they are no longer wanted. We have an available for adoption page for horses needing homes. Our network includes people and facilities that will assist horse owners with an unwanted horse, regardless of condition, and provide the horse with a place to live out its years in peace and comfort.

Category: Horse Rescue Organizations
Region: Mississippi
Regional Category: Mississippi Horse Rescue Organizations
www.mississippihorses.org/
MJZ Horse Rescue Inc.

Manorville, NY 11949


(631) 878-3949

mjzhorserescue@optonline.net


We started this horse rescue to try and help save horses that would otherwise be sent to slaughter. We take in unwanted horses or horses from the auctions and rehabilitate them. We give them veterinary care, training, love, and whatever else they may need. They will then be adopted out to an approved home.

Please visit our "Help The Horses" page to see how you can help.

You can also visit our "Available Horses" page if you are interested in adopting one of our horses.

We also have a page that is for our rescues that are in rehabilitation.

We are always looking for help and for new fund-raising ideas. Please contact me if you would like to help.

Categories: Horse Rescue Organizations; Stables and Horse Farms
Region: Suffolk County, New York
www.mjzhorserescue.com/
New Vocations Racehorse Adoption Program

Finding quality homes for retired racehorses, Thoroughbreds and Standardbreds, throughout the Eastern US. Providing new vocations for ex-racehorses.

Category: Horse Rescue Organizations
Regions: Franklin County, Ohio; Miami County, Ohio; Washtenaw County, Michigan
www.horseadoption.com/
Phoenix Rising Sanctuary

PO Box 488
Duvall, WA 98019


(206) 321-0142

contact@phoenixrisingsanctuary.org


Our mission is to educate and empower girls through interaction with our rescue horses and to support them in becoming strong, compassionate, confident, and curious young women with a positive sense of self, family, and community.


Categories: Horse Rescue Organizations; Stables and Horse Farms; Summer Horse Riding Camps
Region: King County, Washington
www.phoenixrisingsanctuary.org/
Redwings Horse Sanctuary

PO Box 58
Lockwood, CA 93932


(831) 386-0135

info@redwingshorsesanctuary.org


Categories: Horse Rescue Organizations; Stables and Horse Farms
Region: Monterey County, California
www.redwingshorsesanctuary.org/
Redwings Horse Sanctuary and Equine Veterinary Centre

Hapton
Norwich
NR15 1SP
ENGLAND


01508 481000

info@redwings.co.uk


Categories: Horse Rescue Organizations; Veterinarians; Stables and Horse Farms
Region: Norfolk County, England
www.redwings.org.uk/
Retraining of Racehorses - RoR

151 Shaftesbury Avenue
London
WC2H 8AL
UNITED KINGDOM


020 7152 0000

info@ror.org.uk


British horseracing's official charity established by the British Horseracing Board and The Jockey Club for the welfare of exracehorses. The site aims to provide information on retraining and rehoming of former racehorses moving into a second career.

Category: Horse Rescue Organizations
Region: United Kingdom
Regional Category: United Kingdom Horse Rescue Organizations
www.ror.org.uk/
Sadie's Haven Horse Rescue & Sanctuary

2951 Thorn Road
Sebastopol, CA 95472


(707) 206-1892

vicki@sadieshaven.com


We are a non profit public charity 501 (c)(3) horse rescue and sanctuary operation located in Sonoma County. Our purpose is to provide safe and experienced care and shelter for equines that are neglected, abused, and/or abandoned.

We inform and educate the public about the plight of these horses through tours and day camp programs for the community. We stress special consideration for underprivileged children and teens. We also offer youngsters the opportunity to complete their community service requirements in their schooling. If it were not for our efforts, many, if not all, of these horses would find themselves heading for the slaughter houses in Texas or Canada via the black market. Our goal is to care for them and keep them comfortable and happy for the rest of their natural lives.

We seek assistance from all sectors of society in this absolutely necessary mission. Corporate sponsors, individual sponsors, and individual donations are direly needed.

Categories: Horse Rescue Organizations; Stables and Horse Farms; Retirement Farms
Region: Sonoma County, California
www.sadieshaven.com/
Society for the Welfare of Horses and Ponies - SWHP

Coxstone
St. Maughans
Nr Monmouth
NP25 5QF
WALES


+44 (0) 1 600 750233

swhp@swhp.co.uk


Categories: Horse Rescue Organizations; Stables and Horse Farms
Region: Wales
www.swhp.co.uk/
South West Equine Protection - SWEP

2 Tor Royal Bungalows
Princetown
Yelverton
PL20 6SL
ENGLAND


01822 890668

contact@swep.org.uk


SWEP is a South West based charity dedicated to the rescue, rehabilitation and rehoming of abused, neglected and abandoned horses and ponies and to improving equine welfare through education and the sharing of knowledge.

Categories: Horse Rescue Organizations; Stables and Horse Farms
Region: Devon County, England
www.swep.org.uk/
Sponsor A Horse

27731 Bradner Rd
Millbury, OH 43447


(419) 836-8367



Welcome to Sponsor A Horse, where caring people like you make it possible for us to continue rescuing and rehabilitating neglected, abused, and abandoned horses. If we work together as a team we can save more horses than if we were all working individually.

Membership site: members whose dues help to rescue horses and help other rescue sites rescue horses. Bring rescue sites together to work together.

Categories: Horse Rescue Organizations; Stables and Horse Farms
Region: Wood County, Ohio
www.sponsorahorse.org/
Stable Haven Horse Rescue

480 N Samsula Dr
New Smyrna Beach, FL 32168


(386) 232-8715

(386) 576-7511

info@stablehaven.org


Stable Haven Horse Rescue is a 501(c)3 not for profit organization involved in the rescue and rehabilitation of horses.

Categories: Horse Rescue Organizations; Stables and Horse Farms
Region: Volusia County, Florida
www.stablehavenhorserescue.org/
Standardbred Retirement Foundation - SRF

49 East Main Street
P. O. Box 763
Freehold, NJ 07728


(732) 462-8773

srfmail@bellatlantic.net


The SRF is an horse adoption agency that rescues retired racehorses and adopts them out as riding or pasture mates.

Category: Horse Rescue Organizations
Region: Monmouth County, New Jersey
Regional Category: Monmouth County, New Jersey Horse Rescue Organizations
www.adoptahorse.org/
Summerwinds Stables

560 Budds Landing Road
Warwick, MD 21912


(302) 492-8038

summerwinds@verizon.net


A full service rescue and adoption agency.

Categories: Horse Rescue Organizations; Stables and Horse Farms
Region: Cecil County, Maryland
www.summerwindsstables.com/
Tri-State Equine Adoption & Rescue, Inc. - TEAR

869 Hartly Rd
Hartly, DE 19953


(302) 492-0492

Saveahorse@aol.com


Categories: Horse Rescue Organizations; Stables and Horse Farms
Region: Kent County, Delaware
www.tristateequine.org/
True Blue Animal Rescue - T-Bar

PO Box 1107
Brenham, TX 77834


(936) 878-2349

help@t-bar.org


True Blue Animal Rescue was created to educate people about caring for animals and to provide alternative care for animals when their owners are no longer able to support them. True Blue Animal Rescue is a non profit organization dedicated to helping all animals in need.

Categories: Horse Rescue Organizations; Stables and Horse Farms
Region: Washington County, Texas
www.t-bar.org/
Under the Angel's Wings Rescue - UAWR

PO Box 293683
Phelan, CA 92329


(951) 318-2275

Courtney@uawr.com


Categories: Horse Rescue Organizations; Stables and Horse Farms; Christian Community
Region: San Bernardino County, California
www.uawr.com/
United SPCA

P.O. Box 1192
Newberg, OR 97132


(503) 662-0082

retiredbarnqueen@yahoo.com


Our mission is to promote humane standards and education, prevent and investigate cruelty to animals, to provide shelter for animals, and to aid in the enforcement of all laws relative to animals.

We have assisted the Marion County Sheriff's Department in two seizures of 11 horses this year (2010/2011).

We are a non-profit organization that functions solely on donations. Your donation means we can continue our good work in rescuing animals in need.

Category: Horse Rescue Organizations
Region: Yamhill County, Oregon
Regional Category: Yamhill County, Oregon Horse Rescue Organizations
www.unitedspca.org/
2nd Chance Mini-Ranch Equine Rescue & Rehabilitation Center

Benton, AR 72019


(501) 231-8186

jkdawson8085@gmail.com


Equine rescue facility.

Categories: Horse Rescue Organizations; Stables and Horse Farms
Region: Saline County, Arkansas
3-Strikes Ranch

Alliance, NE 69301


(308) 762-3428

(308) 762-3627

anissameduna@nntc.net


Non-profit organization that receives mustangs that have been through adoption sales 3 times and passed over. These mustangs are brought to 3-Strikes Corral, gentled and trained, and then offered to good homes only. Call for more information.

Categories: Mustang Organizations; Horse Rescue Organizations; Stables and Horse Farms
Region: Box Butte County, Nebraska
Amaryllis Farm Equine Rescue

Southampton, NY 11968


(631) 537-7335

(516) 901-4161

rascal11968@hotmail.com


Amaryllis Farm is a horse rescue that rescues horses that were on there way to slaughter. They rehabilitate the horses and they offer them up for adoption when they are trained. They train the horses to be ridden and to trust humans again.

Categories: Horse Rescue Organizations; Stables and Horse Farms; Lesson Stables; Boarding Stables / Livery Yards; Summer Horse Riding Camps
Region: Suffolk County, New York
Amazing Grace Equine Sanctuary, Inc. - AGES

Hartford, WI 53027


(262) 627-0582

erin@amazinggraceequinesanctuary.com


We are a non-profit, fully public supported horse rescue facility in Hartford, Wisconsin.

Categories: Horse Rescue Organizations; Stables and Horse Farms
Region: Washington County, Wisconsin
Animal aid Bulgaria

3830 Gramada Vidin
BULGARIA


0359888082293

animalaidbulgaria@hotmail.com


Animal aid Bulgaria is a new venture in Bulgaria set up to aid animal suffering. We care for any animal in distress, including wild animals and domestic animals. Dogs, horses, and kittens.

Category: Horse Rescue Organizations
Region: Bulgaria
Regional Category: Bulgaria Horse Rescue Organizations
Australian Equine Welfare Association - AEWA

Kingston TAS 7051
AUSTRALIA
info@aewa.org.au


AEWA - caring for the welfare of all equines.

Category: Horse Rescue Organizations
Region: Australia
Regional Category: Australia Horse Rescue Organizations
Best Little Horse House in Hastings, Inc., The

Hastings, NE 68901


(402) 461-6917

(719) 651-3749

equineconsultant@hotmail.com


We are a public non profit org. with 501(c)3 status by May 2007. We rescue, rehab, train, and adopt horses from bad situations into new homes. We have formal education in equine management. Donations are very appreciated, needed, and tax deductible.

Categories: Horse Rescue Organizations; Stables and Horse Farms
Region: Adams County, Nebraska
BGB Horse Service

Rexburg, ID 83440


(208) 227-6921

(208) 252-1288

kalcot@mail.d321.k12.id.us


For the love of horses. We take in abused, unwanted and abandoned horses and find them good homes. We board, break, train and other aspects. We also breed drafts and half drafts.

Categories: Shire Breeders and Stallions; Horse Rescue Organizations; Stables and Horse Farms; Breeding Farms; Boarding Stables / Livery Yards; Horse Training Stables
Region: Madison County, Idaho
Break Heart Ranch

Minden, NE 68959


(402) 756-0621

breakheartranch@gtmc.net


We rescue starved, abused, abandoned, neglected and slaughter horses of all ages. We rehabilitate these animals and adopt them out to loving homes. We educate the public regarding abuse. Also, help rescue equines during catastrophic events.

Categories: Horse Rescue Organizations; Miniature Horse Farms and Stallions; Stables and Horse Farms; Breeding Farms
Region: Kearney County, Nebraska
California Equine Retirement Foundation, Inc. - CERF

Winchester, CA 92596


(951) 926-4190

cerf1@earthlink.net


Categories: Horse Rescue Organizations; Stables and Horse Farms
Region: Riverside County, California
Carsley Horse Ranch and Rescue

Las Cruces, NM 88012


(505) 644-5761

(505) 313-6158

patricia@carsleyhorseranch.com


Our ranch specializes in the breeding of Appaloosas and POAs. When money allows we take in horses bound for slaughter, care for them, and find them good homes. We usually have horses available for adoption at no cost to approved homes.

Categories: Appaloosa Breeders and Horse Farms; Horse Rescue Organizations; Stables and Horse Farms; Lesson Stables; Pony of the Americas Breeders and Stallions; Boarding Stables / Livery Yards
Region: Dona Ana County, New Mexico
Challenging Spirits

Ridgway, CO 81432


(970) 626-4287

angelridge@frontier.net


Category: Horse Rescue Organizations
Region: Ouray County, Colorado
Regional Category: Ouray County, Colorado Horse Rescue Organizations
Page: << Prev 1 2 3 4 5 6 7 Next >>
---
Custom Search
---