New Jersey Horse Leasing Stables Directory





Find Horse Leasing Stables in:
New Jersey Horse Leasing Stables Directory Listings
Page 1: Results 1-25 out of 25
Submit Your Website To This Page
A & E Show Stable

Visit A & E Show Stable's Facebook Page

Allentown, NJ 08501
Silverpoknees918@aol.com


We offer both full and field board at our Allentown, NJ, facility as well as leasing, lessons, and ring rental. We have a well lit indoor arena and a large grass stadium field. Stalls are 12 by 15 with hay mangers and windows in each. Large isle with skylights, kitchen area, grass pastures, and paved driveway. Whether you are looking to show or just trail ride to the Assumpink Wild Life Reserve, we can serve your needs! Lots of experience bringing along young, green, or unbroke horses.

Categories: Stables and Horse Farms; Lesson Stables; Boarding Stables / Livery Yards; Summer Horse Riding Camps; Pony Parties / Birthday Parties; Sale Barns; Horse Training Stables; Horse Leasing Stables
Region: Monmouth County, New Jersey
aandeshowstables.webs.com/
Apollo Farms Ltd.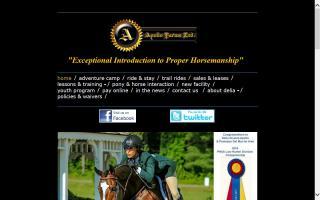 460 US Route 130 South
Swedesboro, NJ 08085


(856) 297-6610

Apollofarmsltd@apollofarmsltd.com


Categories: Stables and Horse Farms; Lesson Stables; Summer Horse Riding Camps; Pony Parties / Birthday Parties; Horse Leasing Stables
Region: Gloucester County, New Jersey
www.apollofarmsltd.com/
Arram Dawn Farm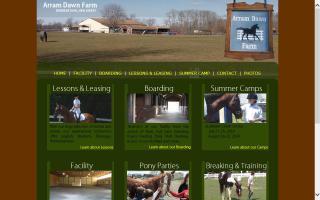 13 Cedar Lane Extension
Bordentown, NJ 08505


(609) 234-8833



Our reasonably priced boarding facility now has a limited number of stalls available (as of Jan 2011). Well-maintained, our farm includes a 72X120 indoor with a heated viewing area, outside dressage and jump rings, and a round pen. We offer full or pasture board, with private or small group turnout. We're dedicated to providing the best care for your horse. Haven't ridden in a while? No problem. Our relaxed atmosphere and knowledgeable staff may be just the right incentive to get you back in the saddle. All disciplines welcome. Lesson programs from beginner through advanced. Train with our instructors, or arrangements can be made for your personal instructor/trainer. We also offer summer camps and pony parties. Centrally located in Burlington County, NJ, we're minutes from the Burlington-Bristol Bridge and Pennsylvania. Come visit us anytime.

Categories: Stables and Horse Farms; Lesson Stables; Boarding Stables / Livery Yards; Summer Horse Riding Camps; Pony Parties / Birthday Parties; Horse Training Stables; Horse Leasing Stables
Region: Burlington County, New Jersey
www.arramdawnfarm.com/
Backer Farm

Visit Backer Farm's Facebook Page

32 Ironia Road
Mendham, NJ 07945


(908) 698-9004

FunWithHorses2@gmail.com


Horse boarding to suit your needs! We treat your horse like our own horse. Small group turnout tailored to each horse's personality. Free choice hay and water available. Access to two riding arenas and miles of trails. We also give lessons to all ages and levels. Lease horses are available! Our horses are happy, healthy, and in a stress-free environment. We do year round camps and mini-camps, and we also host pony parties.

Categories: Stables and Horse Farms; Lesson Stables; Boarding Stables / Livery Yards; Summer Horse Riding Camps; Pony Parties / Birthday Parties; Horse Leasing Stables
Region: Morris County, New Jersey
www.backerhorsefarm.com/
Bayridge Show Stables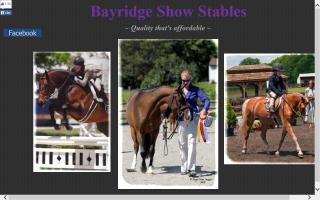 44 Cream Street
Poughkeepsie, NY 12601


(914) 475-7221

bayridgefarm@aol.com


Full service facility that offers lessons for beginners thru Grand Prix level. Specializing in hunters, equitation, ponies, and adults.

Sales, leases, training, showing, kids' camps, and breeding.

Categories: Stables and Horse Farms; Lesson Stables; Boarding Stables / Livery Yards; Summer Horse Riding Camps; Hunter Jumper Stables; Horse Training Stables; Horse Leasing Stables
Region: Morris County, New Jersey
www.bayridgefarm.com/
Black Fox Farm, The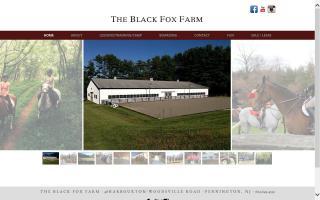 Visit Black Fox Farm, The's Facebook Page

48 Harbourton-Woodsville Road
Pennington, NJ 08534


(609) 649-4539

theblackfoxfarm@gmail.com


Do you want to learn how to ride and have fun at the same time? Do you have issues with your horse and would like someone to fix him/her in a nice way? This is the place for you! You can come ride with a very talented instructor, Chrissy Walsh. She will teach you to ride with a good seat (even bareback!), jump, go on trail rides, and everything you need to know about horses.

If your goal is to show, you can accomplish that here, as well.

Leasing is also available. So, what are you waiting for?! Come ride with us, and join our family!

Categories: Stables and Horse Farms; Lesson Stables; Boarding Stables / Livery Yards; Summer Horse Riding Camps; Horse Training Stables; Horse Leasing Stables
Region: Mercer County, New Jersey
www.theblackfoxfarm.com/
Essex Equestrian Center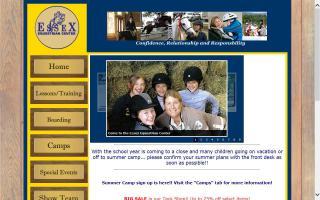 12-22 Woodland Ave
West Orange, NJ 07052


(973) 731-4182

samsam@coastalnet.com


The Essex Equestrian Center provides the perfect getaway for you, your family or your group. Conveniently located just 16 miles outside of New York City in the Essex County, NJ, town of West Orange, the Essex Equestrian Center is just the place to re-energize yourself and your spirit!

We offer boarding, training, and a 10 week summer program. We offer horses for sale & lease and the opportunity to compete with our show team.

Clinics are offered through out the year. Relax and connect with others in our viewing room.

Categories: Stables and Horse Farms; Lesson Stables; Boarding Stables / Livery Yards; Summer Horse Riding Camps; Hunter Jumper Stables; Horse Training Stables; Horse Leasing Stables
Region: Essex County, New Jersey
www.essexequestrian.com/
Fanticy Acres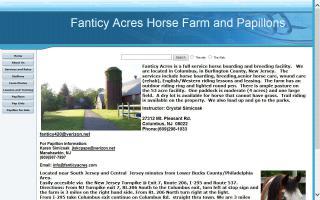 27312 Mt Pleasant Rd
Columbus, NJ 08022


(609) 298-1033

info@fanticyacres


Horse boarding, breeding, and Papillons.

Categories: Paint Horse Farms; Quarter Horse Farms; Appaloosa Breeders and Horse Farms; Stables and Horse Farms; Breeding Farms; Lesson Stables; Boarding Stables / Livery Yards; Horse Training Stables; Breeding Services; Horse Leasing Stables
Region: Burlington County, New Jersey
www.fanticyacres.com/
Hidden Acres Equestrian Center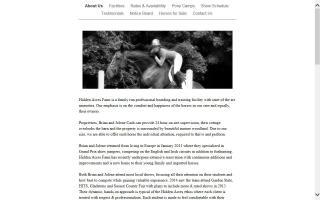 1330 Westbrook Road
West Milford, NJ 07480


(973) 997-5483



Hidden Acres Equestrian Center is a family run professional boarding facility with state of the art amenities whose emphasis is on the comfort and happiness of the horses and their owners. The facility boasts two arenas, 19 stalls, shaded turnout, and a temperature controlled viewing room. The indoor arena was recently resurfaced with GGT footing, sympathetic to horse's joints and favored by the Kentucky World Equestrian Games. We bed with shaving on state of the art soft stall matting and have regular visits from the equine nutritionist to discuss feeding programs best suited to each horse's individual needs. The Hidden Acres Team attends all local shows. If you are looking for a friendly, professional facility with a wonderful atmosphere, please don't hesitate to call or visit our website.

Categories: Stables and Horse Farms; Lesson Stables; Boarding Stables / Livery Yards; Summer Horse Riding Camps; Hunter Jumper Stables; Horse Training Stables; Horse Leasing Stables
Region: Passaic County, New Jersey
www.hiddenacresequestrian.com/
Kafka Farms

901 Valley Road
Watchung, NJ 07069


(908) 405-8038

(908) 405-7038

Hdsafari@aol.com


Kafka Farms is a full service facility. We offer boarding, natural horsemanship training, lessons, and summer programs. Box stalls, daily turnout, and indoor & outdoor rings. Open 7 days a week. Owners live on premises. Birthday parties and carriage rides too.

Farm fresh eggs are also available.

Categories: Stables and Horse Farms; Lesson Stables; Boarding Stables / Livery Yards; Carriages; Summer Horse Riding Camps; Hunter Jumper Stables; Pony Parties / Birthday Parties; Horse Training Stables; Natural Horsemanship Training; Horse Leasing Stables
Region: Somerset County, New Jersey
www.kafkafarms.com/
Mike Kelly's Horse Farm

Visit Mike Kelly's Horse Farm's Facebook Page

1512 West Bay Avenue
Barnegat, NJ 08005


(609) 698-3932



A small horse farm located in Barnegat, NJ. Offers lessons, 4-H, and leasing.

Categories: Stables and Horse Farms; Lesson Stables; 4-H Clubs; Horse Leasing Stables
Region: Ocean County, New Jersey
mikekellyshorsefarm.webs.com/
Morning Star Farm Riding Academy & Therapeutic Center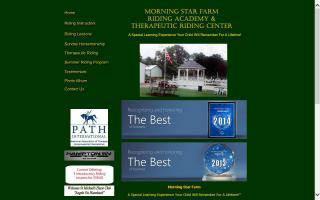 Visit Morning Star Farm Riding Academy & Therapeutic Center's Facebook Page

489 State Route 94s
Newton, NJ 07860


(973) 579-1226

morningstarfarm1@yahoo.com


Morning Star Farm is a family owned and operated farm. We are located on a beautiful private setting. All that we are and all that we do is based on Judeo-Christian values.

All training is natural, kind, and safe. Our instructors are loving, kind, patient, qualified, and Certified NAHRA Instructors. MSF is the home of many Grand Champion horses and ponies.

MSF Offerings:

• Private or Small Group Lessons
• Therapeutic Riding for Handicapped and Special Needs Riders
• Field Trips for Home School, Church, School, and Private Groups
• BSA Horsemanship Badges
• Girl Scout Horsemanship Badges - Horse Lover, Horse Fan
• Summer Riding Program
• Horse & Pony Sales
• Schooling Shows and Clinics
• Sunday Horsemanship Program
• Horse Boarding / Training
• Family rates with package discounts

Categories: Stables and Horse Farms; Lesson Stables; Therapeutic Riding Stables; Christian Community; Boarding Stables / Livery Yards; Summer Horse Riding Camps; Hunter Jumper Stables; Pony Parties / Birthday Parties; Horse Leasing Stables
Region: Sussex County, New Jersey
www.mstarfarm.com/
Okey Doke Ranch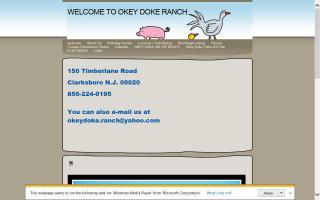 150 Timberlane Rd
Clarksboro, NJ 08020


(856) 224-0195

(856) 906-2827



Okey Doke Ranch is a family owned and operated horse ranch. We specialize year round in horseback riding lessons (ages 5 & up), trail riding with an appointment, horse boarding and leasing, 4H, birthday parties for all ages, and daily pony rides.

Categories: Stables and Horse Farms; Lesson Stables; Boarding Stables / Livery Yards; 4-H Clubs; Pony Parties / Birthday Parties; Horse Leasing Stables
Region: Gloucester County, New Jersey
www.okeydokeranch.webs.com/
Patewood Farm LLC

67 Mount Hermon Road
Blairstown, NJ 07825


(908) 459-5089

suz@patewoodfarm.com


Horse boarding, training, lessons, and leasing: Small intimate training facility specializing in developing a harmonious relationship between horse and rider. Reasonable rates for superior care. 12x12 matted stalls, hot/cold wash stall, 2 tack rooms, plenty of turnout, and personalized care. Beautiful, bright indoor arena and large outdoor sand arena. Training and lessons in French classical dressage and jumping. Several quality horses for part lease.

Categories: Stables and Horse Farms; Lesson Stables; Boarding Stables / Livery Yards; Dressage Stables; Horse Training Stables; Horse Leasing Stables
Region: Warren County, New Jersey
www.patewoodfarm.com/
Red Oak Farm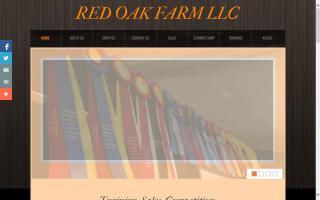 Visit Red Oak Farm's Facebook Page

557 Pleasant Plains Rd
Stirling, NJ 07980


(908) 647-0971

redoakfarmnj@gmail.com


We operate in a safe and enjoyable facility. Located just minutes from Rt. 78 & Rt. 287 in Morris County, our farm of 40 stables has a variety of horses and ponies to accommodate your needs and help develop your riding skills. Offering private, semi-private & group lessons, lease options, and sale horses. We have "something for everyone" here at Red Oak Farm. For more information, please call or email us.

Categories: Stables and Horse Farms; Lesson Stables; Boarding Stables / Livery Yards; Hunter Jumper Stables; Sale Barns; Horse Leasing Stables
Region: Morris County, New Jersey
www.redoakfarmllc.com/
Serenity At Last Farm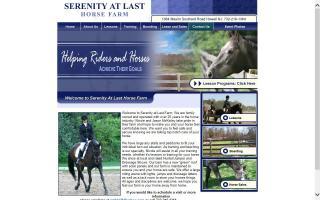 1064 Maxim Southard Rd
Howell, NJ 07731


(732) 216-1364

nnikki25@yahoo.com


Serenity At Last Farm is a full boarding, training, and lesson facility. We have 12x12 stalls and a large riding arena. We feed quality hay and grain twice daily. Individual or group turn out available. Onsite trainer that gives lessons and will train/school your horse. Showing at local and rated shows. Personal attention for all your horse's needs. Owner lives on property to ensure 24 hour care. Family friendly environment. All ages and disciplines welcome. We hope to be a home away from home for you and your horse!

Rates as of July 2011:
- Full Board $475.00/month
- Pasture Board $375.00/month (includes all amenities of full board without a stall)

Training and lesson packages available.

Categories: Stables and Horse Farms; Lesson Stables; Boarding Stables / Livery Yards; Summer Horse Riding Camps; Horse Training Stables; Horse Leasing Stables
Region: Monmouth County, New Jersey
www.serenityatlastfarm.com/
Showtime Stables

Visit Showtime Stables' Facebook Page

222 Easy Street
Howell, NJ 07731


(908) 216-1623



Categories: Stables and Horse Farms; Lesson Stables; Boarding Stables / Livery Yards; Sale Barns; Horse Training Stables; Horse Leasing Stables
Region: Monmouth County, New Jersey
South Jersey Elite Equestrian

Visit South Jersey Elite Equestrian's Facebook Page

369 Asbury Station Rd
Swedesboro, NJ 08085


(856) 725-2555

sjeliteequestrian@yahoo.com


Quality care for your horse. Hunter/jumper facility. Top trainer, outdoor ring with full jump course, large insulated indoor, private or group turnout, round pen, matted wash stall with hot water, and fly spray system. Discount for new boarders! Feel free to visit our website or call.

Categories: Stables and Horse Farms; Lesson Stables; Boarding Stables / Livery Yards; Hunter Jumper Stables; Sale Barns; Horse Leasing Stables
Region: Gloucester County, New Jersey
www.sjeliteequestrian.com/
Windy Meadows Farms

Visit Windy Meadows Farms' Facebook Page

Blairstown, NJ 07825


(973) 229-9821

w.mfarms@yahoo.com


Boarding, training, lessons, and camps. Windy Meadows Farms is located in Blairstown, NJ, on 52 acres. There are trails on the property, and we are close to the Paulinskill Rail Trail. Cross country field and grass jump field. Stalls are 12x12. Large outdoor ring. Tackroom, lounge, and storage room attached to the barn. Large grass paddocks and dry lots. Personalized feed plans. Manager and owners live on the property.

Categories: Stables and Horse Farms; Lesson Stables; Boarding Stables / Livery Yards; Summer Horse Riding Camps; Horse Training Stables; Horse Leasing Stables
Region: Warren County, New Jersey
www.windymeadowsfarms.com/
Winter Haven Equestrian Center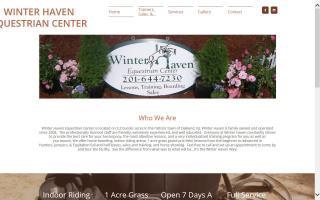 695 Ramapo Valley Rd
Oakland, NJ 07436


(201) 644-7230

whegllc@gmail.com


Winter Haven Equestrian Center is located on 3.2 bucolic acres in the historic town of Oakland, NJ. We are family owned and operated since 2008. Our professionally licensed staff are friendly, extremely experienced, and well educated. We constantly strive to provide the best of care for your horse/pony, the most attentive lessons, and a very individualized training program for you as well as your horse/pony. We offer horse boarding, an indoor riding arena, a 1 acre grass Grand Prix field, lessons from beginner to advanced in hunters, jumpers, equitation, and dressage, full and half leases, sales, training, and horse showing. Feel free to call and set up an appointment to come by and tour the facility. Winter Haven Equestrian Center is based in the belief that the horse is truly a wonderful creature, and whatever it does in response to us is an absolute gift. We are firmly entrenched in tradition, respect for the sport, and those that have ventured before us.

Categories: Stables and Horse Farms; Lesson Stables; Boarding Stables / Livery Yards; Hunter Jumper Stables; Sale Barns; Horse Training Stables; Horse Leasing Stables
Region: Bergen County, New Jersey
www.winterhaveneq.com/
Yellow Iris Farm

Visit Yellow Iris Farm's Facebook Page

147 Wintermute Rd
Newton, NJ 07860


(973) 579-9537

dkmcgrew@embarqmail.com


A beautiful farm located on rt 519 in Green twp offers riding lessons, therapeutic riding lessons, training, and boarding. Located 10 minutes off Rt 80. Fun, friendly, and personalized attention for every horse and rider to meet your goals and aspirations. Lease horses available. Indoor and outdoor arenas as well as a round pen and trails.

Categories: Stables and Horse Farms; Lesson Stables; Therapeutic Riding Stables; Boarding Stables / Livery Yards; Summer Horse Riding Camps; Horse Training Stables; Horse Leasing Stables
Region: Sussex County, New Jersey
www.yellowirisfarm.com/
Spring Valley Equestrian Center

56 Paulinskill Lake Road
Newton, NJ 07860


(973) 383-3766

svf3@aol.com


Spring Valley Equestrian Center is a quality equine facility offering multiple services, including horse training, sales, rental, riding lessons, boarding, and more.

Categories: Tack Shops; Stables and Horse Farms; Lesson Stables; Boarding Stables / Livery Yards; Ranches and Vacations; Summer Horse Riding Camps; Pony Parties / Birthday Parties; Horse Leasing Stables
Region: Sussex County, New Jersey
www.springvalleyequestriancenter.com/
North Church Farms

Franklin, NJ 07416


(973) 766-5492

northchurchfarms@hotmail.com


North Church Farms offers something for everyone. All riders and disciplines welcome. Come experience a new level of horsemanship.

Categories: Stables and Horse Farms; Lesson Stables; Boarding Stables / Livery Yards; Horse Leasing Stables
Region: Sussex County, New Jersey
Okey Doke Ranch

Clarksboro, NJ 08020


(856) 224-0195

(856) 352-9761

SBurns426@aol.com


Okey Doke Ranch is family owned and operated horse ranch. We specialize in horseback riding lessons, boarding, leasing, rentals, Trail Riding (by appointment only) as well as birthday parties for all ages.Daily pony rides and Train rides. We also do horseback riding on the beach in Wildwood, NJ.

Categories: Stables and Horse Farms; Lesson Stables; Boarding Stables / Livery Yards; Ranches and Vacations; Pony Parties / Birthday Parties; Horse Leasing Stables
Region: Gloucester County, New Jersey
Olympus Hunter Jumpers

Ringoes, NJ


(866) 312-6499

info@olympusjumping.com


Lesson horses and ponies available for hunter jumper lessons for beginner to advanced riders. Showing the local and rated shows. 80 x 150 indoor arena and 100 x 200 outdoor arena. Ponies and horses for sale and lease. Call for more information or visit our website.

Categories: Stables and Horse Farms; Lesson Stables; Boarding Stables / Livery Yards; Hunter Jumper Stables; Horse Training Stables; Riding Instructors; Horse Leasing Stables
Region: Mercer County, New Jersey
---
Custom Search
---