Horse Retirement Farms Directory




Find Retirement Farms in:
Horse Retirement Farms Directory Listings
Page 1: Results 1-40 out of 156
Submit Your Website To This Page
7 Springs Farm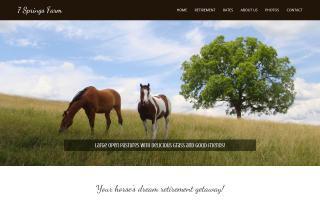 Mansfield, MO 65704


(417) 812-5258

info@7springsfarm.biz


Whether you have a trusty trail horse, a hunter/jumper, or a thoroughbred racehorse who is ready for retirement, 7 Springs Farm can be your horse's dream retirement getaway! Our retirees enjoy their days out in lush pastures with their buddies, and your horse can have a comfy 12'x10' stall for nights with plenty of shavings. That way we can give every horse lots of love & attention!

We look forward to hearing from you!

Categories: Stables and Horse Farms; Lesson Stables; Boarding Stables / Livery Yards; Equine Physical Therapy; Horse Training Stables; Retirement Farms
Region: Wright County, Missouri
www.7springsfarm.biz/
Anchor Ranch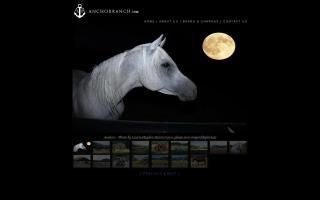 Anchor Ranch - the ultimate retirement home for horses. 300 acres of lush pasture in southern Oregon. Boarding or horse retirement. Egyptian Arabian bloodstock and stud service.

Categories: Stables and Horse Farms; Boarding Stables / Livery Yards; Retirement Farms
Region: Douglas County, Oregon
www.anchorranch.com/
Badger's Retreat Farm

5414 Deale Churchton Road
Churchton, MD 20733


(410) 956-2581

youngce@starpower.net


Badger's Retreat Farm is an 80-acre equine boarding facility located in southern Anne Arundel County focusing on pleasure, competitive, and endurance trail riding. We also maintain a turf-footing ring, poles, and jumps for boarders to use and enjoy. Field boarding and full-care with 24/7 pasture access available. 40 acres of the farm are devoted to lush pastures. Badger's Retreat is a family owned and operated facility with a quiet and relaxed atmosphere.

Our trails cover varied terrain, including old growth oak woods, grass green ways, gravel/milling driveway along planted farm fields, and some paved trail access. Within easy trailering distance of PG Equestrian Center, Rosaryville, Cedarville, Jug Bay, and Patuxent Parks. Some trailer parking available.

Categories: Stables and Horse Farms; Boarding Stables / Livery Yards; Retirement Farms
Region: Anne Arundel County, Maryland
Big Heart Ranch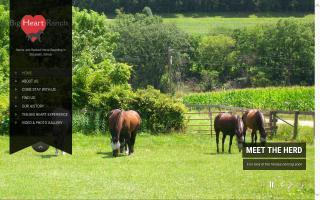 Visit Big Heart Ranch's Facebook Page

2304 W Morley Road
Elizabeth, IL 61028


(815) 858-2489

horsewomanwlc@hotmail.com


Big Heart Ranch is a small 20 acre farm that specializes in the care of senior, aged, and injured equines. We are located in the northwest corner of Illinois in Jo Daviess County. We offer pasture or stall boarding on a temporary or permanent basis. Because we are a small facility, we can provide your equine companion individualized care and customize a feeding plan that keeps him/her happy & healthy. We arrange for veterinary & farrier care at the owner's expense. The farm has rolling green pastures, a spring fed creek, and plenty of lean-tos. Our monthly rate for pasture board starts at $200 (as of Mar 2011). Dry lot is also available if your equine cannot consume spring grass. We believe every horse has the right to enjoy just being a horse.

Categories: Stables and Horse Farms; Retirement Farms
Region: Jo Daviess County, Illinois
www.bigheartranchil.com/
Blairwood Farms, Inc.

Visit Blairwood Farms, Inc.'s Facebook Page

51 Columbus Jobstown Rd
Columbus, NJ 08023


(609) 723-1155

Racehorses@blairwoodfarms.com


Beautiful horse farm specializing in turnouts and retirement care. 25 years in business. Family owned and managed. All our horses are part of our family. Visit our website for more information and rates.

Categories: Standardbred Breeders and Stallions; Stables and Horse Farms; Breeding Farms; Boarding Stables / Livery Yards; Retirement Farms; Horse Hotels / Overnight Boarding
Region: Burlington County, New Jersey
www.blairwoodfarms.com/
Bouquet Ridge Ranch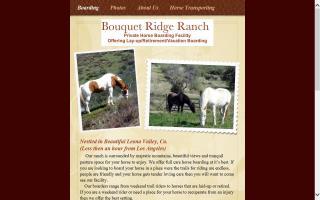 Santa Clarita, CA 91390


(661) 219-5870

(661) 270-9719

bouquetridgeranch@wildblue.net


Horse boarding in Santa Clarita set up for lay-ups and retired horses. Short and long term welcome. Box stalls with turn out to dry pasture with covers. Pasture horses eat separated for controlled feeding. Owners live on the ranch and do all the care and feeding. Daily, weekly, and monthly rates. Grooming 2x a month included. We work closely with the vet and farrier; we stay with them until the vet or farrier are finished. Spa services also available. Horses are fed and watered 2x a day and monitored throughout the day and night. Trails close by. Horse hauling also available. Call for more info.

Categories: Stables and Horse Farms; Boarding Stables / Livery Yards; Transportation; Retirement Farms; Horse Hotels / Overnight Boarding
Region: Los Angeles County, California
www.bouquetridgeranch.com/
Broke Spoke Stables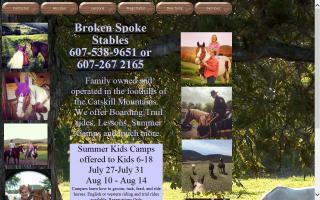 874 Narrow Notch Rd
Hobart, NY 13788


(607) 538-9651

dcdb44@yahoo.com


Catskill Mountains, Upstate NY. Boarding, lessons, and summer camps for all ages. Training and trail rides.

Categories: Stables and Horse Farms; Lesson Stables; Boarding Stables / Livery Yards; Ranches and Vacations; Summer Horse Riding Camps; Pony Parties / Birthday Parties; Retirement Farms; Horse Leasing Stables
Region: Delaware County, New York
www.brokenspokestables.com/
Bronken Creek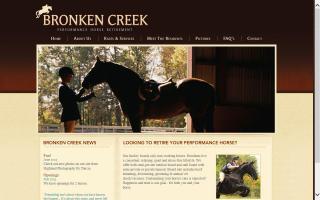 E8431 1015th Ave
Colfax, WI 54730


(715) 817-5558

info@bronkencreek.com


Quality horse retirement in western Wisconsin.

Our facility boards only non-working horses. Residents live a consistent, relaxing, quiet, and stress-free lifestyle. We offer both semi-private outdoor board and stall board with semi-private or private turnout. Board rate includes hoof trimming, deworming, grooming & annual vet check/vaccines. Customizing your horse's care is expected! Happiness and trust is our goal - for both you and your horse.

Categories: Stables and Horse Farms; Retirement Farms
Region: Dunn County, Wisconsin
www.bronkencreek.com/
Bronte Creek Equestrian Sport Ltd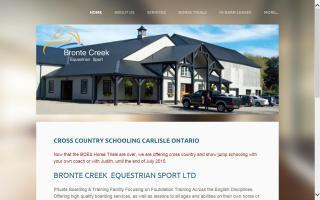 Visit Bronte Creek Equestrian Sport Ltd's Facebook Page

1694 Centre Road
Carlisle ON L8N 227


(905) 659-8819

info@brontecreekfarm.com


Private boarding and training facility focusing on foundation training across the English disciplines. Committed to the provision of high quality horse training & instruction in all aspects of equitation with qualified (Level 2 & BHSII), experienced coaches & trainers. Also providing premier boarding services with quality horse care to suit individual requirements.

Indoor arena (20x60) with viewing gallery, 30x60m outdoor arena, selection of show jumps, 12'x12' box stall, individual tack lockers, shower facilities, post & rail paddocks, and 24 hour on-site supervision.

Categories: Stables and Horse Farms; Lesson Stables; Boarding Stables / Livery Yards; Horse Training Stables; Retirement Farms; Horse Leasing Stables
Region: Ontario
www.brontecreekfarm.com/
Camarillo Springs Ranch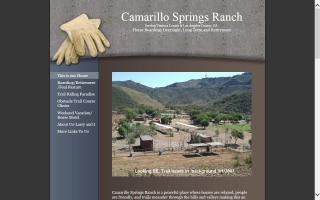 Visit Camarillo Springs Ranch's Facebook Page

202 Camarillo Grove Rd
Camarillo, CA 93012


(805) 383-3633

jodymn@earthlink.net


1,000 acre private ranch. Miles of trails start 10' from pens. Overnight, monthly & retirement boarding. Day use available. Pens, paddocks, and pasture. Arenas & round pens. Sea breezes; serene, relaxing environment; reliable services; moderate climate; clean facilities. If you're looking for a place where people enjoy their horses, consider us. If you're looking for a place to retire your horse with top quality care, this could be the place. Managers live on premises. Quality care at a reasonable price. Minutes off the 101 freeway. Five minutes to the Camarillo outlet mall, motels, restaurants, and other amenities. 1 hr from LA. We're a small family-oriented facility looking for like minded people. Novice riders OK. View our photos on Facebook. Check out our website.

Your horses will thank you.

Categories: Stables and Horse Farms; Boarding Stables / Livery Yards; Retirement Farms; Horse Hotels / Overnight Boarding
Region: Ventura County, California
www.horseboardingcamarillo.com/
Cañada Larga Ranch - CLR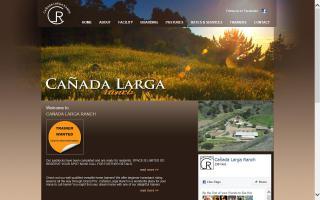 Visit Cañada Larga Ranch - CLR's Facebook Page

3501 Canada Larga Road
Ventura, CA 93001


(805) 648-3010

manager@canadalargaranch.com


Cañada Larga Ranch is a 3500-acre equestrian wonderland featuring two covered arenas, a huge outdoor polo arena, a 120' round pen, beautiful barns with and without runs, and a pasture program where horses can roam in their natural habitat. Customer-focused service and exceptional care of all equines on the ranch are the cornerstones and mission of CLR. As of Feb 2011, the ranch is now accepting new boarding clients for both the equestrian facility and pasture program. Only minutes from the beach and downtown Ventura, yet a world away into equestrian paradise, Cañada Larga Ranch offers many amenities that a boarding client could dream of - with even more exciting plans to come in the future, including a cross country course, irrigated grass pastures, additional arenas and stall space, and much more! Approximately 50 miles of private riding trails on the property. Custom programs available for boarding clients and horses in our pasture program. Call or email for more information!

Categories: Stables and Horse Farms; Boarding Stables / Livery Yards; Retirement Farms
Region: Ventura County, California
www.canadalargaranch.com/
Canterberry Meadows

Visit Canterberry Meadows' Facebook Page

1056 Toba Bowen Road
Williamston, NC 27892


(252) 217-8454

canterberrymeadows@yahoo.com


Canterberry Meadows is located on 100 acres in the Bear Grass community near Williamston, NC. Family owned & operated. 25+ years experience. Quiet atmosphere.

Facilities:
- 12x12 matted stalls
- wash stalls
- climate controlled tack room
- 250x150 sand arena w/jumps.

Services:
- long term layups
- retirement
- regular boarding
- lessons
- custom care plans
- generous turnout

Email for more info.

Categories: Stables and Horse Farms; Boarding Stables / Livery Yards; Retirement Farms
Region: Martin County, North Carolina
Castleton Ranch Horse Rescue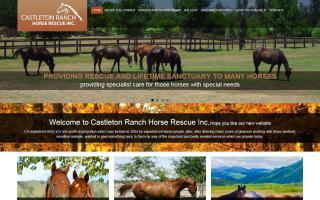 Visit Castleton Ranch Horse Rescue's Facebook Page

28581 Old Ranch Drive
Valley Center, CA 92082


(760) 749-7581

castletonranch@hotmail.com


Castleton Ranch Horse Rescue, Inc is a 501(c)(3) non-profit organization dedicated to rescuing horses from many different situations of abuse or neglect.

Categories: Horse Rescue Organizations; Stables and Horse Farms; Retirement Farms
Region: San Diego County, California
www.castletonranchhorserescue.com/
Cedar Hill Farm

13189 Garden Bar Road
Grass Valley, CA 95949


(530) 268-7409

cedarhill@infostations.com


30 acre private retirement and lay-up facility in the Sierra Foothills. Below the snow line and above the fog. Trainer with 20 years experience in barn management, teaching, and training owned and operated. Many different boarding options available to suit every horse, including irrigated pastures with year round grazing. Full care and constant supervision. Rehab and lay-up services a specialty as well. Health checks done twice daily. Many happy customers from California to New York. Personal service and reasonable rates.

Categories: Stables and Horse Farms; Retirement Farms
Region: Nevada County, California
Cedar Lane Farm

1139 East Winnerline Road
Eaton, OH 45320


(937) 286-8295

(513) 265-1488

cedarlan@yahoo.com


Overnight horse boarding at the OH/IN border off I-70. Boarding and layovers. Comfortable stabling for your horses near I-70 at the Indiana/Ohio border and easy to find. Plenty of room for parking, wash rack, indoor arena, and turnouts. Stall and bedding, outdoor paddock, and camping. Shower stall, box stalls, private paddocks, indoor arena, outdoor arena, riding trails, horse trainer, riding instructor, and LQ trailer hookups (electric and/or water).

Categories: Stables and Horse Farms; Boarding Stables / Livery Yards; Retirement Farms; Horse Hotels / Overnight Boarding
Region: Preble County, Ohio
www.cedarlanefarm.com/
Cedar Moon Horse Farm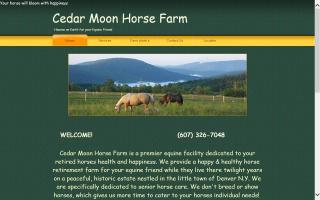 P.O. Box 505
Margaretville, NY 12455


(607) 326-7048

cedarmoon1@aol.com


We specialize in senior and retired horse full board and care. Our farm is uniquely designed for the needs of senior and retired older horses. We do have gorgeous trails on our private, historic horse farm for you and your horse's riding pleasure.

Categories: Stables and Horse Farms; Retirement Farms
Region: Delaware County, New York
www.cedarmoonhorsefarm.com/
Challis Creek Ranch - CCR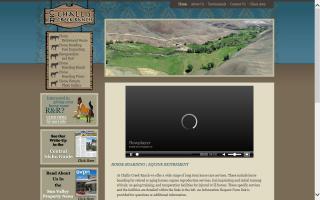 PO Box 1220
Challis, ID 83226


(208) 879-4617



Challis Creek Ranch is a horse boarding and equine retirement home providing year round horse retirement livery services in scenic Challis, Idaho.

Categories: Stables and Horse Farms; Retirement Farms; Breeding Services
Region: Custer County, Idaho
www.horseboardingretirement.com/
Chester Bar Farm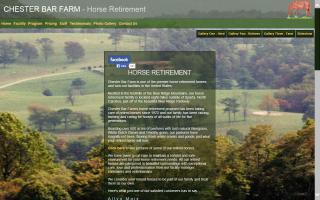 Visit Chester Bar Farm's Facebook Page

74 Deer Lane
Sparta, NC 28675


(561) 722-4927

mimi@chesterbarfarm.com


Chester Bar Farm is one of the premier horse retirement homes and turn-out facilities in the United States.

Nestled in the foothills of the Blue Ridge Mountains, our horse retirement facility is located eight miles outside of Sparta, North Carolina, just off of the beautiful Blue Ridge Parkway.

Chester Bar Farm's horse retirement program has been taking care of retired horses since 1972, and our family has been raising, training, and caring for horses of all walks of life for five generations.

Boasting over 600 acres of pastures with lush natural Bluegrass, White Dutch Clover, and Timothy grass, our pastures have magnificent trees, flowing fresh water creeks, and ponds - just what your retired horse will love.

Categories: Stables and Horse Farms; Retirement Farms
Region: Alleghany County, North Carolina
www.chesterbarfarm.com/
Cottonwood Stables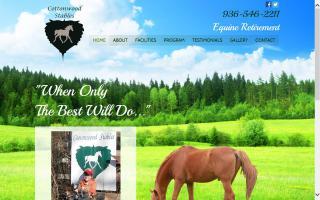 Visit Cottonwood Stables' Facebook Page

2066 CR1620
Crockett, TX 75835


(936) 546-2211

(936) 544-6126

crimsondawn2@yahoo.com


Equine retirement & rehab facility. Cottonwood Stables is a quality equine retirement facility located halfway between Dallas and Houston off of I-45N. 120 acres of grassy shaded pastures, sage fencing, roomy airy stalls and lots of daily TLC for performance horses in need of rest or retirement. 25+ years of experience caring for these wonderful animals that give us so much and ask so little in return. Check out our website; check out our references. We specialize in happy, healthy horses. All breeds are welcome, and we have had experience handling most of them at some time or another.

We seek to provide the highest level of care for our horses at a reasonable cost for the owners. As horse owners ourselves, we know that this is a serious financial commitment and do our absolute best to manage our costs without sacrificing quality.

Most of our equine residents come from the race track, dressage, hunter/jumper, or eventing disciplines.

Categories: Stables and Horse Farms; Summer Horse Riding Camps; Retirement Farms
Region: Houston County, Texas
www.cottonwoodstables.com/
Crooked Creek Farm

2641 Crooked Creek Lane
Nashville, NC 27856


(252) 459-9708

(516) 582-5292



Horse farm boarding facility with stalls, pasture boarding and space available for retirement horses. Run in sheds, all day turnout weather permitting, quality grain and hay feed twice a day, owner on premises. Veterinarian on call.

Categories: Stables and Horse Farms; Lesson Stables; Boarding Stables / Livery Yards; Retirement Farms
Region: Nash County, North Carolina
www.crookedcreekhorsefarm.com/
Crown Meadow Equestrian Center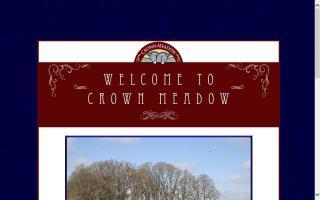 Visit Crown Meadow Equestrian Center's Facebook Page

39027 Shelburn Dr
Scio, OR 97374


(503) 394-2463

cmec@smt-net.com


Crown Meadow is a private boarding facility located in the beautiful Willamette Valley just 25 miles from Salem, Oregon. We also breed, train, and show quality registered Mediterranean Miniature Donkeys.

Categories: Stables and Horse Farms; Breeding Farms; Boarding Stables / Livery Yards; Miniature Donkey Stallions and Breeders; Retirement Farms
Region: Linn County, Oregon
www.crownmeadow.com/
Destiny Equestrian

7978 14th Avenue
Markham ON


(416) 566-3741

destinyequestrian.blogspot.com


Our private facility offers a quiet, friendly & relaxed atmosphere for both horse & rider.

Enjoy the simplicity of country life only minutes from the city!

- Horses boarded
- Horses bought & sold
- Part-boarding
- Leasing
- Pleasure riding
- Lessons
- Adult/child specialty camps
- Clinics & instructor prep courses
- Beautiful large paddocks with shelters
- Heated water & free choice hay & salt/mineral blocks
- Large outdoor riding rings (1 with lights)
- 1/3 mile training track
- Mini cross country course (coming soon)
- Lots of hacking
- Tack room with lockers
- Individual packages are available

As of Jan 2010:
- Pasture board costs start at $225/month
- Stalls are available

Monthly, quarterly & yearly pleasure riding memberships.

Lay ups, retired & companion horses are welcome. =)

Trailering to local horse shows & regional forest trails.

Acupuncture

Categories: Stables and Horse Farms; Lesson Stables; Boarding Stables / Livery Yards; Hunter Jumper Stables; Retirement Farms
Region: Ontario
Domain de Flo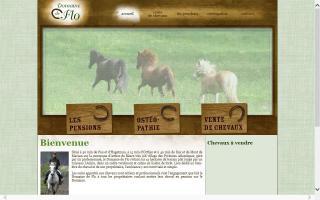 Arthez de Bearn
FRANCE


+33 675022164

siobhanwilson@hotmail.fr


We are a small professionally run rehabilitation and retirement stable 30 minutes from the base of the beautiful Pyrenees in France. We offer 'a la carte' livery for individual owners and professionals. We specialise in personalised individual care and safety.

Feel free to contact us with any of your equine short- or long-term needs.

Categories: Stables and Horse Farms; Equine Physical Therapy; Retirement Farms
Region: France
www.domainedeflo.fr/
Dun Right Farm

263 Centerton Road
Bridgeton, NJ 08302


(856) 327-7971

Rancheracutie@comcast.net


A full care horse boarding facility committed to providing a safe and nurturing environment for your horse.

Categories: Stables and Horse Farms; Boarding Stables / Livery Yards; Retirement Farms
Region: Cumberland County, New Jersey
Elmcroft Farm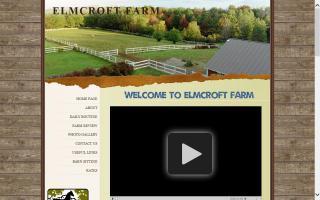 147 Eaton Road
Pittsfield, NH 03263


(603) 325-2389

(603) 435-6112

elmcroftfarm@yahoo.com


Elmcroft Farm is a full board facility offer many amenities such as 12X12 matted, airy stalls, daily turnout on over 15 acres lush pasture (individual or group), a lighted outdoor arena, morning and night feeding with hay along with hay at noontime & bedtime, 2 barns, tack rooms, a wash stall, and 24/7 expert care.

Our small, peaceful, and friendly environment offers the perfect setting for your old trail buddy, retired show horse, or young show horse or trail buddy! We will give your horse the special care it requires to live a happy, comfortable life surrounded by safe vinyl fencing, plenty of trails, lots of pasture, and catered care.

We also provide barn sitting services for those with livestock or house pets. We will come to your home.

Categories: Stables and Horse Farms; Boarding Stables / Livery Yards; Horse Training Stables; Retirement Farms; Exercise Riders; Horse Sitting
Region: Merrimack County, New Hampshire
www.elmcroftfarm.com/
Elysian Fields Farm Horse & Carriage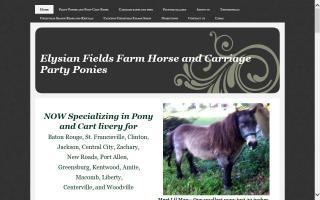 Box 272
Clinton, LA 70722


(225) 301-0515

elysian_fields_farm@yahoo.com


Make a memorable entrance in our white vis-a-vis carriage drawn by an impressive Percheron horse - one of the most refined of the heavy horse breeds. The Percheron breed originated in France, so what could be more appropriate for Louisiana?

Horse & carriage available for weddings, parties, grand openings, parades, and other special events in southeast Louisiana and southwest Mississippi.

Horse & carriage tours of historic Clinton, LA., by appointment, and special Courthouse Square carriage rides during Clinton Market Day, the first Saturday of each month, and the third Saturday in November and December; weather permitting.

Also, evening candlelight rides at the Clinton Christmas Tree Lighting and Caroling Ceremony held the first Friday in December from 4 pm until 6 pm.

Proceeds from carriage rental fees are used to care for the older semi-retired horses who have found a home for life at our not-for-profit farm.

Categories: Stables and Horse Farms; Carriages; Pony Parties / Birthday Parties; Retirement Farms
Region: East Feliciana Parish, Louisiana
elysianfieldsfarmhorsecarriage.yolasite.com/
EquiAwareness

Chico, CA 95963


(530) 321-0305

(530) 865-8986

nicolebelter@yahoo.com


Exclusive, full care sporthorse retirement & retreat facility. Covered lighted arena, stalls with run, round pen, and outside arena. Specializing in customized & individual care. Daily grooming, single turnout available, daily exercise program depending on your horse's needs, weekly massage session & much more... No group pasture. Our trainer has 25 years of experience in the show jumping & dressage world and excellent knowledge of proper horsemanship.

Categories: Stables and Horse Farms; Boarding Stables / Livery Yards; Retirement Farms
Region: Butte County, California
Equine Pensions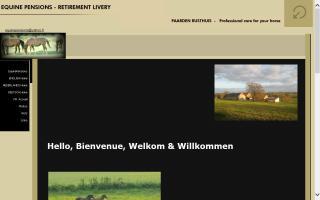 Le Breuil
23600 Leyrat
FRANCE


+33(0)555653206

equinepensions@yahoo.fr


Horse retirement farm. Professional, knowledgeable care at affordable prices for recovering, injured, and retired horses in the heart of France.

Categories: Stables and Horse Farms; Retirement Farms
Region: France
www.equinepensions.com/
Exclusive Horse Retirement

357 Padgetts Hill Rd
Natural Bridge, VA 24578


(540) 460-4675



Small farm located 15 miles from Virginia Horse Center. Four stall barn. 3-4 acre paddocks. Individual care, daily handling, weekly grooming, and blanketing. Pics taken monthly and emailed to you. We provide quality hay (timothy mix) and pelleted feed for older horses. Minor injuries handled by facility; any major medical issues are the expense of owner. Quarterly worming is included. Yearly shots, farrier services, veterinary issues, and supplements are the responsibility of the owners. In the summer, horses are stabled during the day and turned out at dusk. During winter months, horse are stabled at night and turned out during the day. Geldings preferred.

Categories: Stables and Horse Farms; Retirement Farms
Region: Rockbridge County, Virginia
Exclusively Horses

RR 4
Kenilworth ON NOG 2E0


(519) 848-2899

xhorses@sympatico.ca


Equine retirement care. As your horse ages, he deserves the best care possible. Exclusively Horses provides just that, specialized care packages contoured to suit his needs.

Categories: Stables and Horse Farms; Retirement Farms
Region: Ontario
www.exclusivelyhorses.com/
Fieldstone Farm

Rockwood ON
fieldstone.farm@hotmail.com


Comprehensive equine retirement care.

Our goal is to provide complete long-term care for retired horses in a natural, stress-free environment. We have tailored our program specifically to support senior horses during their golden years. Farrier, annual dental, deworming, blanketing, individual feed programs, and administration of meds & supplements are included in our program. Our 80 acre farm is located in Rockwood (close to Fergus and Guelph), and we live on the premises. There are no lesson, training, or breeding programs on our farm. Horses live out 24/7 with access to shelter, grazing, and/or free choice hay, salt, minerals, and water. We may accept only well-mannered geldings. Several openings will be available this spring (2011). Please contact us for more information.

Categories: Stables and Horse Farms; Retirement Farms
Region: Ontario
First class facility - Impossible Dream Farm

2061 Fish Creek Rd
Cedartown, GA 30125


(770) 748-8642

jeanie@impossibledreamfarm.com


First class equine facility offering Saddlebred and Morgan training, showing, riding and driving lessons, retirement and summer camps.

Categories: Stables and Horse Farms; Lesson Stables; Boarding Stables / Livery Yards; Summer Horse Riding Camps; Saddleseat Stables; Horse Training Stables; Retirement Farms
Region: Polk County, Georgia
www.impossibledreamfarm.com/
First Light's Run Retirement Farm

3223 Flint Knob Rd
Cave City, KY 42127


(270) 576-6965

dawn_lite@hotmail.com


Long and short term pasture boarding and retirement - groups of 3 to 15, 24/7 turnout, free choice minerals, hay as needed, and daily care.

170.00 per month includes barefoot hoofcare.

(Price last updated Feb 2015)

Categories: Stables and Horse Farms; Boarding Stables / Livery Yards; Retirement Farms
Region: Barren County, Kentucky
www.firstlightsrun.com/
Fortune Farm

Aqua Dulce, CA 91390


(805) 570-9666

(661) 268-1722

ldhaan@aol.com


This property is approximately six beautiful acres with a large arena and 20m round pen. It contains a 2 1/2 acre pasture with a large shelter and a six horse barn with in an outs. Perfect for lay-ups - without show barn fees. Horses get great care and customized feeding programs, including carrots. If you have horses who need a good home for a layup, R&R, or retirement, we're here for you. To the right boarder, we have a stall and use of the arena.

Categories: Stables and Horse Farms; Boarding Stables / Livery Yards; Retirement Farms
Region: Los Angeles County, California
Fox Creek Horse Retirement

Visit Fox Creek Horse Retirement's Facebook Page

Willard, MO 65781
foxcreekdressage@gmail.com


Full service all inclusive horse retirement board at private facility.

Categories: Stables and Horse Farms; Retirement Farms
Region: Greene County, Missouri
www.missourihorseretirement.com/
Fox Creek Training Center, LLC



(417) 849-0241

ryan.jklfarm@gmail.com

Dressage clinics and educational activities for the sport horse enthusiast.

Categories: Stables and Horse Farms; Dressage Stables; Retirement Farms
Region: Greene County, Missouri
www.dressageandmore.com/
Foxfield Stables

Visit Foxfield Stables' Facebook Page

2301 Williams Dr
Stoughton, WI 53589


(608) 576-4156

foxfieldstables@yahoo.com


Rough board starting at $175/month.
Stall board starting at $285/month.
(Prices as of May 2010)

New pasture fencing, indoor, outdoor, & round pen. Adjacent to Lake Kegonsa State Park & Lafollette County Park.

Categories: Stables and Horse Farms; Boarding Stables / Livery Yards; Retirement Farms
Region: Dane County, Wisconsin
G & I Broodmare Farm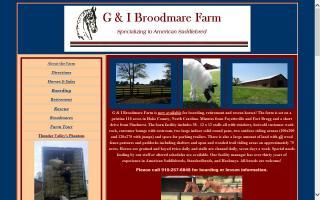 1752 South Parker Church Rd
Raeford, NC 28376


(910) 624-6807

gandifarm@yahoo.com


Full care stall and pasture board available. 110 acre facility includes 38 - 12x12 stalls, a hot and cold washrack, two indoor round pens, and two riding rings. Large area of three and four board pastures and paddocks with shelters. Customer lounge with restroom and tack storage available. Facility manager with 30+ years experience. Clean and well maintained. Horses grained and hayed twice daily with quality feeds. Stall cleaned daily. Ony 16 miles from the Carolina Horse Park. Layover and daily board also available.

Members of USEF, APHA, AQHA, ASHA, USTA and WCMHR. Miniature black tovero stallion available for stud service. Experience with Saddlebreds, Hackney Ponies, Standardbreds, and Walking Horses. Also maintain Quarter Horses, Paints, and Trotters. See our website for more details.

Categories: American Saddlebred Horse Farms; Miniature Horse Farms and Stallions; Stables and Horse Farms; Boarding Stables / Livery Yards; Saddleseat Stables; Retirement Farms; Horse Hotels / Overnight Boarding
Region: Hoke County, North Carolina
www.gandibroodmarefarm.com/
Grand Prix Stables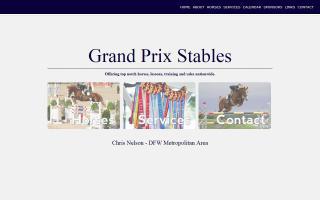 Visit Grand Prix Stables' Facebook Page

1871 FM 407
Flower Mound, TX 75022


(214) 725-9755

chris@lazycreekranch.com


We are a well rounded hunter/jumper barn in Northlake, TX. We offer lessons, boarding, training, and summer camps as well as local, national, and international showing and competition experience.

Categories: Stables and Horse Farms; Lesson Stables; Boarding Stables / Livery Yards; Summer Horse Riding Camps; Hunter Jumper Stables; Retirement Farms
Region: Denton County, Texas
www.grandprixstables.com/
Greengate Farm Equine Retirement Facility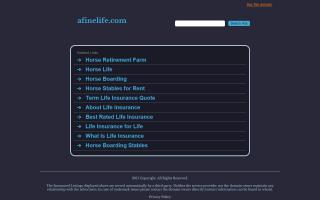 9313 NE 166th Circle
Battle Ground, WA 98604


(360) 606-2951



An overview of the services provided by Greengate Farm.

Categories: Stables and Horse Farms; Boarding Stables / Livery Yards; Retirement Farms
Region: Clark County, Washington
www.afinelife.com/greengatefarm.html
Page:
1
2
3
4
Next >>
---
Custom Search
---