Wright County, Missouri Horse Directory
Page 1: Results 1-3 out of 3
► Submit Your Website To This Page
7 Springs Farm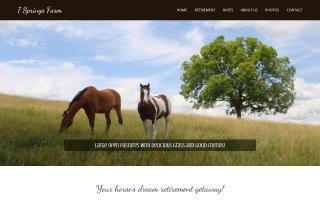 Mansfield, MO 65704
(417) 812-5258
info@7springsfarm.biz
Whether you have a trusty trail horse, a hunter/jumper, or a thoroughbred racehorse who is ready for retirement, 7 Springs Farm can be your horse's dream retirement getaway! Our retirees enjoy their days out in lush pastures with their buddies, and your horse can have a comfy 12'x10' stall for nights with plenty of shavings. That way we can give every horse lots of love & attention!
We look forward to hearing from you!
www.7springsfarm.biz/
Tri-Mi Stables and Kennels
9461 Parks Creek Rd
Grovespring, MO 65662
(417) 462-3660
lindashaddy@yahoo.com
I train, raise, and ride Missouri Foxtrotting Horses. I also raise AKC Miniature Dachshunds. If you need a custom drawing of your favorite horse or animal, give me a call. Call for current information on horses for sale.
Brown Farm
Mountain Grove, MO 65711
(417) 926-3586
(417) 926-2610
bjulie@getgoin.net
Featuring offspring of Rio Starlight.
Look in Wright County, Missouri for:
Find All Categories in: