Wisconsin Arabian Breeders and Arabian Horse Farms Directory
Page 1: Results 1-10 out of 16
► Submit Your Website To This Page
Absolutely Arabians - ABA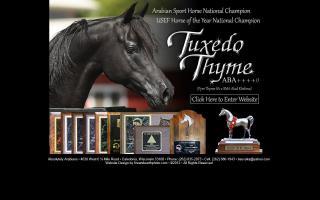 4030 6 1/2 Mile Road
Caledonia, WI 53108
(414) 688-1160
(262) 835-2073
bsuvaka@yahoo.com
Tuxedo Thyme ABA... 2004 black Arabian stallion, first born son of Multi-Natl Ch. Pyro Thyme SA, standing at stud. Sport horse type, extremely intelligent, and in the very talented hands of Kim Barteau, known from the Arabian Knights Dinner Theatre. "Tux" is nearly solid black, with just a "bracelet" of white around his front coronet. He is under saddle at KYB Dressage (Illinois) and is surpassing our expectations. He is also being trained for liberty by Kim. Feel free to contact us for latest pictures, foal highlights and general information on breeding to our Tux.
www.absolutelyarabians.com/
Amadeus Arabian Sporthorses
Amadeus Arabian Sporthorses
Northwind Arabians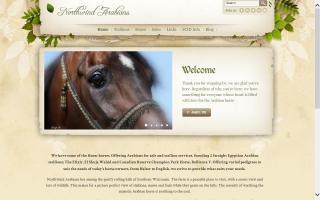 Breeders of show quality Arabian horses we offer select individuals for sale and stallion services. With bloodlines of *Corsair, *Bask, Comet.
www.northwindarabians.net/
Red Tail Arabians, LLC.
N6093 840th Street
Elk Mound, WI 54739
(715) 879-5832
rmkramer@redtailarabians.com
Visit Red Tail today to find your perfect stallion, purchase your new horse, or to find out how we can help you establish or maintain your own breeding program with our services for stallions and mares of all breeds.
www.redtailarabians.com/
Green Ridge Ranch
Providence Farm
Clear Creek Arabians
Strum, WI 54770
(715) 210-5371
clearcreekarabians@yahoo.com
Small breeders producing halter-quality Arabians and pinto American Saddlebreds and Half-Arabians. We stand two phenomenal homozygous pinto Saddlebred stallions at stud. Please see our website for breeding specials, dvd clips, foal pictures, and nominations. Expecting a purebred Arabian foal in May 2010 out of a black Magic Dream daughter bred to a Marwan son.