Chincoteague Pony Breeders and Stallions Directory
Page 1: Results 1-5 out of 5
► Submit Your Website To This Page
Banner Queen Ranch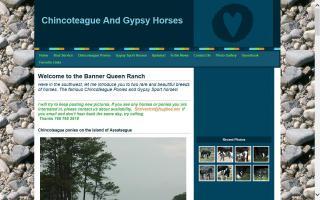 Po Box 2054
Julian, CA 92036
(760) 765-2618
shriverlcrt@hughes.net
Chincoteague Ponies available for sale. Stud service available. Two beautiful stallions to choose from. Gypsy cross sport horses also available. Registered with Chincoteague Pony Association. Located in southern California. Delivery is available.
www.chincoteagueandgypsy.webs.com/
Chincoteague Ponies Sales and Breeding
18761 Cable Ln
Perris, CA 92570
(909) 239-3155
Jumperz117@aol.com
We are a self owned and operated Chincoteague Pony breeding farm. We currently own one stallion and one mare - both Island bred. Our stallion is open for breeding to outside mares. As of May 2008, he has three babies on the ground, ranging from 1-5 years. He produces great conformation with solid looks and great temperaments. Please contact us with any questions.
National Chincoteague Pony Association - NCPA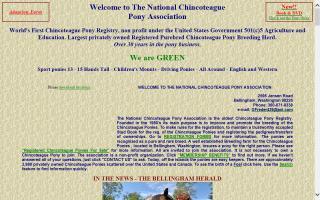 2595 Jensen Rd
Bellingham, WA 98226
(360) 671-8338
(360) 734-0654
gale@pony-chincoteague.com
World's first Chincoteague Pony registry. Founded in the mid 80's with three Chincoteague ponies purchased at the Chincoteague Island, VA's pony auction in the mid 1970s.
Chincoteague Pony farm in Belllingham, WA.
Sell ponies, register ponies, and please join the Chincoteague Pony Club and become a member.
We are a non-profit organization - giving back to America.
www.pony-chincoteague.com/
4S Chincoteague Ponies
Weldon, CA 93283
(760) 378-3035
(760) 417-0968
rottenraleigh2u@aol.com
Chincoteague Ponies for sale. Chincoteague stallion available for stud. Training available for all breeds. Boarding available for all breeds.
Adams Farm
Gilbert, IA 50105
(515) 233-3464
(515) 291-7680
mjadams4@aol.com
We raise and sell rare and authentic registered Chincoteague Ponies.
Find Chincoteague Pony Breeders and Stallions in: