Illinois Friesian Horse Farms and Stallions Directory
Page 1: Results 1-3 out of 3
► Submit Your Website To This Page
Royal Ebony Friesians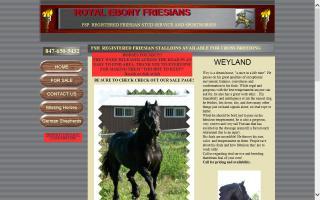 1010 Sunset Road
Spring Grove, IL 60081
(847) 650-5432
admin@friesianstudservice.com
Friesian sporthorses - foals and stud service available.
Wey is a dream horse - "a once in a lifetime". He passes on his great qualities of exceptional movement, balance, correctness, and conformation to his foals. While regal and gorgeous with one of the best temperaments anyone can ask for, he also has a great work ethic. His trainability and intelligence rivals the easiest dog; he fetches, lies down, sits, and does many other things just on hand signals alone - no lead rope or halter.
While he should be bred just to pass on his fabulous temperament, he is also a gorgeous, very correct, and very tall Friesian that has excelled in the dressage arena until a forced early retirement due to an injury.
His foals are incredible! He throws his size, color, and temperament on them. People rave about his foals and how fabulous they are to work with!
Call us regarding stud service and breeding that dream foal of your own!
Call for pricing and availability.
www.friesianstudservice.com/