Haflinger Farms and Stallions Directory
Page 1: Results 1-9 out of 9
► Submit Your Website To This Page
Meadowbrook Farms - MBF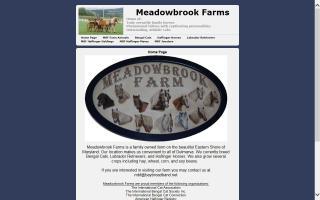 Happy Haflingers, LLC
7750 Schneider Rd
Middleton, WI 53562
(608) 798-2212
(608) 698-7750
happyhaflingers@yahoo.com
Happy Haflingers is breeding quality Haflinger Sport Ponies for combined or pleasure driving, dressage, combined training, vaulting, or just pleasure. Bred from fine imported and domestic Haflinger bloodlines.
www.happyhaflingers.com/
S-N-S Stables
5517 Hatches Corner Rd
Conneaut, OH 44030
(440) 228-6660
(440) 594-2110
krislakota7@yahoo.com
S-N-S Stables is a family owned boarding stable also offering English, western & therapeutic lessons. We offer horses for sale & rental of our indoor arena.
krisszuba.tripod.com/
Deer Haven Farm
Lexington, KY 40511
(859) 294-5254
deerhavenfarm@hotmail.com
We breed, train, and show Haflinger horses. Pasture board and full board services available. Overnighter horses welcome with advance reservations. We are close to the Kentucky Horse Park and offer boarding for non-compete or companion horses. We are a family farm. We love horses and treat them as our own while they're in our care.
Mas Pitre
17850 Sant Ferriol
SPAIN
(0034) 687 452 929
stechenbartje@gmail.com
Venta de Haflingers. Se venden varios Halflingers de Holanda, yeguas y capados.
Desde Septiembre, Adam Shereston, reconocido domador Inglaterra, comenzara los entrenamientos de doma natural.
De esta forma introducirá en España esta forma de doma comenzando por nuestros ejemplares en venta.
Fechas
El dia 7, 14, 21, 28 septiembre, serás bienvenido a Mas Pitre a ver nuestras instalaciones y Adam Shereston trabajando con nuestros caballos.
Oferta especial!!!!
Si compras uno de nuestros ejemplares te daremos un curso de 2 días, valor 225 euro, totalmente gratis.
Mas Pitre también ofrece clínicas con Adam Shereston, Puedes traer tu caballo.
Para información sobre clínicas, caballos y días abiertos llama al 678452929
Jeanine
Promised Land Stables - PLS
Rolling 10 Acres Registered Haflingers
Pecatonica, IL 61063
(815) 239-2653
r10a@aeroinc.net
Breeders of Registered Haflingers.
Shady Grove Haflingers
Poplar Grove, IL 61065
(815) 765-0755
john@shadygrovehaflingers.com
Breeding some of the highest quality Haflingers. The Haflinger's size and temperament makes it a good candidate for the perfect family horse. Please see our site for beautiful pictures of the modern Haflinger.
Sugar Creek Haflinger Farm
Northern Cambria, PA 15714
(814) 948-4409
fmbobal@verizon.net
Francine & Michael Bobal. Sugar Creek Haflinger Farm in Northern Cambria, PA, is a small breeding farm where our horses learn trust from the beginning. They are handled daily, love people, and are easy to be around. Haflingers are perfect family horses.
Find Haflinger Farms and Stallions in: