San Diego County, California Miniature Horse Farms and Stallions Directory
Page 1: Results 1-4 out of 4
► Submit Your Website To This Page
Cheyenne Arabians & Miniatures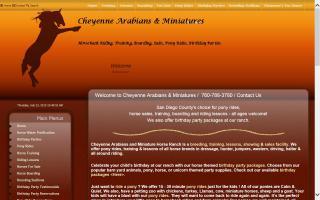 PO Box 113
Ramona, CA 92065
(760) 788-3780
kaazzarr@aol.com
San Diego County's choice for pony rides, horse sales, training, boarding, breeding, and riding lessons - all ages welcome!
We also offer birthday party packages at our ranch. Celebrate your child's birthday at our ranch with our horse themed birthday party packages.
www.cheyennearabians.com/
Spots 'N Stripes Ranch
Ramona, CA 92065
(760) 789-8908
(858) 335-3488
spotsnstripesrch@aol.com
AMHA - AMHR miniature horses for show and pet. Top 10 stallions, good bloodlines, color, color, color! Appy's, pintos, and solids. 25" and up. $1500 and up. Raised with love. Check out our website or call us!
www.spotsnstripes.com/
Colourtime Miniature Horses
Bonsall, CA 92003
(760) 805-3667
(760) 727-7371
colourtime@earthlink.net
Quality, double reg. AMHA/AMHR Miniature Horses. Many to choose from: all ages, sizes, and colors (lots of pintos). Show horses or pets, broodmares and foals. Top bloodlines include: Love Me Tender, Orion, Bond, Uno De Mayo, Buckeroo and Tennessee Talent. Horses are located in San Marcos, Calif., north of San Diego. For more information and pictures, contact Debbie Dabbs 760-805-3667 or 760-727-7371 or e-mail colourtime@earthlink.net
Vista del Valle Ranch
Fallbrook, CA 92028
(760) 728-2317
csneed@sdccu.net
Specializing in ASPC/AMHR Miniatures. Bloodlines include: Establo, McCarthy, Jolie Chaeval, Pony-Vista, CLR.
Find Miniature Horse Farms and Stallions in: