Oklahoma Paint Breeders and Stallions Directory
Page 1: Results 1-7 out of 7
► Submit Your Website To This Page
Bedonna's Performance Horses / Bedonna's Stallion Station and Reproduction Services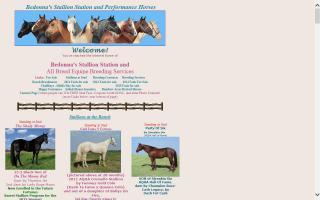 (580) 471-4040
bedonna@wildblue.net
Bedonna's Performace Horses offers quarter horses, paint horses, and foundation horses for sale. Standing quarter horse stallions and paint horse stallions. Member of AQHA, APHA, NFQHA, and NFQR.
www.barrelhorses.biz/
James Performance Horses
Yellow 28 Farm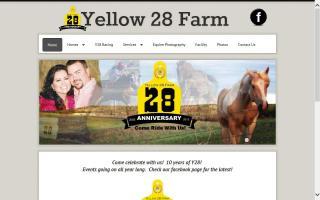 Visit Yellow 28 Farm's Facebook Page
gingerbrownbaker@yahoo.com
Visit our website for more information on all that we have to offer!
www.yellow28farm.com/
Bitterlake Quarters and Paints
Tuttle, OK 73089
(405) 381-0042
(405) 550-4480
Home to MH Supremo. World champion halter horse sire. Quality Quarter and Paint Horses for sale. Trainer, Russell McIntosh.
Edgmon Performance Horses
Elmore City, OK 73433
(405) 412-4893
(405) 412-3462
whranch79046@yahoo.com
We breed quality reining and cutting bred horses. Our broodmares are daughters of leading sires in the reining and cutting industries.
Rick Stoker Horseshoeing / Painted S Ranch
Tulsa, OK 74158
(918) 418-1755
Over 20 years of experience ranging from backyard pets to high dollar show stallions; reiners & ropers, dressage & jumpers, minis, donkeys, horses & mules all welcome! Gaited horses on a case-by-case basis. Very patient & kind. Specializing in balanced hooves to enhance performance. Call Rick to save your foundered horses (laminitis) as well.
RELIABLE, on-time service at reasonable prices for high quality work. References available. Call today for your appointment. Quantity discounts may be available. Trades/bartering welcome. Will travel.
Victory Pass Ranch
Holdenville, OK 74848
(405) 379-6787
(405) 712-3528
vpreiners@yahoo.com
Boarding and foaling services, facility amenities include 230 acres with beautiful lakes to ride near, a 300 X 400 arena, a wash rack, a tack store, a medical bay, and public restrooms. Manager lives on site. If you're looking for your companion to be pampered and well cared for, come see us. Reasonable rates, clean well kept facilities, and farrier and vet services available onsite.