North America Spotted Saddle Horse Breeders and Stallions Directory
Page 1: Results 1-6 out of 6
► Submit Your Website To This Page
More Than Color Horses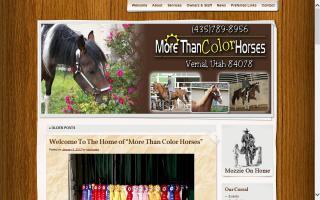 3826 West Main St
Vernal, UT 84078
(435) 789-8956
(801) 231-0463
morethancolorhorses@hotmail.com
We raise, breed, and sell Spotted Saddle, Tennessee Walking, and Racking Horses. We are involved in show pleasure, performance, and trail riding at various levels. Our company motto is: "child tested and grammie approved".
www.mtchorses.com/
Rising Star Ventures


Visit Rising Star Ventures' Facebook Page
PO Box 264
Homeland, CA 92548
(951) 733-2000
shawnamariebloom@msn.com
Registered Tennessee Walking Horses. Rising Star Ventures offers some of the finest in Tennessee Walking and Spotted Saddle Horses. We are located in southern California between Hemet and Temecula. We specialize in BIG, even tempered horses with smooth gaits and the added bonus of spectacular colors! We currently (as of Apr 2010) have several double dilute mares (cremellos & perlinos) and two gorgeous tobiano spotted stallions! Our horses are not just 'go around in a circle' show ring horses. They are extensively ridden on the trail and compete in Competitive Trail Rides as well. Disposition is of utmost importance to us, as is a smooth gait. We do not believe in unnatural training devices or methods, and all of our horses are 100% natural gaited with a natural and normal hoof length on them. NO pads or chains! We welcome visitors any time by appointment. We love to show off our wonderful horses!
The JBIT Ranch, LLC - Horse Boarding in Northern Virginia


Visit The JBIT Ranch, LLC - Horse Boarding in Northern Virginia's Facebook Page
1674 Summit Point Road
Berryville, VA 22611
(540) 955-4099
Established in 1998, The JBiT Ranch, LLC provides both full care and field board for your horse in a friendly, family environment. With access to hundreds of miles of trails on our 128 acres, our apple orchard, stream, rolling hills, and surrounding areas, you can ride to your heart's content! We offer two state of the art indoor arenas, a John Lyon's round pen, 14 stalls, wash and grooming stalls, and field board! Experienced trainer/owners live on the premises and provide care 24/7.
We specialize in Western and natural horsemanship training and riding methods as well as gaited horses. We offer both English and western riding lessons and training and welcome all disciplines.
www.jbitranch.com/
Rockin Bar W Ranch
8100 Pottenger Rd
Camden, OH 45311
(937) 452-1669
(937) 441-0491
rockinbarwranch@yahoo.com
Rockin Bar W Ranch is a small size Tennessee Walking Horse / Spotted Saddle Horse breeding farm located in Camden, Ohio. We are in Preble County just north of Cincinnati and south of Dayton. We specialize in producing show quality TWHBEA and SSHBEA horses.
www.rockinbarwranch.com/
Arkansas Foxtrotters
Hot Springs, AR 71913
(501) 767-7973
kymestrotters@yahoo.com
Arkansas Foxtrotters, located in Garland County in central Arkansas, is a breeding and sales facility, primarily for Fox Trotting Horses. We strive for conformation, color, good temperaments, versatility, and natural Fox Trot ability in our breeding program. Buckskins, palominos, and dilutes. Check out our website for new arrivals.
Showtime Stables & Training Center
Wartburg, TN 37887
(423) 346-5725
(865) 617-9399
april@showtimestablesandtrainingcenter.c
Showtime Stables & Training Center is a full service boarding, breaking, and training facility located 25 minutes from Oak Ridge and 40 minutes from Knoxville.
We specialize in flat shod Tennessee Walking, Racking, and Spotted Saddle Horses.
All breeds welcome.
We offer:
- horse boarding
- horse breaking
- horse training
- horse sales
- riding lessons
- indoor and outdoor riding arenas
- round pens
- wash & grooming bays
- tack lockers
Located 1 mile from Lone Mountain State Forrest and 5 miles from Frozen Head State Park.
Find Spotted Saddle Horse Breeders and Stallions in: