Westphalian Breeders and Stallions Directory
Page 1: Results 1-3 out of 3
► Submit Your Website To This Page
Stall Aufenanger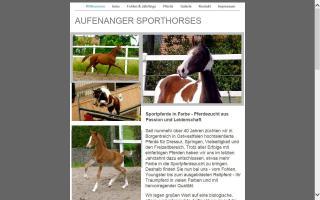 Natzungen, Sieghardtstr.2
34434 Borgentreich
GERMANY
+49 (0) 5645/208310
info@sportpferdezucht.de
Vom fohlen bis zum ausgebildeten reitpferd.
German sport horses: from foals to well ridden horses! - Our goal is to breed, train and sell top class sporthorses of the most desirable bloodlines, some in special colour.
www.sportpferdezucht.de/
Con Brio Farms Quality Warmblood Sporthorses
New Ave
Gilroy, CA 95020
(408) 842-0760
conbriofarms@att.net
Breeders of warmbloods for dressage, jumping and eventing with emphasis on temperament and trainability since 1984. We have a selection of Dutch Warmbloods, Hanoverians, Oldenburgs, Swedish Warmbloods and Westfalens available.
www.conbriofarms.com/
German Warmbloods International
07806 Neustadt an der Orla
GERMANY
+49-36481-24172
falkenhorst@warmblood-horses.de
We specialize in breeding and selling top quality German Warmbloods of Oldenburg, Holsteiner, Hannoverian, Westfalen, Trakehner, RPSI / Zweibrücken, Hessen and ZfDP Pedigree. Prospects for dressage, eventing and jumping/hunter.
Find Westphalian Breeders and Stallions in: