Colorado Equine Massage Schools Directory
Page 1: Results 1-2 out of 2
► Submit Your Website To This Page
EquiTouch Systems, Inc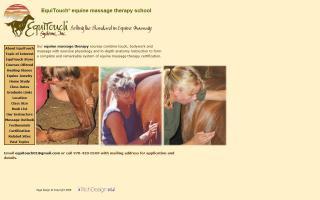 PO Box 7701
Loveland, CO 80537
(800) 483-0577
(970) 635-0479
equitouch1@aol.com
Equine massage therapy certification program. Over 14 years of excellence in teaching touch, bodywork, and massage combined with exercise physiology and in-depth anatomy instruction to form a complete and remarkable system of equine massage therapy.
www.equitouch.net/
Equissage Colorado
15939 Road 30
Dolores, CO 81323
(970) 882-3253
sabrina@equissagecolorado.com
Start a new lucrative career as an Equine Sports Massage Therapist. Equissage is one of the oldest and leading schools in equine massage, having graduated over 8000 students worldwide since the 80's. Equissage is now offering a 5 day certification course in beautiful Dolores, Colorado.
www.equissagecolorado.com/