Online Horse Games Directory
Page 2: Results 11-16 out of 16
► Submit Your Website To This Page
Virtual Horse Games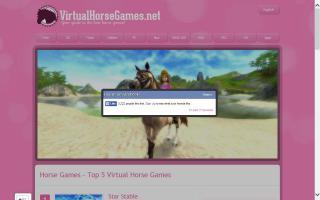 Visit Virtual Horse Games' Facebook Page
A horse game review site listing horse games that can be played on PC, Wii, PS3, XBOX, iPhone, Android and Mac.
virtualhorsegames.net/
Willow Bend Publishing


Visit Willow Bend Publishing's Facebook Page
P.O. Box 304
Goshen, MA 01032
(413) 268-3461
info@willowbendpublishing.com
Award-winning Morgan horse books.
www.willowbendpublishing.com/
GameSheep.com - Horsey Racing
Is My Pony.com
Create you own pony website for free!
Make your own free website about your pony or your favorite pony. Share your experience, share your most beautiful pictures, keep up on your agenda with the next training or competition, add your favorite links, and present your results.
www.ismypony.com/
Look in All Regions for:
Find Online Horse Games in: