Europe Equine Web Design Directory
Page 1: Results 1-9 out of 9
► Submit Your Website To This Page
equiShopping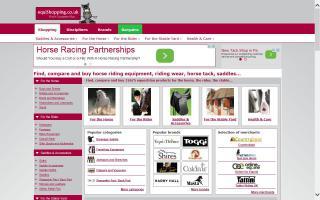 admin@equishopping.com
equiShopping.com is an online comparison website, and we aim to be your one stop shop for everything equestrian, from hoof picks to horseboxes.
Browse through thousands of products from hundreds of retailers and brands including saddles, tack, girths, bridles, horse rugs, reins, and studs for your horse or pony plus riding clothes like show jackets, riding hats, jodhpurs, and riding boots for you.
Find horses for sale, ponies for sale, horseboxes for sale, horse trailers for sale and equestrian property for sale using our horse classifieds services.
Use our directory to list or find equestrian businesses.
equiShopping is an on-line route to market - visit our Merchant Centre for more information. We provide opportunities for banner advertising and for equestrian businesses and an affordable website design and hosting service.
www.equishopping.com/uk/
Horsey-Sites.co.uk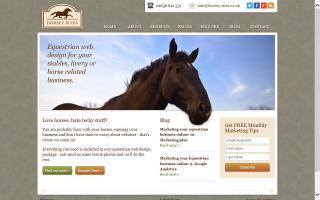 Visit Horsey-Sites.co.uk's Facebook Page
25 Hudson Way
Radcliffe
Nottingham
NG12 2PP
UNITED KINGDOM
0115 933 2516
info@horsey-sites.co.uk
Our horsey websites are designed to be extremely easy to use, so you don't have to get all techie to post details of your business or share your progress while competing. It's a quick and easy way of increasing business or keeping your mates and fans up to date with your progress. With our mobile phone integration (Android, iPhone, Nokia, Blackberry, or any phone that can email), you don't even need to be near a computer to add stuff to your site.
www.horsey-sites.co.uk/
Ideas Forge, The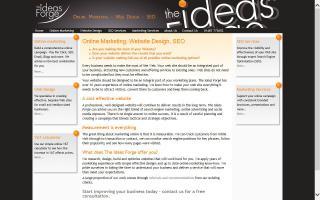 Forge Cottage
Manor Court
Kings Ripton
PE28 2NY
ENGLAND
05602 388929
lesley@theideasforge.co.uk
We design web sites for a number of equestrian businesses, including saddles makers, breeders, and equine therapists. As horse owners ourselves, we understand what is needed to make a site really work for you.
We can also help optimise your site and promote it, either as a on-off activity or as an on-going project. We are very happy to provide you with references for our equestrian work.
www.theideasforge.co.uk/
Stable Express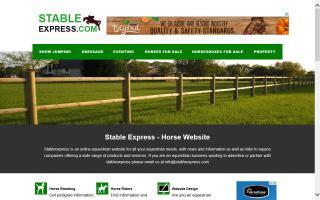 Visit Stable Express' Facebook Page
28 Barns Lane
Walsall
WS4 1HE
UNITED KINGDOM
07762 364883
r1hvy@yahoo.co.uk
Stable Express is an equestrian resources site offering services and products to our customers. We offer industry specific web design and internet marketing including search engine optimisation, email campaigns, social media, and much more. We offer free equine classifieds for horses, horse boxes, and tack. We discuss equestrian health issues and offer free consultation on menage construction, equestrian security, custom horseboxes, and more.
www.stableexpress.com/
Abbeyview Equine
MTW Foto
Dorfstrasse 21
24975 Gremmerup SSH
GERMANY
494634936611
webmaster@mtw-pferde.com
Equine marketing services. If you are looking for a qualified German dressage or show jumping horse, we can provide you with a pre-selected list of high quality horses with photos and videos. Talk to us, and we will help you to find your dream horse.
www.mtw-pferde.com/
BlueCommerce
Dumfries
SCOTLAND
brian @bluecommerce.net
Equine web design. We specialise in design horse and animal themed websites at very competitive prices.
David Auston
0870 2351373
david@davidauston.net
We provide easy to use livery management software that doesn't cost the earth. We also create web sites for the equine industry.
Irish Horse Webs
Castlerea, Roscommon EIRE
IRELAND
00353949640796
00353868216864
admin@irishhorsewebs.com
Website design and hosting for equestrian businesses, clubs, or hobby sites. Design, hosting, and domains available. Visit website for full details.