Coin, Spain Horse Directory
Page 1: Results 1-2 out of 2
► Submit Your Website To This Page
Baileys Horse Feeds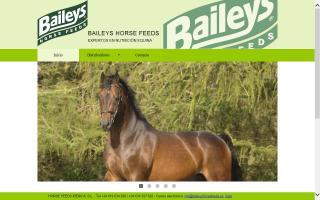 Los Montecillos s/n
29100 Coin Málaga
SPAIN
951 247 113
661943947
info@baileyshorsefeeds.es
We are a distributor of Baileys Horse Feeds in Spain. We are based in Coin (Malaga) and can provide feed all over Spain. We are also looking for distribution points.
All our feeds are non GM (Genetically Modified). Ranges include High Fibre Cubes / Mix, Horse and Pony Mix, Conditioning Cubes / Mix, Competition Mix, Stud Cubes / Mix / Balancers, and lots more. Dengie and mollichaff are also available, as well as dog, chicken, and goat feeds.
www.baileyshorsefeeds.es/
Equinatural - Asosiación Malagueña de Equitación Natural
Barranco Blanco
29120 Coín Málaga
SPAIN
649205936
609907016
info@equinatural.es
At Equinatural, we offer a wide range of services in a friendly environment where the horses always come first.
Bespoke livery in fully equipped stable blocks which provide light, well ventilated and spacious boxes, and the reassurance of constant on-site supervision. All year turnout and classes for kids and adults.
www.equinatural.es/