Burke County, Georgia Horse Directory
Page 1: Results 1-8 out of 8
► Submit Your Website To This Page
Atigrado Acres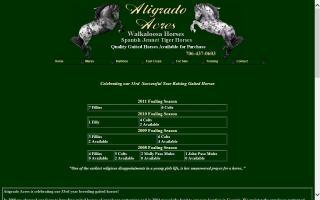 202 Wyatt Place Road
Waynesboro, GA 30830
AA@GaitedHorses.net
Quality gaited horses with the Appaloosa patterning: Walkaloosa & Spanish Jennet.
Atigrado Acres breeding goals (and results) include:
- Natural strong gait
- Intelligence
- Temperament
- Distinctive Paso like - Spanish conformation
- Mature Height from 14.2 to 15.2 hh
- Exotic coat pattern
Not necessarily with any one taking precedence in importance, but seeking to combine all in one horse!
Our program is focused on producing naturally gaited horses of intelligence and beauty. Atigrado Acres is striving for a user-friendly horse, one that you can be happy and proud to own.
www.atigradoacres.com/
CrossRidge Ranch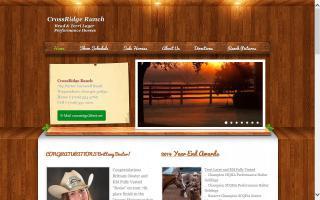 Long Leaf Farm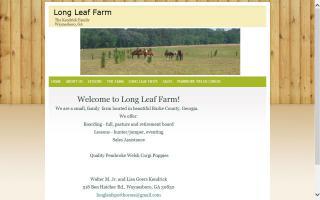 518 Ben Hatcher Rd
Waynesboro, GA 30830
(706) 871-5992
lgkendrick@hughes.net
Country living for your horse.
- Full and pasture boarding
- Foaling/mare care
- Dressage/jumping lessons
Quality care by a licensed vet tech, owners on premises, round pen, trails, and jumps. Child friendly - safe and secure play area for your children while you ride!
longleaffarm.webs.com/
Treasures' Trove Boarding Stable
1742 Ga Hwy 88
Blythe, GA 30805
(706) 592-4925
silkewolf@gmail.com
Horse boarding stable in Blythe, GA, that is near Ft. Gordon and outside of Augusta, GA. Full board or partial board are available. Military discounts apply. Fully fenced. Owner lives on property.
www.tntstables.com/
Angel Wing Equine Ministry
Blythe, GA 30805
angelwingequine@aol.com
Free horse camp... Using rescue horses to help support and encourage self esteem and trust for women - adolescent to adult. Using the Word of God to share the saving grace of Jesus Christ.
Karis Delaigle Benefit Stallion Raffle
Waynesboro, GA 30830
(706) 551-4373
chris-ray2006@hotmail.com
Stallion breeding raffle. We are raising money for Karis. She has ONH. Please see the web page and help us spread the word.
Lucid Dreams Photography
Waynesboro, GA 30830
(706) 726-0734
SLandrum@luciddreamerphotography.com
Equine & event photography...
For all your business and personal photography needs, from that perfect show horse to your child's favorite back yard pony; from a fashionable wedding to mama's family reunion. Everyone will be treated like a star.
Special packages available for all your photography needs. If it's not listed, contact me for a price.
Printed material available upon request. Ask about our new stallion portfolios and show scrap books!
RWC VHF The Licorice Drop Kid
Keysville, GA 30816
706-547-7612
706-829-0338
valleyhillfarm@msn.com
RWC VHF The Licorice Drop Kid is by It's Hammertime and out of Desert's Radiant Sunshine by Radiant Sultan. This breathtaking stallion is standing in Keysville, George at Valley Hill Farm.
Look in Burke County, Georgia for:
Find All Categories in: