Carroll County, Georgia Horse Directory
Page 1: Results 1-4 out of 4
► Submit Your Website To This Page
Red Horse Stables - RHS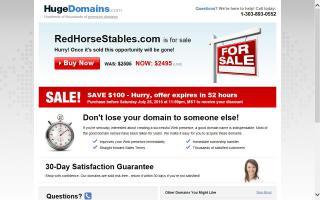 2800 West Highway 5
Bowdon, GA 30108
(770) 258-0444
www.redhorsestables.com
Red Horse Stables is a premier dressage and eventing facility offering dressage and stadium arenas, a cross country course through Novice level, and several miles of rolling hills and trails. Several shows a season, along with summer/fall camps, clinics, and lessons are available.
www.redhorsestables.com/
Witt's End Stables
Temple, GA 30179
(770) 836-0123
jlwitt@bellsouth.net
We are located in west Georgia about 40 miles west of Atlanta. Here at Witt's End Stables, we strive for a sound horse with an easy going temperament. Currently, we are competing in national circuit and at state qualifying levels. We show padded and flatshod horses that have been trained and shod by us. We sell racking horses that were once shown in the arena and are now being trail ridden. We have about any color you can imagine, and all of our horses are registered and have papers that match. We fit the shoe to the hoof and the horse to the rider. 52 acres of fenced pasture with a creek. New barn with 12x12 stalls.
www.rackinghorse.net/
Sandie Creek Polocrosse Club
Sierra Springs Equestrian Center
Whitesburg, GA 30185
(770) 315-3330
angiecrews@att.net
Let us teach you what is rarely ever taught - the subjects that are important ones, the ones that should be taught. Our program is aimed to help those entering the horse industry who stagger around looking for help but don't know where to get it. It is also an attempt to save those that represent the high casualty rate from falling out of the industry due to a lack of real knowledge. This is real horsemanship. No touchy feely, fluffy, guru type stuff where they lead you to the water but make you pay to drink. This effort is for the sake of the horses.
Horses are our business. With over 30 years experience, we will help you get what you want from your horse. We have a strong belief that the more you know, the better off your horse will be.
This is not a trot in a circle for an hour program. We will teach you why your horse does what he does and why he responds to our techniques. You will learn the psychology of the horse.
Look in Carroll County, Georgia for:
Find All Categories in: