Isanti County, Minnesota Horse Directory
Page 1: Results 1-8 out of 8
► Submit Your Website To This Page
Foster Farm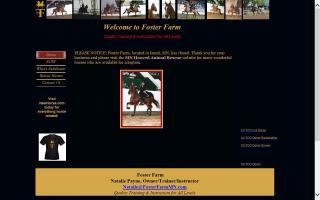 1376 257th Ave NW
Isanti, MN 55040
(612) 616-6687
Natalie@FosterFarmMN.com
English saddleseat lessons & training for all levels. Foster Farm is located in Isanti, Minnesota, approximately 40 minutes north of Minneapolis. We provide English saddleseat horseback riding lessons, summer horse shows, academy horse shows, horse training, and boarding. Students of all levels are welcome to take lessons year-round in one of our three arenas.
www.fosterfarmmn.com/
Hiddenbrook Peruvians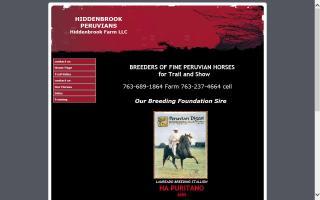 36205 Hastings St NE
Cambridge, MN 55008
(763) 689-1864
susanhbp@aol.com
Peruvian Paso weekend trail rides. Hiddenbrook Peruvians is a long established breeder of the beautiful and smooth gaited Peruvian Paso horse. Offering private couples 1 hour long winter trail rides on our farm and spring-fall weekend park trail/camping trips for the more adventurous couple. Please contact us for our up coming spring-fall trail dates and locations to reserve your place.
www.hiddenbrookperuvians.com/
Whispering Ridge Farm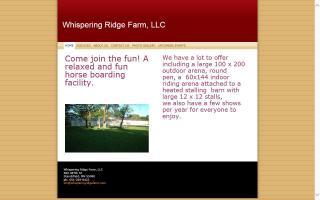 600 487th St
Stanchfield, MN 55080
(651) 269-8423
lori@whisperingridgefarm.com
Horse boarding. Indoor arena, outdoor arena, and round pen. Heated 12 stall stalling barn attached to indoor arena. Box stall $280/mo; Pasture $150.00/mo (Rates as of Aug 2010).
www.whisperingridgefarm.com/
Ponies Galore! Welsh Ponies
14924 Durant Street NE
Ham Lake, MN 55304
(612) 750-7080
heidi@welshponiesgalore.com
One of Minnesota's largest registered herds of Welsh ponies! Two champion stallions at stud. Show quality ponies for sale. On-farm leasing. Boarding - stall and pasture. Training - breaking, finishing, despooking. Showing.
www.welshponiesgalore.com/
Sporting Spots Appaloosas
44935 Cedarcrest Trail
Harris, MN 55032
(651) 528-2079
Sporting Spots Appaloosas is a small family owned and operated farm striving to breed the ultimate dressage performance Appaloosas. We give lessons and have horses available to purchase at times.
www.sportingspots.com/
Look in Isanti County, Minnesota for:
Find All Categories in: