Old Bethpage, New York Horse Directory
Page 1: Results 1-1 out of 1
► Submit Your Website To This Page
My SHINE Program - Special Horses Instructing Noble Equestrians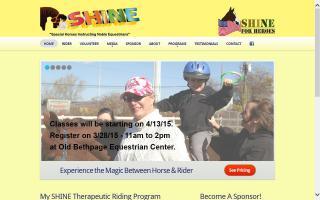 P.O. Box 357
Old Bethpage, NY 11804
(516) 551-1491
(516) 785-1949
barbara@myshineprogram.com
My SHINE Program is a non-profit therapeutic horseback riding program for individuals of all ages with special needs located at Sweet Hills Riding Center in Melville, NY. We have two NARHA (North American Riding for the Handicapped Association) certified instructors and others in the process of becoming certified. They have many years of experience as trainers.
Our mission is to foster a relationship between individuals with special needs and horses through activities involving horses in a safe and nurturing environment. Our objectives include improving the participants self confidence, physical strength, coordination, and balance and increasing vocalization.
Group or private lessons consist of teaching horsemanship skills, games, mini-trail rides through West Hills Park, and most importantly, having fun. Come experience the magic between horse and rider.
www.myshineprogram.com/
Look in Old Bethpage, New York for: