Tarwin Lower, Victoria Horse Directory
Page 1: Results 1-1 out of 1
► Submit Your Website To This Page
Monsview Park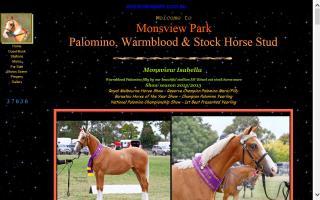 900 Koonwarra Pound Creek Road
Tarwin Lower VIC 3956
AUSTRALIA
(03) 5674 5523
0412 705 862
monsview@nex.net.au
Home of Monsview Kingson, Dresden Playboy, Monsview Golden Edition, and Monsview River Dance.
Monsview Park was established in 1956 at Glenrowan in Vic, based as a palomino stud, by owner Bill Hooper. Bill selected his broodmares with particular thoroughbred breeding from top bloodlines in Aus and NZ.
Bill showed his horses all over the state and interstate, resulting in many wins and launching the stud into one of the most recognised studs in Australia for the horse industry.
We purchased the stud in 1980 after Bill passed away and have continued the winning success. We have been breeding show and pleasure horses for the general public, and stand stallions at stud.
At Monsview Park, we aim to breed quality golden palominos with the potential to excel in dressage, showing, and all-around horsemanship.
To do this, we try to stick to mares who are of Thoroughbred and
Australian Stock Horse breeding.
www.monsviewpark.com.au/
Look in Tarwin Lower, Victoria for: