Virginia General Horse Clubs Directory
Page 1: Results 1-2 out of 2
► Submit Your Website To This Page
Nokesville Horse Society - NHS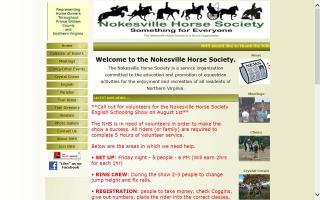 Representing equestrians throughout Prince William County and northern Virginia.
nhsinc.tripod.com/
Meadowbrook Farm Equestrian Center
Huntly, VA 22640
(540) 622-6234
info@meadowbrookfarmequestriancenter.com
Meadowbrook offers full care stall and pasture board, basic pasture board, and training board. We have an exceptional riding program, tailored to fit beginning students as well as the most advanced riders. Students may ride English or western. Meadowbrook Farm is more than a century old, with 200+ acres in a park-like setting, breathtaking views, well maintained pastures, a large outdoor riding ring, and a caregiver on site 24/7.
We are located at 18 Meadowbrook Lne,in Huntly Virginia. Conveniently located on Rte 522, between Flint Hill and Front Royal, we are an easy commute from Warrenton, Sperryville, and Luray as well.
Board plans range from $275 for basic field board to $425 for full care stall board, and $500 for premium stall board (Prices as of Aug 2010). Visit our web site or call for more information.