Arkansas Horse Rescue Organizations Directory
Page 1: Results 1-4 out of 4
► Submit Your Website To This Page
Fair's Foxtrotters & Missouri Foxtrotting Ponies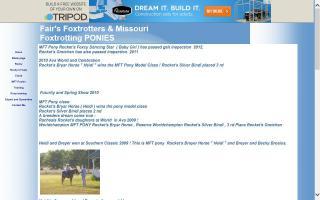 361 Greene 707
Paragould, AR 72450
(870) 573-6420
rachealsrocket@aol.com
Training, rescue, rehab, shows, and all-breeds tune ups. German female trainer. We try to help everybody who asks for help without judgment, but if you are looking for a cowboy, we don't have any. We work for the horse or pony and only do what's best for them. German / English horsemanship. No whips, spurs, or ropes... Please check out our website. Ela Fair.
fairsfoxtrotters.tripod.com/
Bluebonnet Equine Humane Society - BEHS
2nd Chance Mini-Ranch Equine Rescue & Rehabilitation Center
Clear Creek Farm Equine Rescue
Huntsville, AR 72740
(479) 244-6206
(479) 232-5743
Lynn@ClearCreekrescue.com
We are a non profit organization dedicated to the rescue, rehabilitation and adoption of abused, neglected or unwanted horses.