Riverside County, California Horse Rescue Organizations Directory
Page 1: Results 1-5 out of 5
► Submit Your Website To This Page
True Innocents Equine Rescue - TIER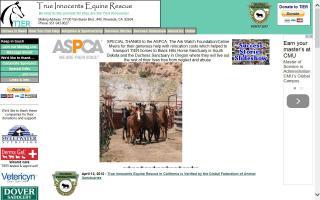 Golden Carrot, The
California Equine Retirement Foundation, Inc. - CERF
Fallen Horses
Pinon Hills, CA 92372
(442) 600-1287
(951) 207-4126
info@fallen-horses.org
Located in Pinon HIlls, CA, we are an equine rescue organization specializing in off-track Thoroughbreds. Our goal is to save as many horses from the possibility of slaughter as we can.
Some of our horses come directly from the track when their racing careers are over, while others have been purchased at auction to keep them out of the hands of kill buyers. Some have been surrendered to us by owners who can no longer care for their horses properly and want to avoid sending them to auction. However they come into our care, they are all loved and taken care of, regardless of condition.
Many horses coming from the track have been injured and need layup time to heal, then rehabilitation to get back into shape. No matter how long it takes, we will do everything we can to get these athletes back in shape so they can become companion or show horses to the best of their ability!
Our goal is to find loving homes for the horses who come into our care. A few special horses have found their way into our hearts and will stay with us forever. You are welcome to sponsor one of them so that we can devote more resources to horses in need.
Our mission is to improve the quality of life for all horses, thereby improving the lives of people through their bond with the horses. We are committed to the rescue and rehabilitation of equines suffering from abuse, as well as the successful retirement of working equines. We strive to improve public awareness and knowledge regarding the standards of care necessary to insure the health and safety of all equines.
Moore Happy Horse Rescue / Moore Happy Horse Feet
Look in Riverside County, California for:
Find Horse Rescue Organizations in: