Shasta County, California Horse Rescue Organizations Directory
Page 1: Results 1-2 out of 2
► Submit Your Website To This Page
Safe Haven Horse Rescue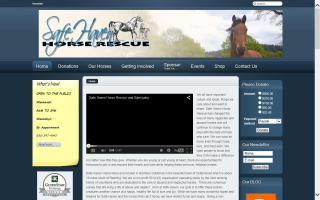 PO Box 1788
3950 West Anderson Dr
Cottonwood, CA 96022
(530) 347-4941
(530) 524-1473
safehavenhorse@gmail.com
Safe Haven Horse Rescue was started by Linda Richards in 1995. We are a no kill shelter & take in the old, unwanted, neglected, and abused horses. Horses we have cared for range in age from 40 years old to 4 weeks old! When we have horses who do not have enough teeth to eat hay, they live on a mush mixture that Linda has refined over the years, and the horses are very healthy & spry.
Safe Haven has a sponsorship program and provides riding lessons for children & adults.
We have a major fundraising event each year: a "Play Day" at the local arena here in Cottonwood, CA. We have events for lead line all the way up to advanced riders. The local supporters in the area really look forward to our "Play Day" every year.
Safe Haven also provides community service for seniors in high school and for minor offenses thru peer court here in Shasta County.
The bottom line that says it all is our motto: "For the Love of Horses."
www.safehavenhorserescue.org/
Dove Hollow Farm
19519 Dovie Lane
Cottonwood, CA 96022
janis@dovehollow.org
Dove Hollow Farm is dedicated to the rescue, retraining, rehoming, or retirement of racing thoroughbreds and draft horses. The farm is self-supported by giving horse drawn wagon rides.
www.dovehollow.org/
Look in Shasta County, California for:
Find Horse Rescue Organizations in: