Sonoma County, California Horse Rescue Organizations Directory
Page 1: Results 1-5 out of 5
► Submit Your Website To This Page
Glen Ellen Farms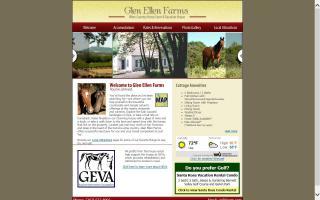 PO Box 2101
Glen Ellen, CA 95422
(707) 527-8092
(888) 527-8092
gef@vom.com
California wine country vacation rental with horse stable. Miles of gorgeous riding trails at local state parks. Sonoma Valley thoroughbred retirement, equine rescue and vocational center. Horses available for sponsorship/adoption to approved homes.
www.glenellenfarms.com/
Phoenix Equine Foundation, The
P.O. Box 1235
Glen Ellen, CA 95442
(707) 939-3658
janovot@ibm.net
A National Heritage Foundation
Sonoma Action For Equine Rescue - SAFER
9501 Mill Station Rd
Sebastopol, CA 95472
(707) 824-9543
katesgate@comcast.net
We are a non profit group helping find homes for horses displaced by the economy. We fund raise to bring hay into our region. We also do education concerning responsible horse ownership.
www.saferhorse.com/
Sadie's Haven Horse Rescue & Sanctuary
2951 Thorn Road
Sebastopol, CA 95472
(707) 206-1892
vicki@sadieshaven.com
We are a non profit public charity 501 (c)(3) horse rescue and sanctuary operation located in Sonoma County. Our purpose is to provide safe and experienced care and shelter for equines that are neglected, abused, and/or abandoned.
We inform and educate the public about the plight of these horses through tours and day camp programs for the community. We stress special consideration for underprivileged children and teens. We also offer youngsters the opportunity to complete their community service requirements in their schooling. If it were not for our efforts, many, if not all, of these horses would find themselves heading for the slaughter houses in Texas or Canada via the black market. Our goal is to care for them and keep them comfortable and happy for the rest of their natural lives.
We seek assistance from all sectors of society in this absolutely necessary mission. Corporate sponsors, individual sponsors, and individual donations are direly needed.
www.sadieshaven.com/
Flat Broke Farm
Santa Rosa, CA 95407
(707) 585-1070
www.joylonna@aol.com
Rescue - Rehabilitation - Training - Adoption
Where the humans are broke, not the animals! 50 years combined experience. Extensive time to stay and learn. Putting a better animal back into society!
Look in Sonoma County, California for:
Find Horse Rescue Organizations in: