Maryland Horse Rescue Organizations Directory
Page 1: Results 1-7 out of 7
► Submit Your Website To This Page
Equihab Foundation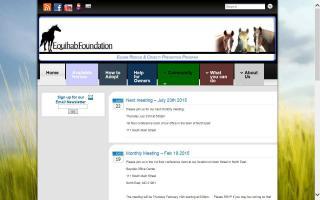 Visit Equihab Foundation's Facebook Page
111 South Main Street
North East, MD 21901
(443) 466-4087
info@equihab.com
Horse cruelty prevention, rescue/re-homing, education, and placement service. Equihab is foster-farm based, so horse showings are by appointment. Equihab also does free educational presentations for groups or schools. We assist owners and animal control in finding new homes for horses. While the organization has a limited capacity, we are happy to help owners in selling their horses, for example by cross-posting their horse's ad for free advertising.
www.equihab.org/
Frederick Hall Equestrian Center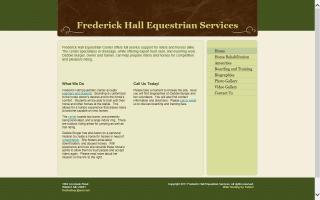 1062 Accokeek Rd
Waldorf, MD 20601
(240) 832-6571
fredhalleqc@aol.com
We are a full-service boarding and training facility, which helps to support our ongoing equine rescue efforts. We have a select group of dedicated students, boarders, and volunteers and would like to extend an invitation to fellow horse-lovers in a variety of capacities.
We offer lessons in classical dressage and hunter/jumper, but also have experience in western pleasure and breed showing. Lesson plans are flexible; we also offer a working student programme to qualified individuals. At any time, we have several horses available for lease and/or sponsorship with extensive opportunities to interact with rescue horses and further your equine education. We offer ample opportunities for competition, from local schooling to rated dressage shows.
www.frederickhall.com/
MidAtlantic Horse Rescue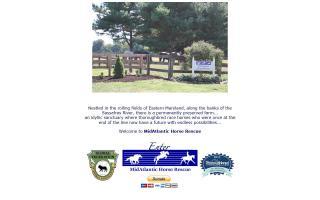 Visit MidAtlantic Horse Rescue's Facebook Page
P.O. Box 403
Chesapeake City, MD 21915
(302) 376-7297
bev@midatlantichorserescue.org
MidAtlantic Horse Rescue is dedicated to giving ex-racehorses a brighter future through horse rescue and adoption. We serve the midatlantic region (PA, MD, DE) of the United States.
www.midatlantichorserescue.org/
Days End Farm Horse Rescue - DEFHR
15856 Frederick Road
Lisbon, MD 21765
(301) 854-5037
(410) 442-1564
www.defhr.org/
Summerwinds Stables
Hope and Horses Homestead LLC
Darlington, MD 21034
(410) 457-4787
Our vision is to rescue and raise or retrain horses to be wonderful mounts and friends for both trails and therapy. Healing horse and human hearts, one at a time. We train from the heart and with the horse's best interest in focus. Over half of our horses are draft or draft-crosses - mostly paints. The rest of our herd consists of miniature horses that are or will be trained as therapy horses or companions. We have an emphasis on teaching so that horses can be properly handled and loved.
Unicorn Center, Inc.
Upper Marlboro, MD 20772
(240) 417-0981
farmerkurtz@aol.com
A therapeutic horseback riding and animal rescue program that offers lessons, vocational training, social skill building, and job opportunities to individuals with a wide variety of disabilities! Trained staff and great horses. Certified.