Michigan Horse Rescue Organizations Directory
Page 1: Results 1-6 out of 6
► Submit Your Website To This Page
Day Dreams Farm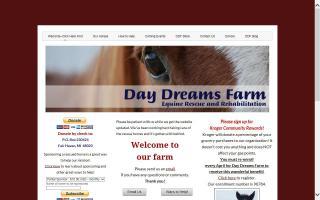 7731 Morrow Road
Cottrellville Township, MI 48039
(810) 765-6867
(586) 925-3167
daydreamsfarm@yahoo.com
We are a non-profit organization that rescues abused and neglected horses, rehabilitates them, and then adopts them out to homes where they can live out their lives in a safe and happy environment.
www.daydreamsfarm.com/
Horse North, Inc.
10271 Summit City Road
Kingsley, MI 49649
(231) 499-3965
(231) 263-5592
ccandaviary@aol.com
Northern Michigan based 501 (c)(3) horse rescue. Focus is on education to prevent abuse and neglect, including training programs for adults and children.
www.horsenorthrescue.org/
New Vocations Racehorse Adoption Program
Finding quality homes for retired racehorses, Thoroughbreds and Standardbreds, throughout the Eastern US. Providing new vocations for ex-racehorses.
www.horseadoption.com/
Holiday Acres
Hugs 2 Horses
Fowlerville, MI 48836


A rescue center and sanctuary for older, abandoned and neglected horses.


Northern Michigan Horse Rescue and Rehabilitation - NMHRR
Gaylord, MI 49735
(989) 370-0908
(989) 370-0915
northernmichiganrescue@charter.net
Reasonable boarding fees for pasture boarding only. Excellent grazing, large shelters, enormous fields and trails to ride on (by prior arrangements with owner), and both an indoor arena and an outdoor obstacle / practice area. Free choice, good quality hay for winter months. Stalls are available for illness, injury, and required stall rest. 12 standing stalls for daily graining. Any supplements, grain, MSM, or medications (OTC and vet approved) must be purchased by the owner but can be provided by staff. Discounts available when prepaying. Fees from boarding and adoptions provide the steady income necessary for NMHRR to cover operating expenses, medical and farrier care, and travel expenses, among others, for the horses placed in our programs.