Equine Law Directory
Page 1: Results 1-4 out of 4
► Submit Your Website To This Page
American Horse Council - AHC


Visit American Horse Council - AHC's Facebook Page
1616 H Street NW
7th floor
Washington, DC 20006
(202) 296-4031
AHC@horsecouncil.org
www.horsecouncil.org/
Equine Legal Solutions, Inc.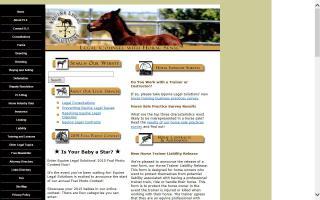 Elsey Equine Law
510 Bering Drive Suite 300
Houston, TX 77057
(713) 974-9376
info@elseyequinelaw.com
Jill Elsey is a life-long equestrian who was raised in the horse business and has been fortunate to combine her knowledge of the industry with her knowledge of the law. She is committed to assisting clients with their horse-related transactions and litigation.
www.elseyequinelaw.com/
Holden Hoggatt
Jennings, LA 70546
(337) 514-4551
Holden@HoggattLaw.org
Equine law attorney. Equine transactions, litigation & consulting. Free initial consultation. We solve your horse-related problems and offer contracts tailor-made to fit your needs and location.