Texas Horse Sitting Directory
Page 1: Results 1-3 out of 3
► Submit Your Website To This Page
Melody Acres Stable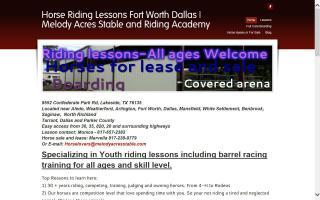 9552 Confederate Park Rd
Lakeside, TX 76135
(817) 657-2382
horselovers@melodyacresstable.com
Small family owned stable offering riding lessons targeted at your specific needs. We offer western/beginner English, barrels, poles, trail, beginner roping, and much more. You can ride for relaxation or in preparation for competing. Two lighted arenas with sand bedding. Instructor has more than 40 years of training, competing, raising, and caring for horses. All lesson horses are home grown and trained with safety; excellent behavior and fun to learn on. We have a number of lesson horses at all levels, including the novice to advanced rider. We offer off site dog/horse sitting at very reasonable rates. Our lessons are lower than most other stables in the area, and you aren't rushed at each lesson. Instructor only has an average of 8-10 students, so she can spend more time teaching the total package. Please feel free to contact Monica and set up a time to visit. You will love the tranquility and calm surrounding.
www.melodyacresstable.com/
Wildwood Equestrian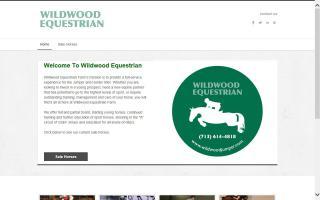 Visit Wildwood Equestrian's Facebook Page
38279 FM 1488
Hempstead, TX 77445
(281) 253-7271
(713) 614-4818
juliacorinne@yahoo.com
Secure and 24 hour care and medicine administration available. 12' x12' indoor stalls. Shavings and feed can be made available. 8 acres of sectioned turnout. Jumping field, riding area, and hook ups available. Access to trails nearby. All weather roads. Plenty of parking for your rig.
www.wildwoodjumper.com/
Equisitters
Red Oak, TX 75154
(214) 755-6394
equisitters@sbcglobal.net
Alternative to boarding - Equisitters provides temporary horse care at your barn. Since 1995. Ellis County. Patty Lowrey 214-755-6394