Ontario Horse Transportation Directory
Page 1: Results 1-4 out of 4
► Submit Your Website To This Page
BWD Equine Services Ltd.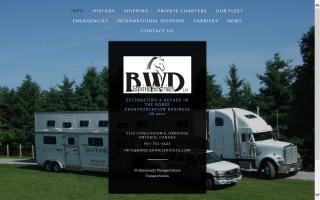 PO Box 1061
Mount Albert ON L0G1M0
(905) 751-4625
(416) 678-3534
info@bwdequineservices.com
Coast to coast, door to door service.
Professional, licensed, and insured.
Transport into the USA available.
For a free quote, call Jason at (905) 751-4625 or email us.
www.bwdequineservices.com/
Maxton Eckstein Horse Transport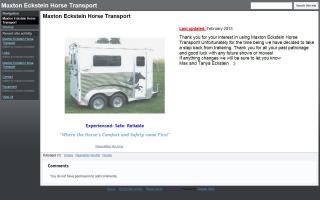 (905) 685-9174
Your horse's safety and comfort come first.
2008 Canadian Spirit - extra wide/ extra tall 2 horse, rear ramp
2008 F150 4x4 Super
Experienced horse handler; excellent driver; references available.
Canada and USA.
Emergency trailering 24 hr.
We treat all horses with respect!
Shows, barn moves, cross border travel, and medical appointments... we do it all!
sites.google.com/site/maxtonecksteinhorsetransport/
MJB Equine Services
814 Lazier Rd
Shannonville ON K0K 3A0
(613) 920-0186
bronc_rider@hotmail.com
"Horse People Serving Horse People"
Offering equine transportation across North America for over 10 yrs. Permitted for U.S. crossing. Making weekly trips from Ottawa, ON to London, ON. Monthly trips to western Canada and Oklahoma City, OK. Call or e-mail for quote. Quantity discounts, quality transportation, and reasonable prices.
Chesley Horse Farm and Supplies
Chesley ON N0G 1L0
(519) 363-5879
info@chesleyequestrian.com
We sell english and western horse tack at affordable prices. We have Western saddles, English saddles, and Western and English bridles with reins. We also have a small family run boarding farm.