New Jersey Equine Vets Directory
Page 1: Results 1-3 out of 3
► Submit Your Website To This Page
All D Reiterhof Farm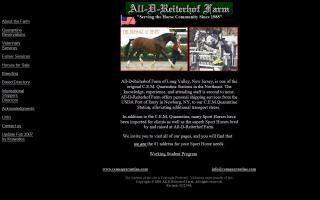 Eastampton Veterinary Service
620 Powell Road
Eastampton, NJ 08060
(609) 261-7280
matt@eastamptonvet.com
Large and small animal medicine and surgery with a focus on Equine species.
Our mission is to provide excellent, up-to-date care at fair prices while providing excellent client service.
Ambulatory service is available for central and southern New Jersey and eastern Pennsylvania. Appointments are also available at our Eastampton, NJ office location.
Services available include routine healthcare, preventative medicine, digital radiograpy, ultrasound, upper airway and gastrointestinal endoscopy, shockwave therapy, advanced in-house laboratory, parasite control, small animal and livestock surgical services, minor equine surgery (laceration repairs, castrations, etc.) and much more.
Emergency service available outside of normal business hours.
www.eastamptonvet.com/
Foxfire Stables / Foxfire Veterinary Service
Alloway, NJ 08001
(609) 820-1816
jamiereilley@mac.com
Boarding facility with indoor and outdoor arenas. Wonderful sand/rubber footing, lights, and mirrors. Large 12 x12 matted stalls, wash stall, private tack closets, & some trails. Private turnout if required. Veterinarian on premises.