Hunterdon County, New Jersey Hay For Sale Directory
Page 1: Results 1-3 out of 3
► Submit Your Website To This Page
Deer Run Hay Company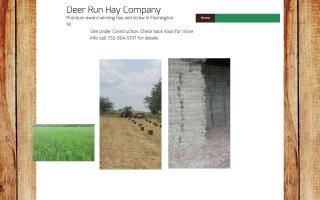 110 Amwell Road
Flemington, NJ 08822
(732) 904-5137
deerrunhayco@gmail.com
We have a variety of types of hay and straw for sale: timothy, orchard grass, alfalfa, mixes, rye, and wheat straw. All hay professionally grown. Delivery available. Call for prices.
www.deerrunhay.com/
Lil RR Farm
211 Old Croton Road
Flemington, NJ 08822
(732) 735-6109
KReitano@aol.com
Quality horse hay for sale. Made for horses by people who own horses.
1st cut Timothy/Orchard Grass Mix - $5.00 per bale
2nd cut Orchard Grass - $6.00 per bale
Saturday pickup at barn - 10:00AM-4:00PM
Contact Carl at the number above.
Minimal charge for delivery within 10 miles.
For large quantities of 100 bales or more, call for price.
High Pointe Equine Center
Pittstown, NJ 08867
(908) 894-4218
info@highpointeequine.com
Quality Timothy grass hay for sale:
We are a family run business with over 200 years' experience growing top quality hay. We have large Timothy grass hay bales (37" long, weight per bale is about 65lbs, which is nearly double the average weight); organic bio-fertilized and NO preservatives or toxins added during growth cycle. Safe for breeding mares and foals; better for the health of all horses. Our hay has been recommended by veterinarians and is used by barns with therapy horses to ensure their maximum health. Hay is available now (Jan 2011), and orders are being taken for the first cut in the spring. Discounts are available for large orders and pick-up. Call High Pointe Hay for competitively priced but higher quality hay.