Virginia Hay For Sale Directory
Page 1: Results 1-6 out of 6
► Submit Your Website To This Page
Oak Grove Hay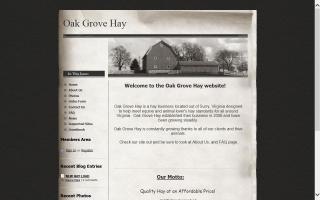 Homestead Sport Horses
365 Old White Bridge Road
Waynesboro, VA 22980
(540) 836-9244
homesteadsporthorses@hotmail.com
Overnight stable for horses and traveler. High quality hay for sale.
Large stalls, new safe 4 board private turnout with paddocks, and hook up for trailers with living quarters. Located near hotels, restaurants, and a vet hospital 1 mile away. Owners live on property. All buckets are cleaned with broad spectrum disinfectant after each use. All bedding included. All stalls have salt, mineral, and Lickits. Dogs and children welcome! In the summer time, relax and join us and for a cookout! We love the company!
Current coggins and proper travel documents required. Please call ahead for reservations.
High quality hay for sale. Small square bales, good weight, clean, barn stored.
www.homesteadsporthorses.com/
Horse Quality Alfalfa
Port Republic, VA 24471
(540) 435-1007
claudenull@gmail.com
Alfalfa from a Virginia Century Farm - small square bales (average 60 lbs.) - has been kept covered - no rain. Delivery by arrangement. Call for price and availability.
Hertzler Farm and Feed Inc.
Snow Creek Hay Company
Penhook, VA 24137
info@snowcreekhaycompany.com
We offer high quality orchard grass, alfalfa, and clover mixed hay. A nutritional analysis is available at our website.
Wolf Creek Tack & Feed
Appomattox, VA 24522
(434) 352-WOLF (9653)
wolfcreektack@aol.com
Wolf Creek Tack and Feed is located in central VA on busy Hwy 460E. We also have hunting and fishing supplies. We offer Nutrena and Blue Seal feeds and consignment items of all sorts. We cater to all types of riders and owners. If you can't find it here, we will try to locate it for you. "Stop in; We think you'll be surprised."