France Arena Footing and Stall Bedding Directory
Page 1: Results 1-1 out of 1
► Submit Your Website To This Page
Colehay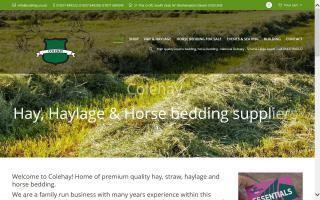 Flat 24 The Chimes
18 Vicar Lane
Sheffield
S1 2EH
ENGLAND
01837 83837
07871 609345
info@colehay.co.uk
We sell small and large bale hay and haylage. We sell to the UK and France.
Haylage is 100% Ryegrass. The hay is available in Meadow, Italian Rye, and seeds. Every bale is guaranteed - so we will replace or refund bad bales. As a business, we have 15 years' experience in producing first class haylage and 40 years' with hay. We can also supply horse bedding including: shavings, Mischanthus, and Phlax.
Please call or email.
www.colehay.co.uk/
Look in France for:
Find Arena Footing and Stall Bedding in: