Asia Carts, Carriages, Buggies and Sleighs Directory
Page 1: Results 1-3 out of 3
► Submit Your Website To This Page
H&S Horse Cart Co., Ltd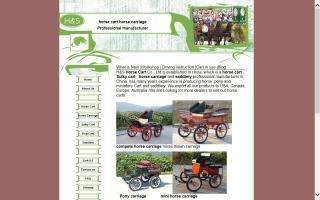 sale@hscart.com
A China factory which produces and sells horse carts, horse carriages, pony carts, miniature horse carts, sulky carts, horse drawn carts and dog carts.
www.hscart.com/
Riaz Horse International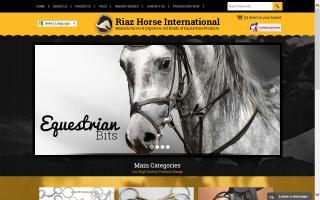 Visit Riaz Horse International's Facebook Page
Bun Nizam Pura
P.O Box Talwara Mughlan, Sialkot-51
51310 Sialkot Punjab
PAKISTAN
00 92 524600430
00 92 302 4323406
SALES@riazhorseintl.com
We are one of the leading manufacturers & exporters of horse accessories & veterinary instruments.
Our range of instruments: bits, spurs, stirrups, saddle, reins, bridles, halters, saddle pads, rugs, girths, gloves, chaps, belts, clinchers, hoof nipper, hoof knives, bull holders, curb chain hooks, curb chain, etc. We have our own manufacturing unit where all the instruments can be manufactured per your specific design, size, color, and with your logo.
If you want to see some samples to check the quality, please feel free to ask.
With Best Regards,
Irfan (Export Manager)
Riaz Horse Int'l
Biting specialists & comprehensive Riaz Horse (Bit) service
www.riazhorseintl.com/
Jinhua Beite Industry and Trade Co., Ltd.
008615268624766
cathy@beitercarriage.com
Jinhua Beite Industry and Trade Co., Ltd is one of the manufacturers and dealers of carriages and mobility scooters in China. Our company was established in 1998 and is located in the Scenery Economic Development Zone, Jinhua, Zhejiang, China. Our company is devoted to specializing in marathon training carriages, recreational and wedding carts, golf vehicles, mobility scooters, and rickshaws.
In 2006, our company began to invest in manufacturing carriages. So far, we have offered Marathon training carriages, recreational carts, etc. Long-term cooperation has been established with many domestic well-known equestrian clubs, such as Heilan Equestrian. Our carriages offer strong competition and a good market in France, Italy, Spain, Norway, Netherlands, Russia, the UK, and the USA, and are welcomed because of the excellent quality and reasonable price.
We hold the managing concept of "customer first, honesty enterprise, high quality, progressive perfect", and treat all clients' satisfaction as our ultimate goal. "High quality, on-time delivery, and reasonable price" has consistently been considered as our principle. Our products have been recognized by many associations, companies, clubs, and customers, and we have already established long-term friendships with them. We are looking forward to providing more products and better service for you.
www.beitercarriage.com/
Find Carts, Carriages, Buggies and Sleighs in: