Europe Horse Gifts Directory
Page 1: Results 1-8 out of 8
► Submit Your Website To This Page
Bling My Pony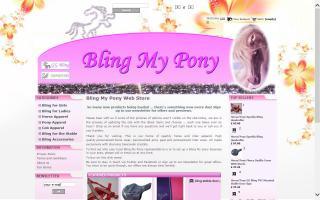 Fern Close
Pen-y-Fan Industrial Estate
Newport
NP11 3EH
WALES
+442921 250724
enquiries@blingmypony.com
Exclusive GG Bling horse, pony, and rider wear with sparkling Swarovski Crystal details.
Unique designs depict your favorite horse or pony & their name together in sparkly Bling fashion, tack & accessories.
Wear any time of day or night in the high street or stable.
GG Bling artists design and hand craft all their items in Britain so make sure you have authentic GG Bling designer wear. All genuine pieces come with an authentication card and unique ID tracked on our database with design imagery.
Visit our website to choose from Bling hoodies for girls and ladies, t-shirts, Bling horse rugs, Bling jackets, Bling hats, and even Bling stable door signs!
Although GG Bling produce some standard designs, you can personalize a saddlepad by sending the artists a photograph of your favorite.
www.blingmypony.com/
County Equestrian Jewellers


Visit County Equestrian Jewellers' Facebook Page
Rushock
UNITED KINGDOM
01562 777289
07717 092 475
mail@equestrianjewellers.co.uk
Our equestrian jewellery collection is ideal for all horse, equestrian, and countryside lovers who want a piece of jewellery to reflect their passion for their hobby or living. Our jewellery makes excellent gifts for anyone who loves horses or ponies. Our pieces also make a great treat for yourself. Our jewellery is hand-made in Worcestershire, England, and we are proud of the level of quality we offer – all of our pieces are designed to be a long standing classic piece in your jewellery collection.
We have an extensive range of styles which feature all manner of horses and equestrian items. Designs include horseshoes, foxes, horse heads, snaffle bits, farrier nails, horse legs, snaffle jewellery, and stirrups, which are incorporated into all manner of bracelets, bangles, necklaces, pendants, earrings, cufflinks, rings, stock pins, and freshwater pearls. Whether you like delicate, subtle pieces of jewellery or bolder pieces such as our snaffle bit bracelets, we will have something to suit you.
www.equestrianjewellers.co.uk/
Horse Diva, The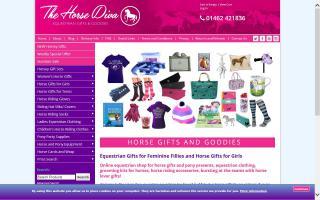 info@thehorsediva.co.uk
Online UK retailer specialising in colour coordinated equestrian gifts for the modern horse and rider. Hand picked product selections include clothing and accessories for all ages, treats for horses and ponies, and horse themed gifts for the home.
www.thehorsediva.co.uk/
Mad About Horses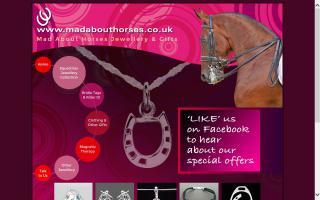 Exceptional Gifts for Equestrians
64700 Madiran
FRANCE
info@winecoursesfrance.com
Hand-selected collection of gifts for horse lovers of all ages. Amazon.com affiliate.
Pony Pics
Stafford
ST17 4AL
ENGLAND
01785 878045
customerservice@ponypics.co.uk
Personalised horse and pony gifts. Design your own horsey gift with a photo of your favourite pony. Upload your own pic or use one of our great horse photos to customise one of out great gifts, which include mugs, coasters, t-shirts, and cushions.
Simply Italy
53042 Siena
ITALY
dazaccheo@aol.com
I create fabulous and affordable horse and dog jewelry and other gift items, such as notecards, cellphone charms, purse holders, and more. I will also custom design for you using a photo of your favorite! I specialize in the Friesian horse; however, I am constantly expanding my line to include many other horse breeds. Please inquire for designs you do not see listed.
Tranquility In Glass
Harlow
CM19 5TP
ENGLAND
01279 412112
sales@tranquillityinglass.co.uk
Beautiful pet portraits and pet memorials in stunning high quality glass, all personalised with high definition images of your own pets. Over 300 designs on-line to choose from.