Ohio Horse Gifts Directory
Page 1: Results 1-4 out of 4
► Submit Your Website To This Page
Cherokee Stables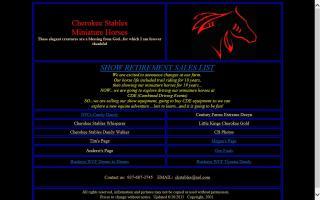 Windmill Equine Enterprises, LLC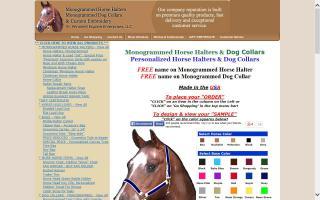 7186 Dewey Rd
Thompson, OH 44086
(440) 298-3018
windmillsaddle@windstream.net
Custom monogrammed horse halters with a FREE name on the nosepiece. Premium quality horse halters & dog collars, excellent customer service, and fast delivery time. Our horse halters are made in the USA with solid brass hardware, and they are washable. Visit our "interactive" website and design your halter.
www.monogrammedhorsehalters.com/
Art Helping Animals
Canton, OH 44702
(330) 957-0204
artbysue@hotmail.com
Horse, dog, and cat art and gifts that benefit various rescues by equine artist Sue Steiner.
Salvage and Bloom
Cincinnati, OH 45233
(513) 505-9791
lgroeschen@cinci.rr.com
I started making horse leg Christmas stockings because I could not find a unique stall decoration for my beloved horses. I wanted something special, one that would also serve as special memory of them. So I started cutting, sewing, and painting, and soon, Merrylegs(TM) was born to honor the sweet pony in Black Beauty as well as my love for the holidays and all things horses.
I hand sew and paint my stockings using sturdy 10-oz. cotton duck. Each stocking is then heat set and sprayed to make it moisture-resistant in any barn or covered outdoor area. Each stocking measures 6" wide x 20" long and is decorated at the top with a nylon hanging tab and rustic sleigh bell. Personalize each stocking - add the name you want on your stocking at checkout. If your horse has a unique sock, e-mail me a clear photo, and I can paint to your specifications. Usually this does not require a price increase, but we can discuss. I certainly enjoy hearing about your horse!
Horse leg stocking design patent #d520,406. Merrylegs is also my registered trademark.