New Zealand Horse Jumps and Arena Equipment Directory
Page 1: Results 1-1 out of 1
► Submit Your Website To This Page
Jump-A-Bull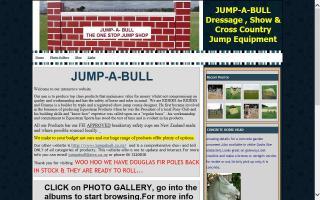 124 Viles Rd
R.D.1
Bulls
NEW ZEALAND
06 322 0838
We produce quality dressage arenas, show and cross jumps, and associated products.
Our show jumps can be made in wood steel or polyethylene and are designed to maximize safety for horse and rider.
Likewise, our portable cross jumps where possible are designed to maximize value for money, i.e. one jump can be adapted to create two heights.
We are riders for riders, and I am also an active ESNZ course designer.
We export to Australia and are proud to say the horses trained for the 2010 Youth Olympics at Glen Haven Park Australia trained over our jumps.
We also make and supply many other products, such as show jump and cross country numbers, Stud Eze (a simple tool to assist you in supporting your horses foot when studding up), jump and dressage trailers, heavy duty buckets, and mounting blocks, and the list goes on. Please visit our website.
jumpabull.webs.com/