Riverside County, California Real Estate and Horse Property Directory
Page 1: Results 1-6 out of 6
► Submit Your Website To This Page
Beth Barbour Realtor®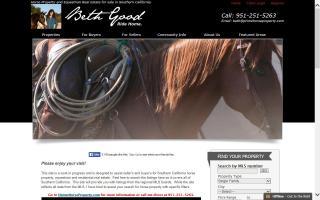 PO Box 891568
Temecula, CA 92589
(951) 251-5263
bethbarbour@gmail.com
Temecula, California, horse property.
While selling or buying horse property, you want an agent who listens to what you have to say, can speak the language of horses, and understands the uniqueness of the equestrian world.
As a listing agent, knowing how and where to market your horse property is high priority and custom tailored to your farm or ranch's specialty. Drawing from a very involved 25-year history with horses enables me to target the appropriate media and associations that will properly market your property to just the right audience, not only in California, but across the globe.
Utilizing the internet effectively through SEO methods, when combined with pointing to the right social networks, is guaranteed to get your property noticed. Properties that get noticed get offers. Properties that get offers get sold. Bottom line.
www.primehorseproperty.com/
Lease Horse Property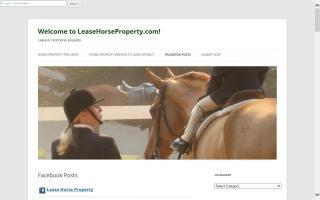 Visit Lease Horse Property's Facebook Page
PO Box 891568
Temecula, CA 92589
(951) 251-5263
bethbarbour@gmail.com
LeaseHorseProperty.com is dedicated to horse property for lease or rent. We launched in 2011 and are growing daily. Our desire with LeaseHorseProperty.com is to fill a gap in a much needed world for horse people. Ads for equestrian rental properties seem to be spread out vastly in bits and pieces across many websites. Our goal is to bring it all together in this one site.
www.leasehorseproperty.com/
Mike Loza & Associates
PO Box 3001
Palm Springs, CA 92263
(760) 902-1500
mloza9@gmail.com
(Lic: 01197718) 760-902-1500
Serving the desert cities.
Residential, Commercial, Land, and Rentals.
Call 'Mike', and I'll show you all the best properties that I represent.
Karen Brown
Wildomar, CA 92595
(800) 879-3619
(909) 609-1214
karenbrown713@yahoo.com
See Corona homes for sale by using our simple search.
Mike Loza & Associates
Palm Springs, CA 92263
(760) 902-1500
mloza9@gmail.com
Serving the Desert Cities. Palm Springs & the Desert Cities ranches.
Residential, commercial, land, and rental.
Call Mike and see all the best properties.
Mike Loza (Lic: 01197718)
Randy Heinitz and Andrew Merskin
Palm Springs, CA 92262
(760) 327-9792
(877) 770-7836
Look in Riverside County, California for:
Find Real Estate in: