Marion County, Florida Horse Boarding Stables & Livery Yards Directory
Page 1: Results 1-9 out of 9
► Submit Your Website To This Page
Bar-B Farm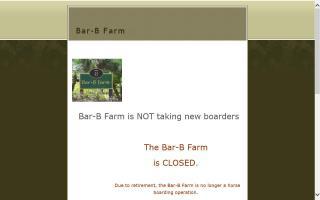 660 SW 80th Street
Ocala, FL 34476
(352) 854-9493
bgregg@bar-bfarm.com
Bar-B Farm is like a piece of heaven for horses & horse lovers!
A beautiful 65 acre boarding facility 5 miles south of Ocala, Florida. In addition to miles of riding lanes, 3 barns & 2 round pens, we're just a few miles from the Florida Horse Park & Greenway Trails. We offer pasture & stall board starting at $200 (as of Nov 2008). Our horse stalls are clean, comfortable & roomy (12x12), and we have multiple grassy paddocks with auto-waterers. Interested? Check the web site to see it all, or call.
www.bar-bfarm.com/
Birds Eye View Equestrian Center


Visit Birds Eye View Equestrian Center's Facebook Page
10480 NE Jacksonville Road
Anthony, FL 32617
(352) 690-3030
Birds Eye View Equestrian Center is a full service boarding facility situated on 14 acres in Anthony, Fl. We have a lighted arena, round pen, and grass jump field. We have 12 block stalls and ample turn out. We have a full time trainer on the premises as well.
www.bev-ec.webs.com/
Kate Racing Stables
Ocala, FL
(352) 807-2576
kateracingstables@gmail.com
Boarding, breaking, training, and sales prep.
Your horse will enjoy one of the best facilities around, including:
* excellent race track
* turnout paddocks
* equine swimming pool
* massages therapy
* and much more
Some of the most experienced staff around.
Call now and get 20% off.
No appointment or prior call needed to come see your horse.
Contact us now.
Meadow Run Farm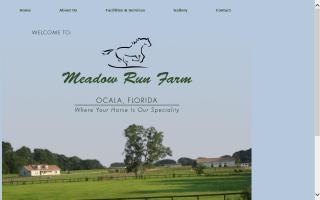 12857 West Highway 40
Ocala, FL 34481
(352) 342-4285
meadowrunfarmocala@gmail.com
Meadow Run Farm is a full scale, family operated horse boarding and riding facility located in West Ocala, Florida, on West Highway 40 in a prestigious gated horse community. Only 15 minutes to HITS.
Featuring:
- 35 acres of green open divided pastures
- 10 stall barn and 8 stall barn with 12x12 rubber matted stalls
- auto waters
- fans to keep cool in the summer
- foaling stalls
- wash racks
- run-ins
- hot water
Complete with a secure tack room and feed room, a riding ring with jumps and letters for dressage, a round pen, trailer parking, and plenty of room to ride. Elite care, full board stall, full board pasture, seasonal board, broodmare, weanling, and yearling board. Rehabilitation care. All disciplines welcome. Call or stop by; we hope you'll enjoy our hospitality!
www.meadowrunfarmocala.com/
Peninsula Racing Center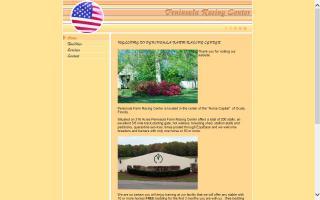 12020 N US Hwy 441
Ocala, FL 34475
(352) 694-5300
ronhallmngt@yahoo.com
316 acre horse farm located in Ocala, FL. 5/8 mile track irrigated and maintained daily, 200 stalls, pastures, and turn outs. Riders & trainers available. 3 months free bedding with 6 month contract. Housing available on site. Easy access to I-75. Covered arena, world class show barn, and riding trails. All breeds welcome.
www.peninsularacingcenter.com/
Quality Acres South
Criadero El Ocaso
Ocala, FL 34482
(352) 895-3095
(352) 351-0422
jchaux@aol.com
We are a full service Paso Fino farm offering trail, show, and breeding stock and specializing in natural horsemanship training methods.
Hunters Edge Equestrian Center - HEEC
Anthony, FL 32617
(352) 502-9627
(352) 622-2773
courtney@huntersedgeec.com
HEEC specializes in training and showing of hunter jumper horses and ponies. We offer beginner through advanced lessons on one of our several show quality horses/ponies or on your own horse. We also provide training services to ensure that your horse is performing at their best. We specialize is starting young horses and ponies the correct way as well. Our focus is enabling a strong foundation between horse and rider. Boarding services are also available, but space is limited. If space is not available, we do recommend adding your name to our waiting list. Feel free to contact us at any time with any questions. We will be glad to help.
MGM Stables
Look in Marion County, Florida for:
Find Boarding Stables / Livery Yards in: